iMusic has integrated a built-in music library and the search tool for music from YouTube. You can discover the music you like by Genres and artists. And playlists, even the hottest lists are gather for you as well. Here are the steps for how to use iMusic to discover music.
Step 1. Download and install iMusic on your computer. After then, launch it. Click the "GET MUSIC" menu on the top of the software, then click "DISCOVER".
Step 2. You can discover music on iMusic by using the GENRES, ARTISTS, PLAYLISTS, TOP LISTS, as well as the search box. For each type, the hottest songs will be listed on the left side.
GENRES: click "GENRES", then you'll see all types of songs sorted by genre, Pop, Rock, Rap, Jazz, Country, Blues, etc.
ARTISTS: click "ARTISTS", then you can see the names of hottest artists are listed. You can use the alphabetical order to look for the artists you like.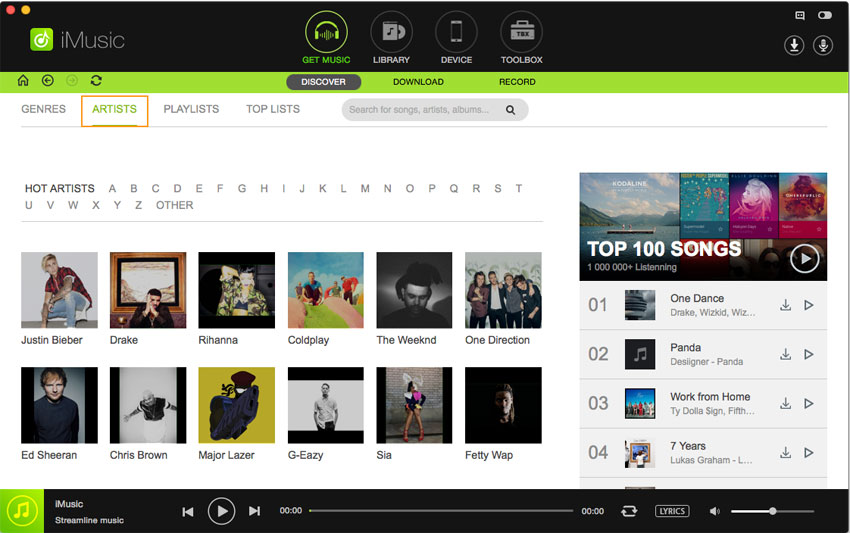 PLAYLISTS: click "PLAYLISTS", then you'll see sorted playlists by Top lists, Genres, Scene&Moods, New and Hot. It's very useful. Playlists here can be downloaded as well.
TOP LISTS: "TOP LISTS" is put in the "DISCOVER" window purposely, aims at helping you find the hottest and newest songs on Spotify and in genres, like Pop.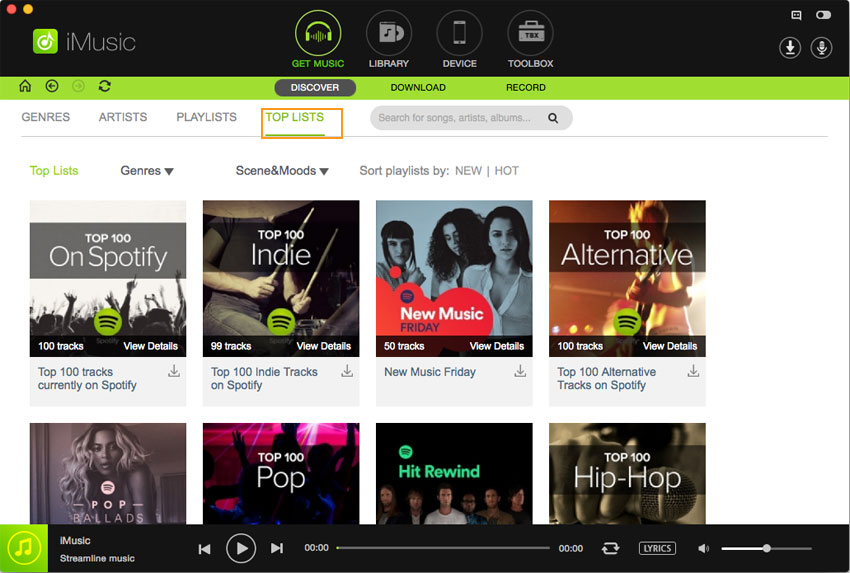 Search box: please note that the search box on the software is used for you to look for the songs on YouTube. After get the songs on YouTube, you can use the download feature to download the songs, or use the record feature to record the songs.
You can click the play button at the bottom of the window to play them. If you like a song, click the download icon to save it on your computer.