It is always a headache to transfer music from Android phones and tablets to iPhone since Android developer and Apple do not allow you to do it. However, it is changed now. There are 3 ways available for you to transfer music from Android to iPhone. You can choose the way you need according to your needs.
Note: to apply Solution 1 and Solution 2, you need download and install iMusic – a professional tool designed for people to download and transfer music.
iMusic allows people to transfer music from Android to iPhone. The software package is a one-stop solution for all your music needs. It is capable of searching for your favorite songs, artists, albums, playlists or genres, and allows you to download to your device. Aside from this, you can further use it to transfer music between Android phones and Apple devices, and from Mac or PC to iDevices and Android devices. The following are the features that make it unique and a stable application for your music requirements.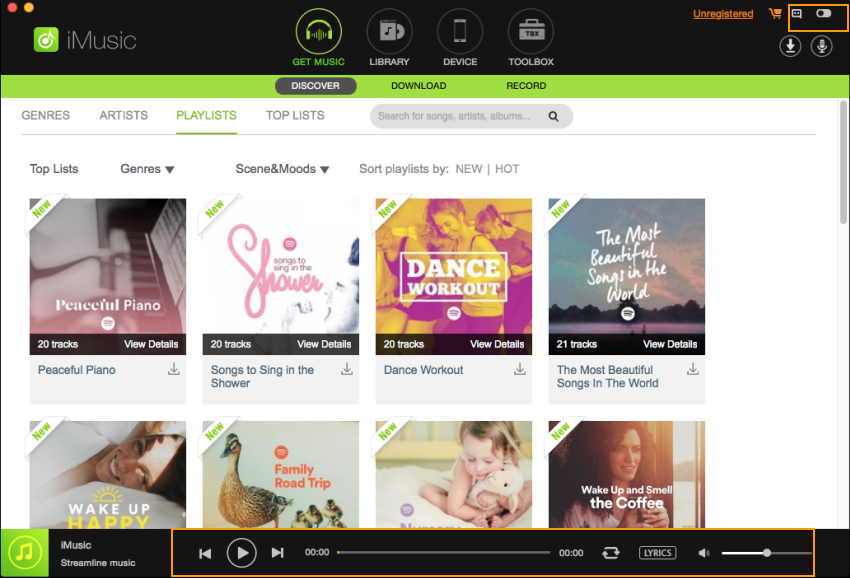 Transfer music between Android and iPhone easily and quickly;
Download any loved song from over 3,000 music sharing websites on the Internet;
Record streaming songs from online videos save all the favorite songs;
Transfer effortlessly all the music from your Android device to iTunes library, and vice versa;
Use the toolbox provided to recover library, backup iTunes, add tags and covers, transfer music to USB, burn selected songs to CDs, and remove DRM protection;
Download the free trial version to see how it works!
Note: iMusic Windows version supports transfer music from Android to iPhone directly. If you're using a Mac, you need to use iMusic for Mac to export all songs on Android device to your Mac first, next use the software again to add these songs to your Android device.
Solution 3. Transfer music from Android device to iPhone manually (a complicate process)
Step 1. Connect the Android device to the computer.
Step 2. Install Android File Transfer, open it and browse to the music folder on your Android. From the folder, choose the songs that you would like to iPhone and drag them to a folder on your computer. After transferring is complete, disconnect the Android device.
Step 3. Plug in your iPhone to the computer. Open iTunes on your computer. Under the library, click "Music." Browse to the folder where you transfer the music from the Android device. Transfer the selected songs from the folder into the music view in iTunes. You can now begin synchronizing the entire library or only the selected songs that you added into the music view. Press "Sync" to start transferring the music from iTunes library to the iPhone device.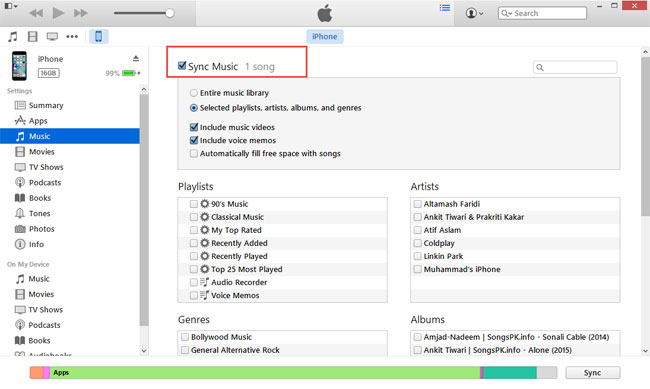 Disadvantages of transfer music from Android to iPhone manually
The process explained above is a tedious and time-consuming activity. At times, you may synchronize the entire library, which removes already present songs on your iPhone. It can be frustrating and only adds to your woes. Additionally, you require a Mac and the Android file transfer software to access the Android phone.
The simplest and the quickest action through which you can transfer music from your Android to iPhone is by using iMusic from iSkysoft. The process is a single click activity where you copy all the music from your Android to the iPhone directly using a single click. All you need to do is decide whether to transfer all the music only particular songs.
Why not download iMusic to have a try!