Are you looking for an Android music manager to manage your songs on computer? What a pity that Google haven't released an iTunes like tool for Android phone users. However, the lucky side is that there are many third-party music management software tools for Android. In the following, I'm listing the 10 best ones you might be interested in. You can try the one that's right for you.
#1. iMusic – One stop solution (Discover, Download, Transfer and Fix Music)
iMusic is an all-in-one solution Android music manager. With the help of the program, you are sure to organize everything as you need. You will be rediscovering yourself and the device with the program arranging all the music files in order, along with fixing any broken links. The following are the fascinating elements of the software that holds the program in the top position than the rest of the alternatives out there: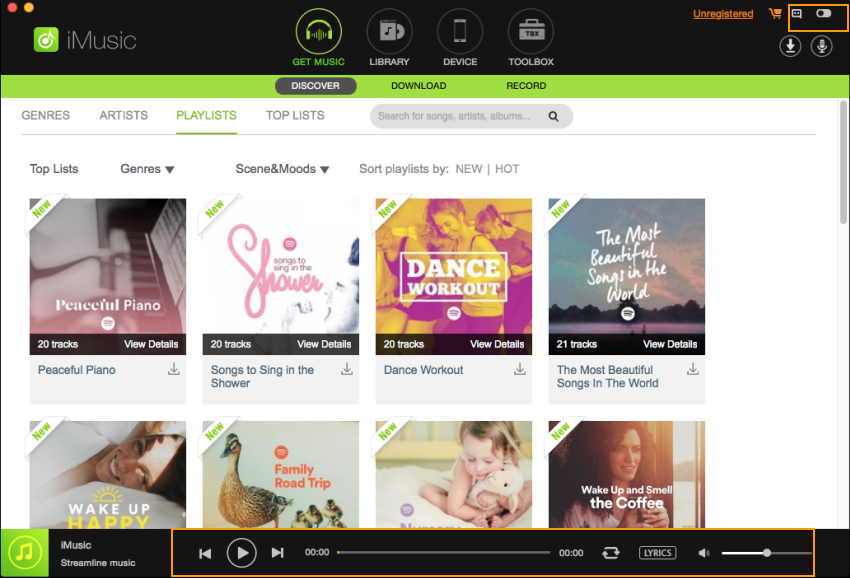 Discover – You can search from the built-in library for your favorite songs. The feature further allows you to download the music!
Download – Get all your favorite songs from over 3,000+ websites with the list including names such as YouTube, Spotify, VEVO, etc.
Record – Record all the live music from any website and save it to the computer for later use.
Transfer –You can move music to iPhone without iTunes and between an iOS device and Android device.
Backup – Create a backup of the songs so that you can move it whenever you shift to a new computer or new device.
Fix – Fix and repair iTunes library that includes acquiring ID3 details along with album art.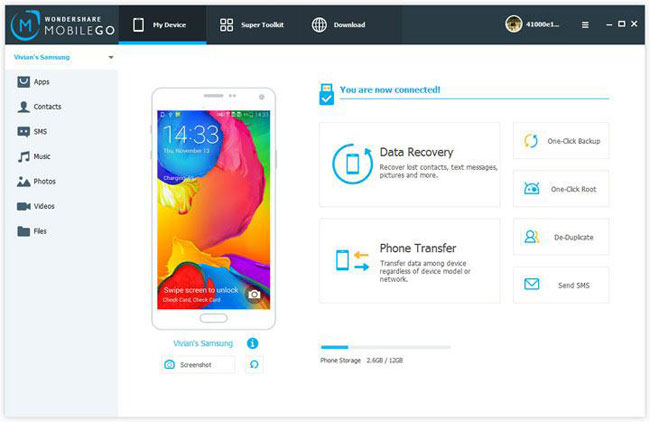 You can transfer, add, search, and delete files on the device with ease. You can even convert media files. You can create a backup of the music files so that it will be easy to transfer to another device.
Pros:
Intuitive interface
24/7 customer support
One click root for rooted devices
Cons:
Trial version works only for 15 days with all the features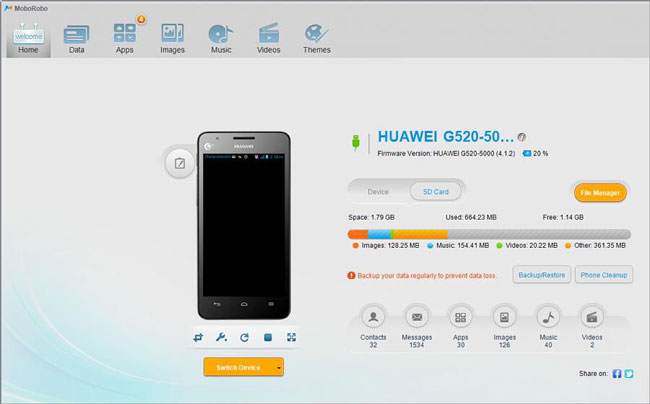 MoboRobo helps you manage all your music files with ease. You can create a backup and even restore devices. The media management tool is a perfect accessory for all the music listeners. It even allows you to update apps and manage them quickly.
Pros:
Works perfectly for Android and iPhone devices
Free to user
Cons:
Unimpressive interface
Slow installation
Does not support 3GP files
Works for Windows OS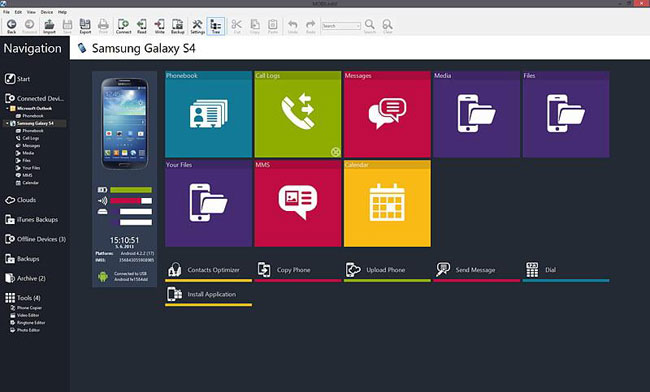 You can manage everything on the Android device right from contacts to music and apps. Create backups to use them later. You can even print messages and make calls. Create ringtones from your favorite music and establish multiple connections.
Pros:
It supports all the mobile handsets operating on Android, Windows Phone, iOS and Symbian
Attractive interface
Stores data in the cloud
Cons:
Heavy Ram user due to its large file size
Most of the features are unavailable in the trial variant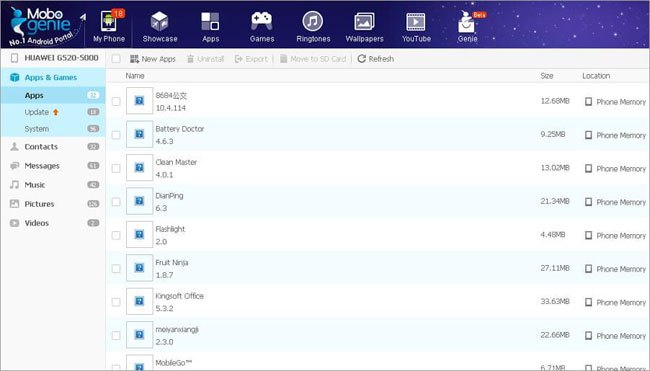 Mobogenie allows you to create a backup, restore, manage media files, arrange in order, download files, tidy notifications, and manage messages and contacts.
Pros:
Single click access for rooted devices
Download media files and games
Update apps easily
Cons:
Interface speaks more of downloads than file management
Absence of Wi-Fi connectivity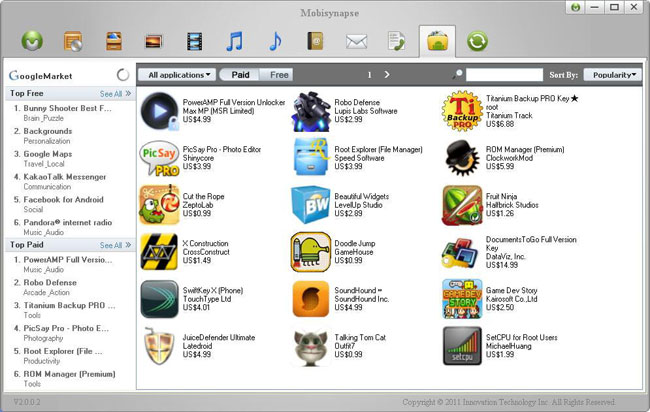 The software allows you to manage all the media files along with other file management features. The program works excellently for users with light media management requirement.
Pros:
You can create backup files
You can manage even your emails
Simple-to-use interface
Cons:
Impossible to download apps within the app
Backup is only for SMS and apps
Many primary features are absent
You also have to an additional app to allow this app to function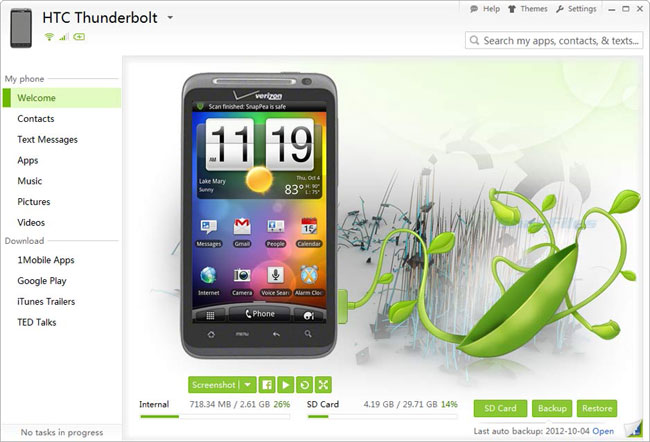 Organize all the data on your Android right from your PC. Now arrange all the content, including messages, call logs, contacts, and music files right from your desktop. Transfer files with ease. It even allows you to download apps and update the existing ones.
Pros:
Friendly user interface
Easy to handle
Works greatly in managing files on Android
Cons:
A few important features are missing
Could do an update to meet latest technologies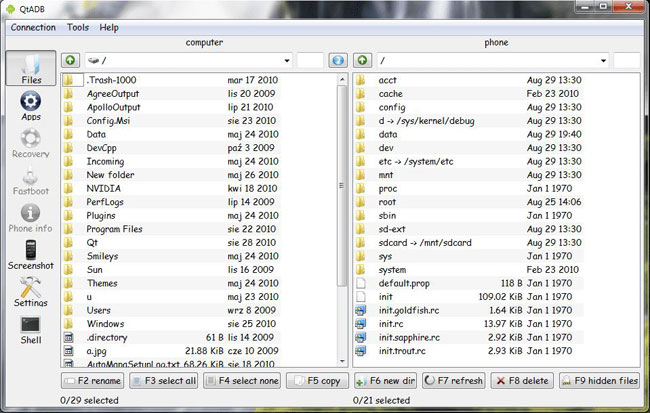 It is an open source desktop manager for Android. It has simple features and yet functions excellently in managing all the data on an Android device with ease. You can even capture screenshots of your device, and share with your friends.
Pros:
Install or remove apps
Capture screenshots
Creates backup and restores devices
Cons:
Requires AndroidSDK
Will be confusing for many users
Have to run with root permissions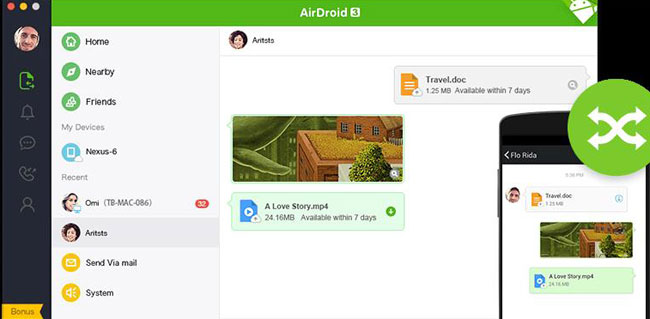 Airdroid provides complete management of Android right from a web browser. It has cool features that are sure to benefit users. You can control your device from a PC. You can send messages, reject calls with a message, manage contacts, and send SMS, app management with installation and removal, music management, create ringtones from your music collections, and even monitor the front and rear camera of the device through the PC.
Pros:
Intuitive layout
High performance
Number of options
Cons:
Expensive
Trial version does not offer all the features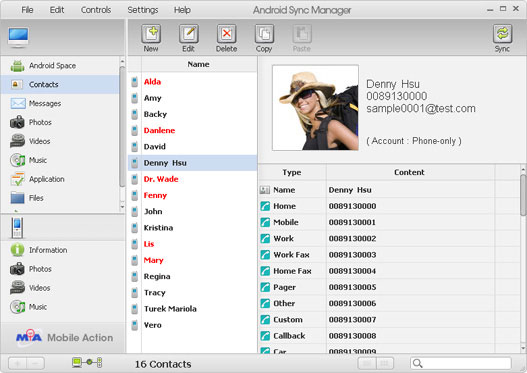 The free PC sync Android manager functions over the Wi-Fi, disabling the use of cables. You can create a backup of contacts, messages, send messages via the PC, import and export pictures, import and export music, organize files across the memory, and powerful file manager.
Pros:
Well planned layout
Offers complete features
Cons:
Fails to recognize a few devices
Lags at times and slows down the entire operation