Listening to Pandora is a popular thing to do with millions of people every day tuning in to their personalized stations, but are there some alternatives to the Pandora interface you can use to make things a little different?
The answer is a resounding yes, because Pandora is based around, and the originator of, the open source engine behind the music streaming, and so numerous alternative clients have sprung up during Pandora's life, here we will look at the best Pandora radio player for different platform.
Part 1. The 5 Best Pandora Desktop Players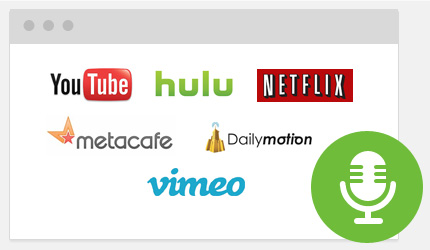 iMusic for Mac can download Pandora music and play it from within its own media library offline, meaning you can listen to your favorite Pandora music without needing an internet connection.
A great package offering zero loss recording of Pandora, iMusic for Mac can split tracks automatically and strip out ads from the music as it goes.
Pros and Cons of the above Desktop Pandora Player
There are options for either MP3 or M4A file formats, with a choice of quality settings for each to further help tailor the output to your needs. In addition, iMusic can recognize and identify tracks as it records, and automatically tag the files with the correct title, artist, genre and album. These can, of course, be manually edited should you need to.
| Features | iMusic for Mac | Elpis | Saver 2 | Hermes | XMBC |
| --- | --- | --- | --- | --- | --- |
| Product | | | | | |
| Price | $39.95 | Free | Free | Free | Free |
| Pros | Lossless recording of your Pandora channel in a variety of formats and offline listening | Well Featured and attractive interface | Small Footprint, nice sound | Clean Interface and well featured | Huge number of features beyond Pandora, complete entertainment system |
| Cons | Cost a little money | Slow for updates recently | Lack of features compared to some | OS X only | Can be daunting to a newcomer, overkill if you don't need the other media functions |
| Platform | Mac OS X, Windows | Windows | Windows, Linux | OS X | Windows, Linux, OS X, Android, iOS, Raspberry Pi |
For sheer versatility and options iMusic offers a complete package with excellent sound quality and the ability to listen to your Pandora stations advert free and on any device you would like, without an internet connection, and has to be the best option here.
Part 2. How to Play Pandora Music with iMusic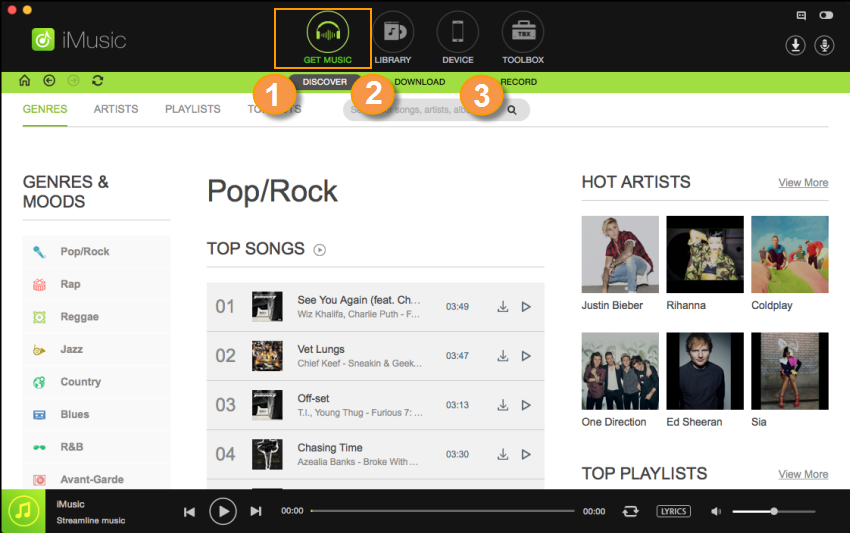 iMusic is perfect for downloading streamed music from Pandora, or indeed any other option because in addition to high quality recording, it offers the ability to understand what it is recording and remove gaps and ads from the music, additionally splitting tracks into individual files.
The iMusic software also takes advantage of the ID3 tag system to add in the labels for Artist, Title, Album and Genre as it goes, making organizing and finding tracks so much easier.
Pandora can be played from within iMusic for Mac in two ways. The first way is to download your Pandora Stations directly through iMusic and listen to them there, we will cover this now.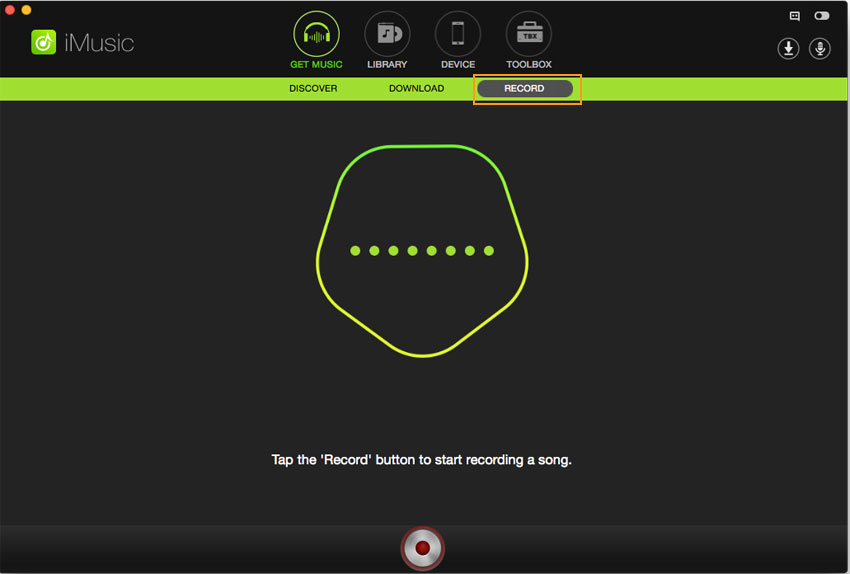 Scenario 1. Download and Play Pandora Music:
Recording itself is as simple as can be, we will walk through it step by step.
Download and install iMusic on your computer. Launch it and click the "GET MUSIC" menu on the top of the software. Next, click the "RECORD" button.
Click the "Record" button, preparing to record the song you're going to play. Start your Pandora station that you wish to record. iMusic will detect the song and record it. During the process, the cover and artist for a record song will be added to the song automatically, making it quite easy for you to identify the songs in iTunes Library.
You will be presented with your downloaded music, you can double click any track to play it, or alternatively use the cover flow graphical display to locate the track you want, and click it to play.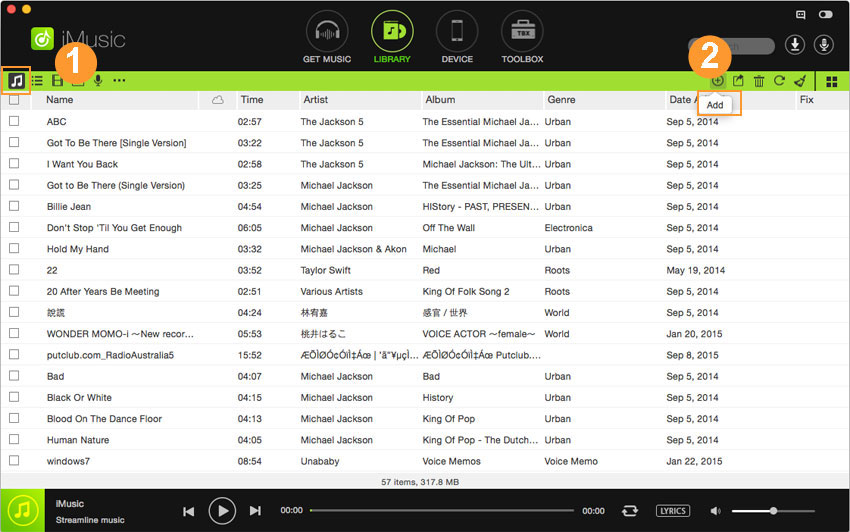 Scenario 2. Play Existing Pandora Music:
The second scenario is playing previously downloaded Pandora music from another device, this is again simplicity itself.
Click the library tab of iMusic for Mac. Drag the tracks you want to play onto the 'All Music' tab of the library.
Alternatively, you can click the Add button on the top right-hand of the interface and then select File/Folder to load the music from your computer.
You can then click the tracks to play them.
Part 3. Mobile Clients for Pandora
One of the benefits of the latest mobile devices is connectivity and internet access wherever you go, this is one of the reasons for Pandora's popularity, but whilst the official apps are great, you may wish for something a little different. Here are some alternative mobile clients to look at.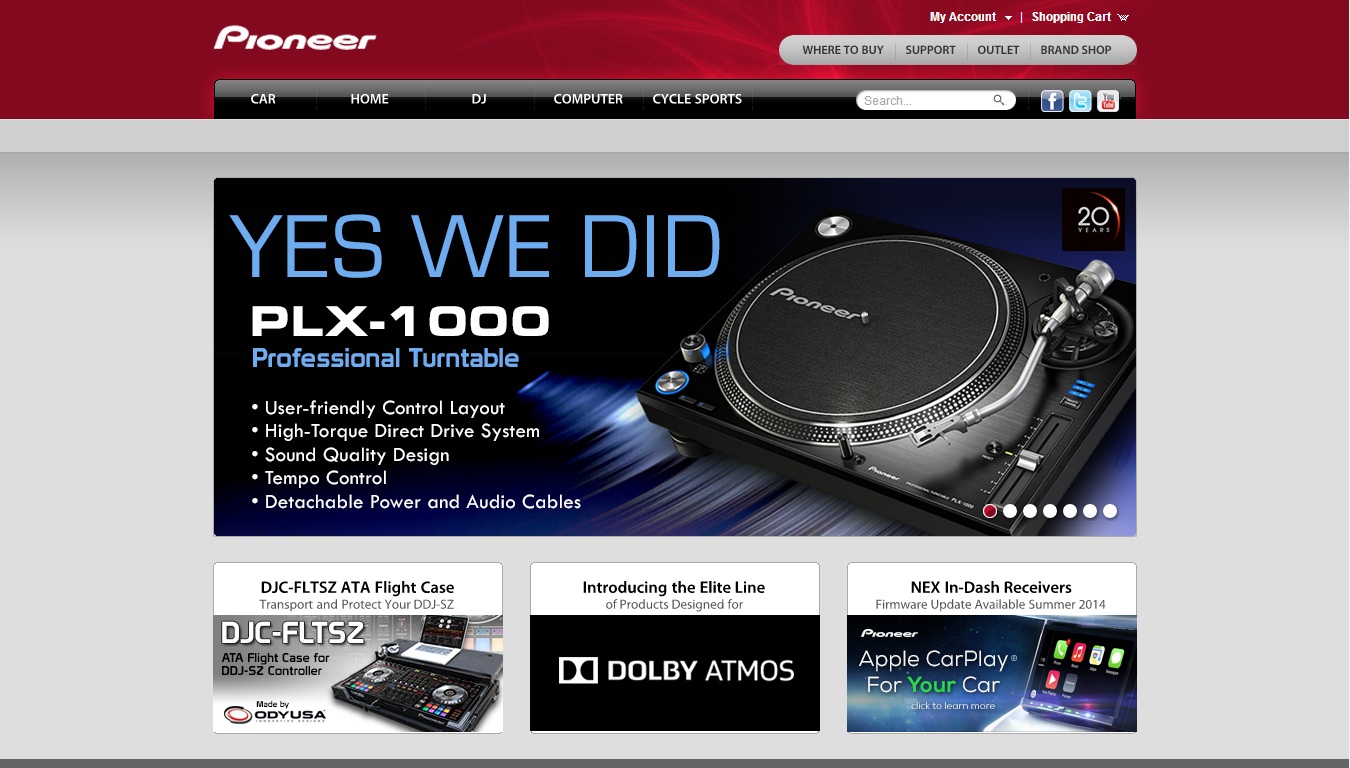 Pioneer offer a variety of audio units for vehicles that offer the ability to play Pandora stations directly.
By connecting your android or iOS phone to the device, it then uses your phone's connection to access Pandora and stream your stations.
Pros and Cons of the above Mobile Pandora Players
| Features | Pioneer | Mini | Chevrolet | Sony | BMW |
| --- | --- | --- | --- | --- | --- |
| Product | | | | | |
| Price | $240 + | Included with Mini connected | Included on all new cars | $280 + | Included on all new cars from 2012 |
| Pros | Wide range of units to suit all budgets | Well executed integration, attractive interface | Beautiful screen and easy to use on the move | Wide choice of Unit, good screens throughout the range | Works seamlessly, great sound quality |
| Cons | Cheaper Units lack the screen controls that make it easy to use | Not the best sound quality without expensive upgrades | Pairing the phone can sometimes be difficult | Expensive compared to some | iDrive isn't without flaws and the cars are expensive |
Part 4. Top 5 Pandora Radio Receivers
What sets Pandora part from other streaming services is its availability, Pandora is integrated into large numbers of devices, including as we have seen, cars, now let's have a look at 5 of the best home receivers.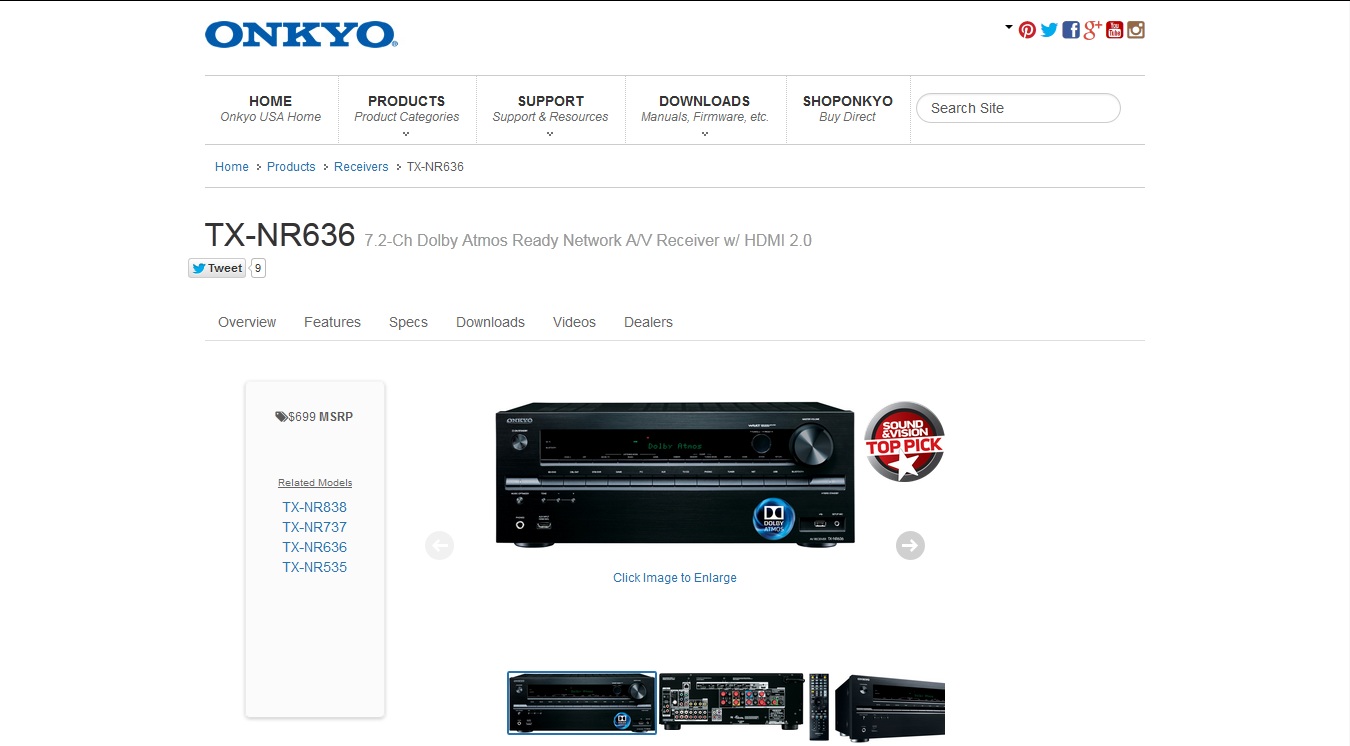 A fully featured Hi-Fi receiver with a wealth of options for high-end audiophiles and simple interface and stunning sound quality for everyone. The Pandora integration is particularly neat, and the addition of a free remote control app for both iOS and Android for the device makes calling up your Pandora station, rating songs and skipping tracks simplicity itself.
A wonderful product that can for the heart of a full home theatre with excellent sound quality and design.
Pros and Cons of the above Pandora Radio Receivers
| Features | Onkyo TX-NR636 | Marantz NR1604 | Denon AVR-X3100W | Roku | Samsung LED H6201 |
| --- | --- | --- | --- | --- | --- |
| Product | | | | | |
| Price | $670 | $650 | $1000 | $50 | $700 |
| Pros | Pandora implementation is great, with the apps it is simplicity to use, and sound quality is superb. | Beautiful to look at, fantastic build quality, Pandora works seamlessly with all other media playing. | Wired and wireless streaming, well integrated Pandora features, remote apps are great. | Great price, nice integration of Pandora, works very smoothly, great video options come with it | Great Interface and easy to use, TV integration makes usage simple |
| Cons | Not the best looking device here, quite large especially when compared to the Marantz, requires suitable speakers to get the best from it. | Without very good quality speakers to accompany it you won't hear the best it has to offer. | Expensive. Needs similar quality (and cost) speakers to get the best out of it. Can reveal the flaws in the lower quality free Pandora stream | Sound quality not the best, is dependent on other equipment for you to make use of it | Sound quality from the TV is good but not great, if someone wants to watch TV, you won't be listening to Pandora |
| Remote App | Yes | Yes | Yes | No | No |