Pandora is a streaming music service, offering users the ability to create a "radio station" of their favorite music to stream to their device, it offers access top your account and music via a browser based service, but it also offers dedicated apps for desktop and mobile platforms that some think offer a more convenient way of using the service. In this article, I will introduce you how to get and use Pandora desktop app and Pandora mobile app. (Learn how to download Pandora music)
#1. Pandora App for Mac
The Pandora app for Mac is compatible with Mac OS X 10.4 or above, and is very straightforward to install and use. (Find more apps like Pandora)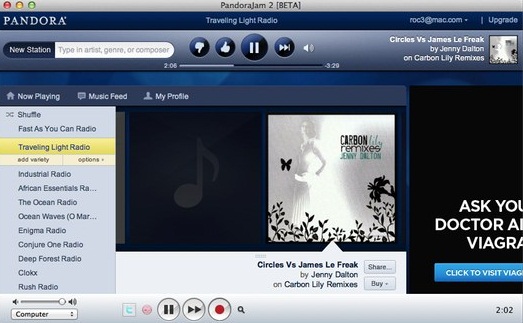 Step 1. Download Pandora App on Mac
Firstly sign up for a Pandora account if you do not already have one at www.pandora.com, from your account click Settings and then Desktop App to access the installation files. Once installed, you simply sign in to the app with your Pandora account and if you have stations already set up they will be there to use, if not you can easily create new stations to listen to.
Step 2. Create Pandora Station
In Pandora a playlist is called a station, and is generated on the fly by selecting music similar to that already played. Creating a station is as simple as typing in the name of a favorite song or artist into the search box, and the app will create a new station based around that choice. As songs are playing you can thumb up or down songs to tailor the selections better to your tastes.
#2. Pandora App for Windows
The Pandora app for windows can be used on Windows Vista, XP, 7, 8 and 8.1, and is accessed via your Pandora account at pandora.com.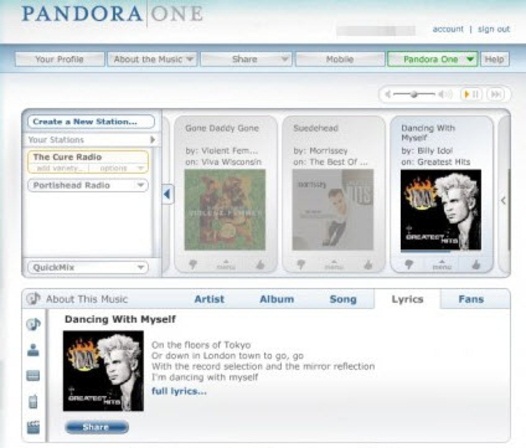 Step 1. Download Pandora App on Windows
Simply sign in, then go to Settings and select desktop app to start the installation process. Once installed you sign into it with your Pandora account, and any previously created stations will be visible for use.
Step 2. Listen to Pandora Music
If you are new to Pandora and have no stations, simply searching for your favorite song or artist will automatically create a new Station for you to listen to and enjoy, thumb up or down the choices presented to better tailor the station to your taste.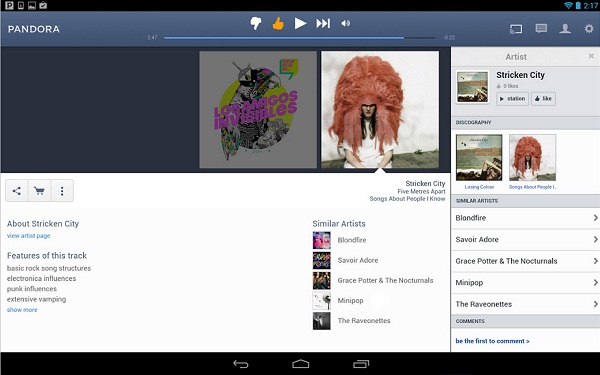 Pandora's mobile app is available for both iOS (iPhone, iPad and iPod touch) and Android, it requires iOS 6 or later or Android 2.1 or greater respectively, and is obtained from either iTunes or the Google Play store.
Once you find it on the appropriate platform you simply click install as with any app, and it will be installed on your device.
#2. Pandora for Windows Phone
Similarly for Windows Phone, it is compatible with windows Phone 8 onwards, found and installed via the windows app store in the same way as all other apps, simply search for it, click install.
#3. Pandora on PS3
Pandora is also available on PlayStation 3 via its web browser, simply navigate to www.pandora.com via the PS3 browser to access your account and all your stations and settings.
#4. Pandora App for Blackberry
Blackberry does not have a dedicated app from Pandora itself, although as with PS3 can be accessed via a browser. Blackberry users can Visit www.pandora.com from your mobile browser to download Pandora now.
However there are several third party applications that allow you to stream your Pandora music on the platform, if you prefer that route, you can find these by searching for Pandora on Blackberry World and installing in the usual manner.
How to Use Pandora Mobile App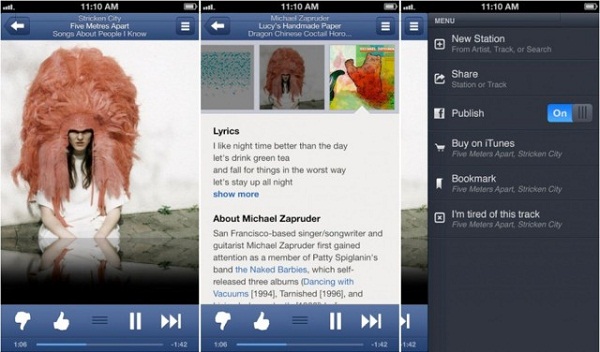 Whichever platform you are using the app functions in the same manner, once launched you will be asked to sign in to your Pandora account or create a new one, simply use your login information and all your stations and favorites will be available to you immediately. If you are new to Pandora then it is simply a matter of searching for an artist or song you like, and once you start playing it Pandora creates a new station for that song automatically, with subsequent tracks chosen as associated music or music people who liked the first track also appreciated, and this continues on after each track. You can thumb up or down any songs played and this will allow the system to better choose tracks suited to your tastes.