Youtube Downloader
1. Youtube Music Downloader

2. Download Youtube Music

3. Convert Youtube MP3

4. Convert Youtube MP4

5. Youtube Converters

6. Youtube Songs

7. Tumblr Music Download

8. MP3 Converter Alternative

9. Youtube MP3 Tips
Have you ever come across a YouTube video that you wanted to save for watching later? Do you want to make an entire collection of YouTube videos that you can show to your family and friends? Well, then you have probably noticed by now that YouTube itself does not have an option for downloading videos directly to your computer system. Due to this, application software that can download these videos have grown in popularity over the last few years. In this article, we review the best YouTube to MP4 downloader available in the market today, iMusic.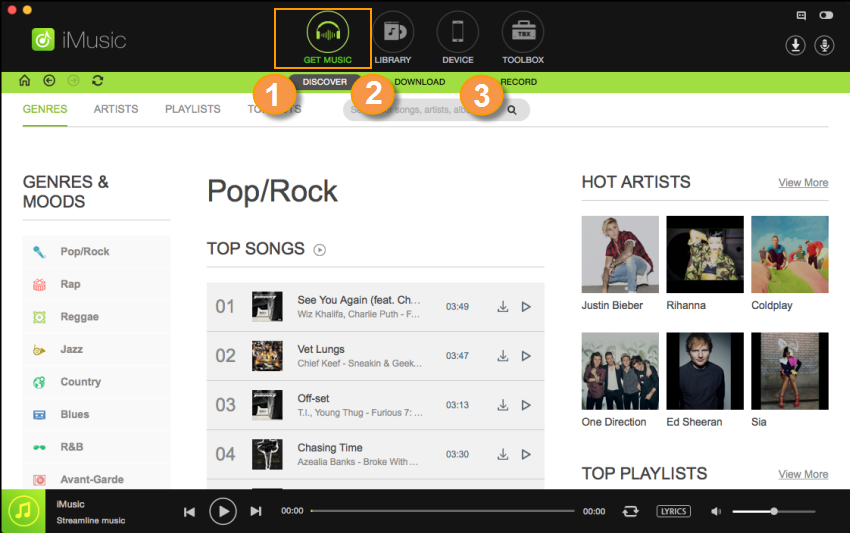 iMusic is an all-in-one music manager has a barrage of features that you can exploit to handle all the music on your computer system. From downloading music to converting and transferring it to all your devices, the iMusic dashboard has an option available for every single thing. It is our recommended tool for downloading YouTube videos in the MP4 format because of its powerful features that are very easy and convenient to use.
Main Features of iMusic:
Given below is a list of the main features that are offered by the iMusic software:
Beautiful Interface: Despite the fact that iMusic is one of the most powerful multimedia tools in the market, it is incredibly simple and easy to use. The interface features an aesthetic design that not only looks appealing to the eye but has a convenient navigation system as well. The software is very easy to learn and can be used effectively by even the most novice of users.
Download music from YouTube and several other online resources: iMusic has an integrated music downloader that can fetch music and from over 3000 different music and video websites! These include YouTube, Facebook, Dailymotion, VEVO, and Pandora among several others. This feature allows you to download (and convert) music in the MP3 format from YouTube to your computer system. Not only this, but you can also download this music directly to your iTunes library for syncing it across all your iDevices conveniently.
Built-in music library: iMusic also has a built-in music library that allows you to discover new music from trending albums from all across the globe. The iMusic library is an extensive one that covers the most popular genres, artists, albums, and playlists from around the world. Within the music library, you can browse through the top playlists, search music by category, and listen to it directly without the need for downloading! What else could there be? Well, if you like a song or playlist, you can download it from within the music library as well!
Conversion tools: How often is it that you find the need to convert music to a supported format? There are countless audio formats out there and no device supports all of them. This is why there is a growing need for converting these files into a popular (and supported) format such as MP3. While most other tools can only download or convert music file, iMusic can do both. When you download a music file to your computer system, you can easily convert it to any audio format that you want with the help of the powerful converter tool that is integrated into the software. The tool itself supports a wide range of audio formats so that you have everything in order before you transfer it to your smartphone.
Music transfer and sync: We all know how important it is to keep our devices in-sync with each other, especially the media on all of our devices. From our computer to our smartphone, we look to have a consistent playlist on all devices that is made up of our favorite songs and albums. iMusic, the ultimate music management tool, has this covered too. With the iMusic application, you can easily transfer music, playlists, videos, and even images to your Apple iDevice or smartphone easily and quickly. All you need to do is to connect the device with your computer system, open up iMusic, and copy the files to the desired location on your device! No limitations and no access permissions needed, it is just that easy and simple!
Step by Step Guide on How to Download YouTube to MP4 with iMusic