Spotify is a digital music streaming service that gives you access to thousands of songs, podcasts and videos from artists all around the globe. It provides music lovers an exceptional medium to discover new music. Spotify users mostly have the same requirement of converting their songs to MP3 format. They would like to convert Spotify to MP3 format so that they can listen to the audios on vehicles or directly on their computers. They can also burn the files to DVDs or CDs.
There are several impressive tools recommended to convert Spotify to MP3. We will discuss the features of the top 6 Spotify ripping tools that can be utilized to convert Spotify music to MP3 files.
1. iMusic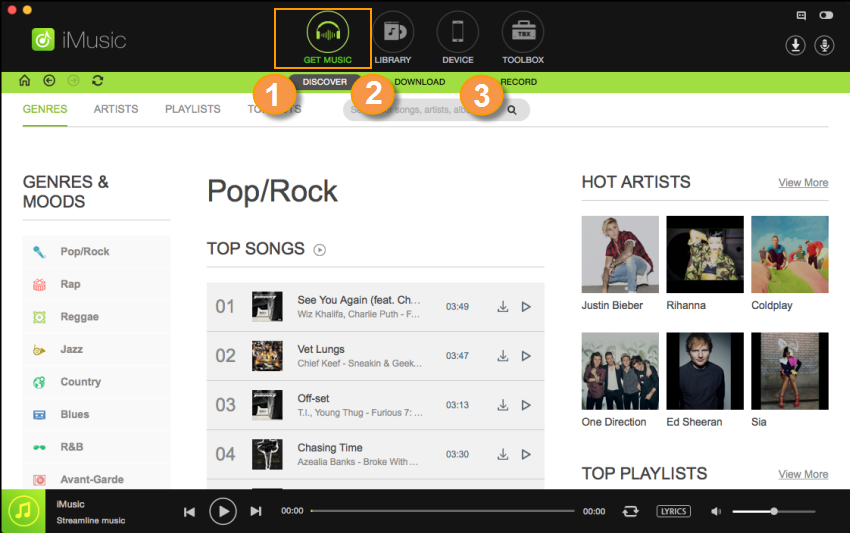 iMusic is such a classy production from iSkysoft family as it is a Music Downloader, Music Finder, Music Manager and can even transfer music files between your devices. iMusic has set of useful features that allows you to manage iTunes music, download any kind of music from YT and Spotify directly to your iPhone, record music on your computer, mac or phone, transfer music files between apple devices and iTunes and a lot more.
Download Music from thousands of sites
iMusic lets you download your favorite music files from 3000+ sites. You could flawlessly download them on your PC or Mac without having the trouble of untrusty internet connections. Downloading coolest video or MP3 files is just simple as pasting the URL into the given bar and clicking a button. The software handles the remaining for you.
Record Songs and Playlists
You just have to navigate to the record tab and click on the record button at bottom of the window to record a song. The software itself finds and adds the details including artist name, song title, year, and genre automatically. iMusic does the job nicely as a recording software, including the features like recording online radio, YT music recording, and voice recording. The quality of the downloaded or recorded music files are very pleasing and has only a very less or no noise from our team's tests. When compared to other audio recorders, the iSkysoft software takes an edge in terms of the quality.
Step-by-step guide for how to use iMusic to download Spotify to MP3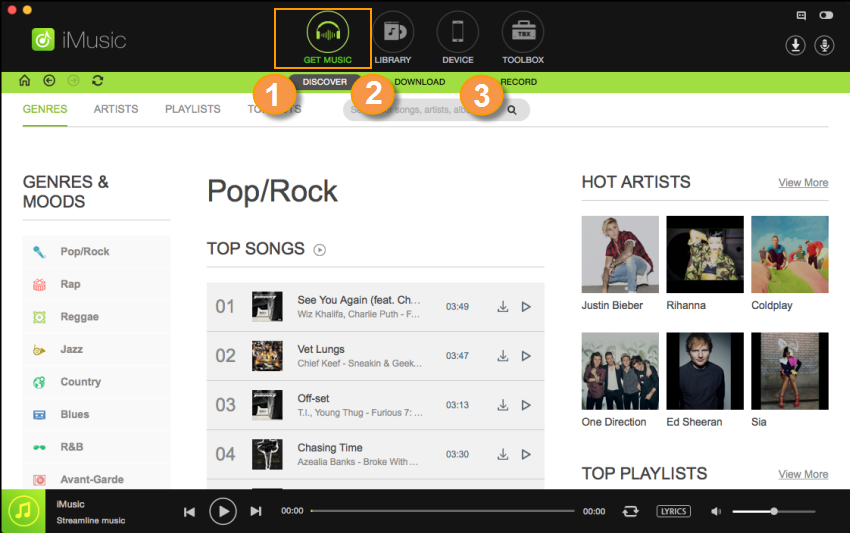 Step 1. Run iMusic
Click "Free Download" button to download Spotify music downloader and follow up instructions to finish installing it on your PC.After downloading, run the software and click the "GET MUSIC" tab.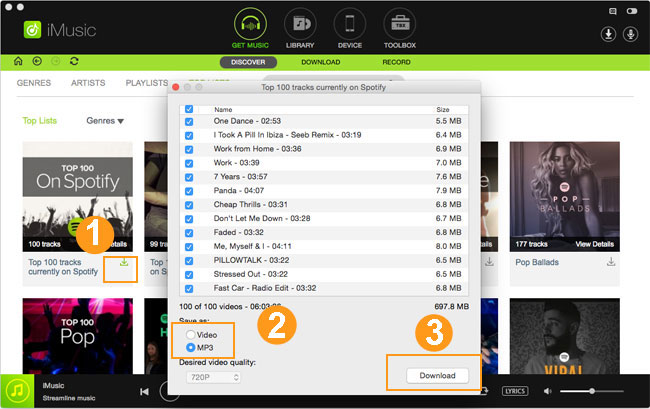 Step 2. Download Spotify Music within iMusic Built-in Library
In the "GET MUSIC" window of app, there are 3 options: DISCOVER, DOWNLOAD, and RECORD. You can find the songs from Spotify by tapping the "DISCOVER" button, then "TOP LIST". Find the download icon beside the list. Click it to download the hottest Spotify music to your computer.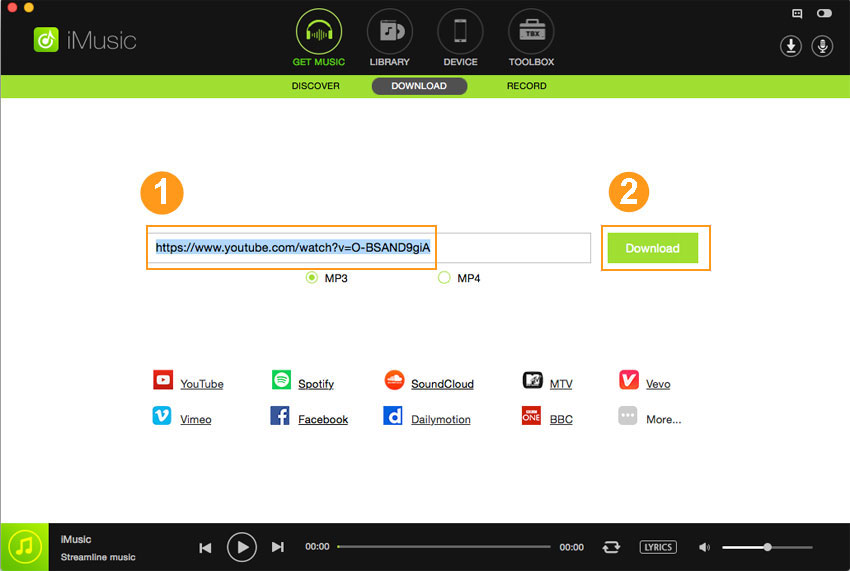 Step 3. Download Spotify Music by Copy-n-paste Link
If you are using a web browser and have found a song on Spotify with it, then you need to click "DOWNLOAD" in iMusic. Then in the main window screen, copy and paste the web address of the song to box. Click Download to download the song to your iTunes Library.
2. Wondershare Streaming Recorder
A highly recommended and professional streaming music recording tool is Streaming Audio Recorder. That's the best single-click tool for recording music from Spotify. It can record any song when the Spotify is being played.
The features include recording music from Spotify playlist and maintaining the original quality. You can split two songs easily with this tool. You can filter out ads (between each 2 songs) while recording automatically. Include song's tags such as artist, album cover and name automatically. Schedule to record at a later time with the powerful feature of this application. Record various online audio to MP3 (*.mp3) or M4A (*.m4a)
Using the software is very simple. Start the software and press the "Record" button on the upper-left corner of notification bar. Play the Spotify music that you want to record. When the music is playing, this tool will start recording automatically. After recording is over, right-click on a recorded song in library and then choose the "Open in folder" option.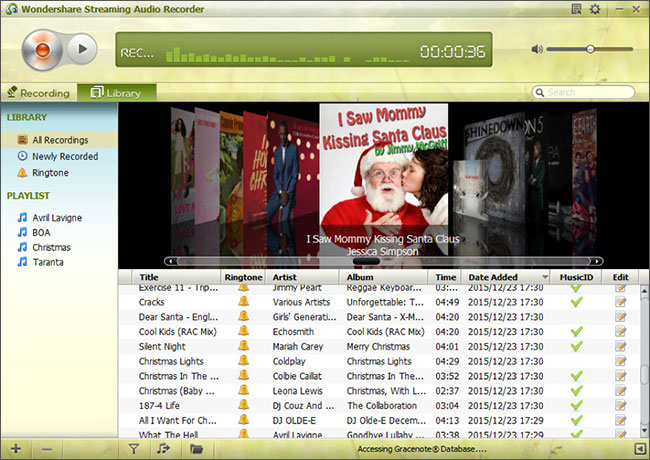 3. TunesGo
TunesGo features to record music from Spotify and other internet music freely, and converts them into MP3 files without any quality loss. It can identify smartly the information about the music, like album cover, artist etc of its own accord. You can also filter the ads.
Discover, save, and share the music you like. Schedule downloading features makes it convenient for the users. The software is compatible with both PC and the Macintosh.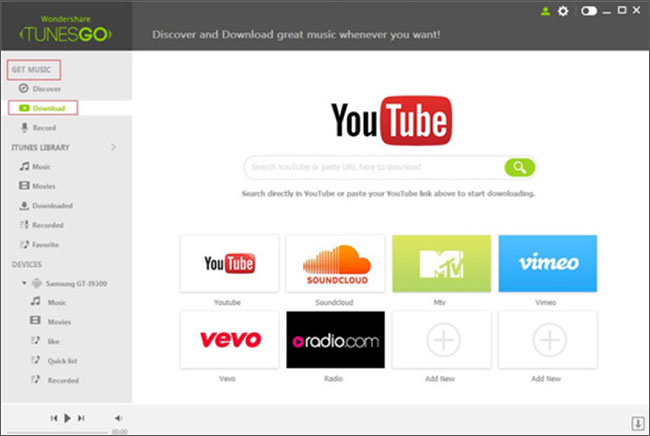 4. Audials Tunebite 2016 Premium
Audials Tunebite is a smart recorder for both streaming soundtracks and music videos. You can record all music streams from the players of music services along with the unprotected audio streams from websites with ID3 tags. You can also easily record music from streaming services such as Spotify, Tidal and many more as mp3 files at almost double speed.
Convert music or audiobooks into up to 40 file formats for the smartphone, tablet, PC or even games console.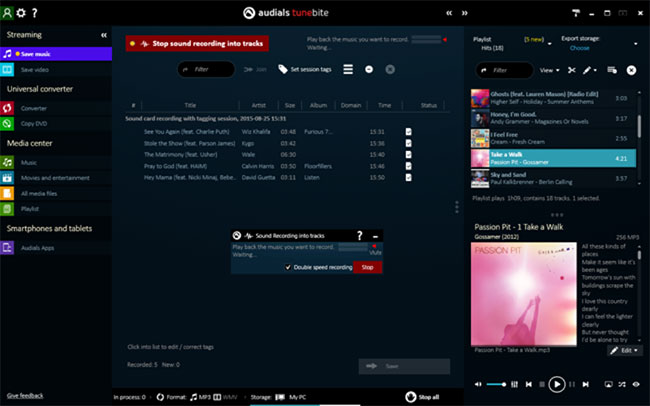 5. Aimersoft Music Recorder
It is an impressive music and video recorder, not only allows you to record music from Spotify easily but also you can avail it to record music from YouTube and some other online radio and video sites such as Pandora, BBC Radio Audio, etc.
Its main features include recording unlimited online music with a single-click. Recording music in MP3/M4A Format. Its Auto-split feature allows you to record music one after one. Auto-filter has been embedded to remove ads and insignificant noise.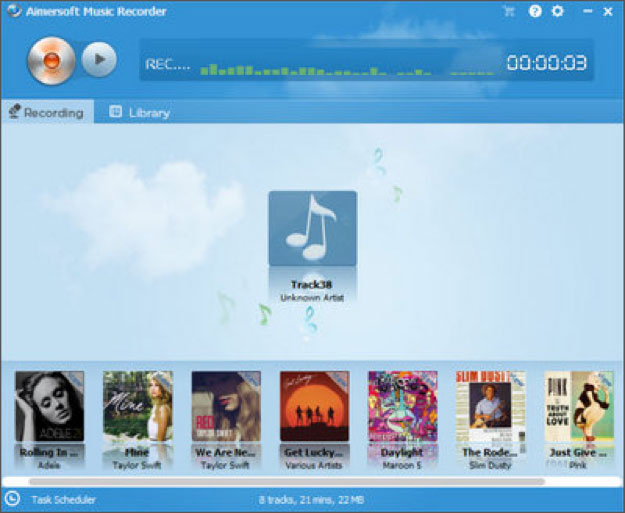 6. Spotiload (Formerly Spotify VK Downloader)
Spotiload, also a chrome extension, is a best app for download the tracks form the Spotify playlists to MP3 format. It uses vk.com social network in finding and downloading tracks with matching name from any Spotify playlist. VK users can easily upload own mp3 files to website and name them as they want. You can find this extension on vk.com with the same name as tracks in Spotify web player.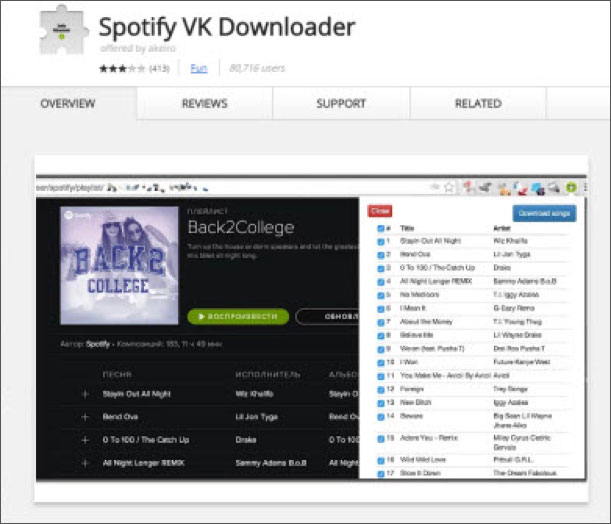 | | iMusic | Wondershare Streaming Recorder | TunesGo | Audials Tunebite | Spotiload | Aimersoft Music Recorder |
| --- | --- | --- | --- | --- | --- | --- |
| Speed | ★★★★★ | ★★★★★ | ★★★★ | ★★★★ | ★★★ | ★★★ |
| Reliability | ★★★★★ | ★★★★ | ★★★★ | ★★★★★ | ★★★★★ | ★★★★ |
| Cost | ★ | ★★★ | ★ | ★★★ | ★★★ | ★★★ |
| Customer Satisfaction | ★★★★★ | ★★★★ | ★★★★ | ★★★★ | ★★★ | ★★★ |