Platform Music Download
1. Download Music from Platform

2. iMusic Alternative

3. Online Music Downloader

4. Music Converter

5. Download Music Tips

6. Others
Spotify lets everyone play and stream millions of songs on the site for free. It provides you with a variety of music types so that you can enjoy your favorite music directly online. You can sign up a free account to enjoy free Spotify music, and you can also pay a mothly fee to upgrade to Spotify Premiun and enjoy specified songs. But the fact is that you can only listen to the Spotify music online with network connection. So here we share you a smart way to download music from Spotify to your computer or mobile devices and enjoy the Spotify music anywhere anytime. Read on to learn more about Spotify downloader for Mac, Windows, iPhone and Android.
Part 1. How to Download Music from Spotify
To download Spotify music on PC computer, iMusic is highly recommended, which enables you to download music from Spotify without any quality loss. In addition, you are able to transfer downloaded Spotify music to iPhone, iPad, Android phone or any device as you like.
Step 1. Launch iMusic Spotify downloader
Click above "Free Download" button to download this Spotify music downloader and follow up instructions to finish installing it on your computer. It has separate version for Mac and Windows PC. After then, launch the software and click the "GET MUSIC" tab.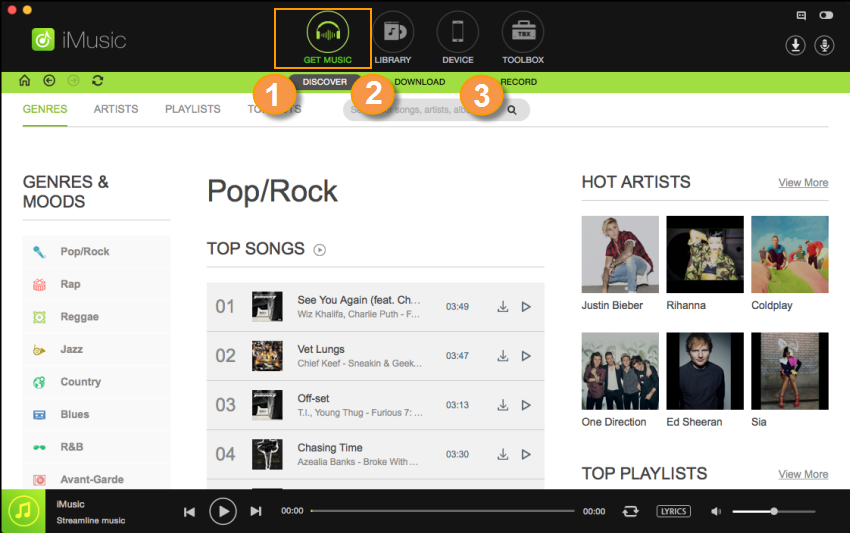 Step 2. Download music from Spotfify within iMusic Built-in Library
In the "GET MUSIC" window, you can see 3 options: DISCOVER, DOWNLOAD, and RECORD. You can find the hottest songs from Spotify by clicking the "DISCOVER" button, then "TOP LIST". There is a download icon beside the list. Click it to download the hottest Spotify music to your computer.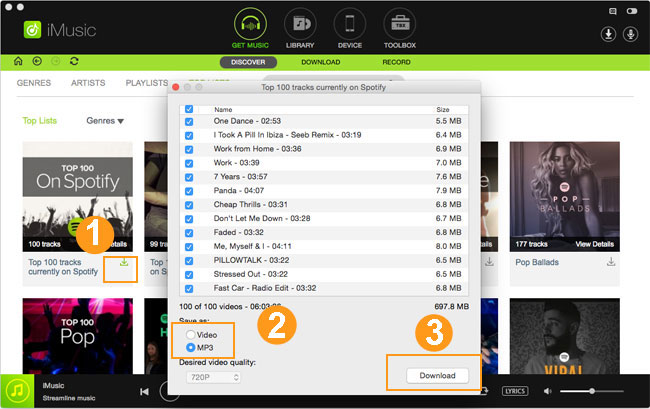 Step 3. Download Spotify Music by Copy-n-paste Link
If you have found a song on Spotify with your web browser, then you need to click "DOWNLOAD" in iMusic. Then in the main window, copy and paste the web address of the song to box. Click Download to download the song to your iTunes Library.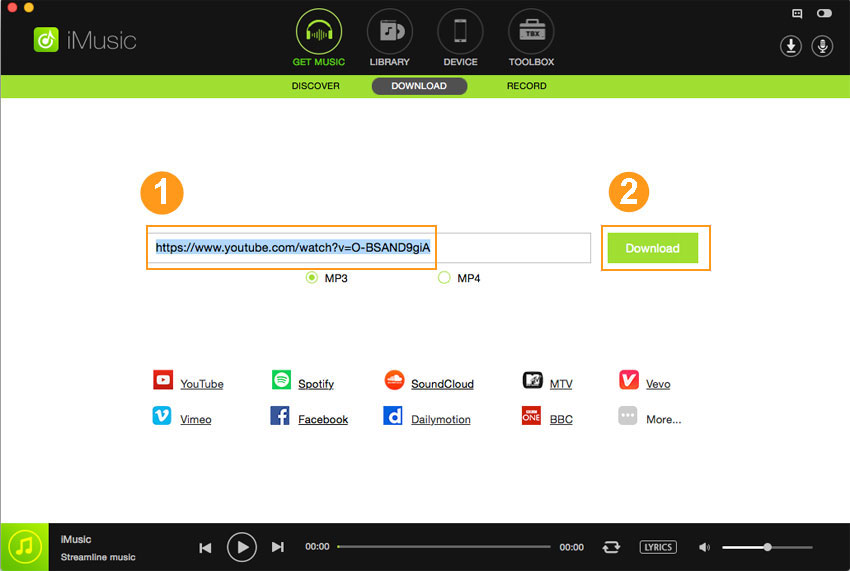 Step 4. Play or Transfer Downloaded Spotify Music
All downloaded Spotify music will be saved to your iTunes Library automatically. You can check them out by clicking the "LIBRARY" tab on the main window of iMusic, then click the download icon on the left side of the window. After then, select a song to play it or right-click on the window to transfer it to your other devices for playback.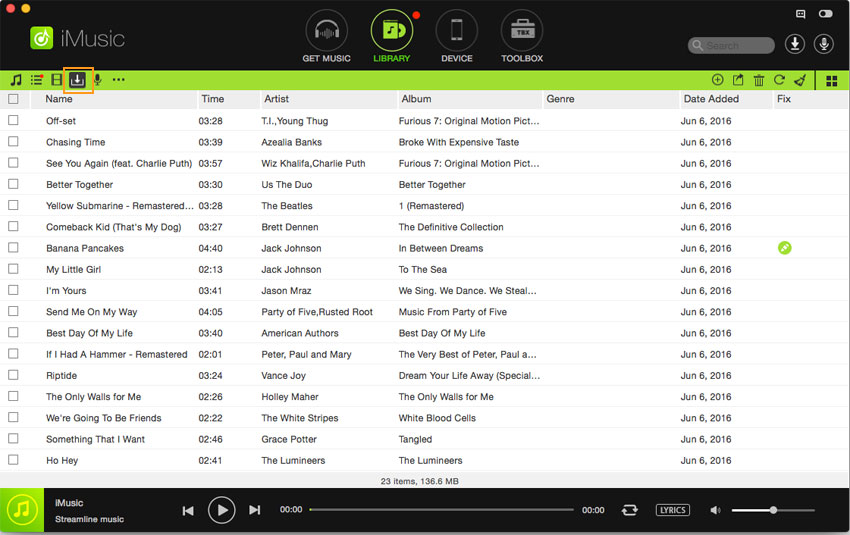 How to Record Music from Spotify:
I have mentioned above that iMusic allows you to record music from lots of music sites and radio stations. Of course, Spotify fully supported. It can divide tracks automatically and remove advertisements from the songs as they play. After recording, you can also export Spotify to iTunes library. This Spotify music recorder can additionally identify tracks in the process of recording,tagging the files to the applicable musician or artist, the title of the track and from which album it comes from. These ensures your downloads or recordings are indexed by album, title or artist, creating your own personal library which is a all-inclusive.
Step 1. Launch Spotify Audio Recorder - iMusic
Download the program on your computer and follow install instructions to complete installation. Then open the software and click the "GET MUSIC" tab on the top of the software. Next click the third option "RECORD".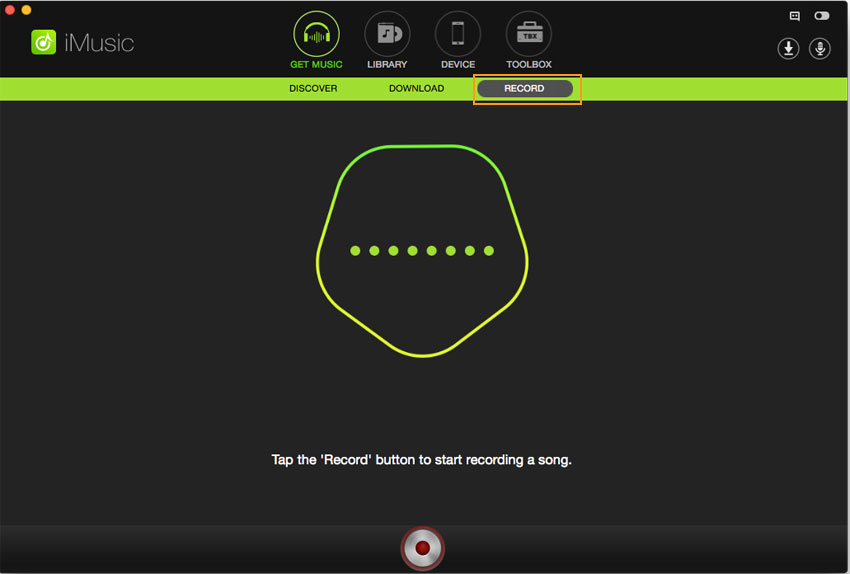 Step 2. Start to Download Spotify Music
In the record window, click the red record button. Open Spotify to get the music you need to download and play. The Spotify audio recorder will begin record music from Spotify to MP3 automatically. To download the complete music, you will have to click the "Record" button before playing the music.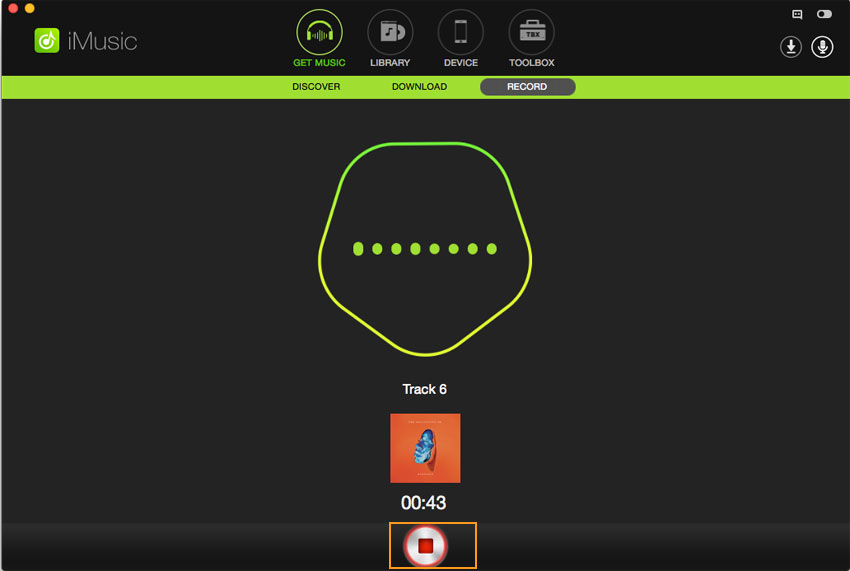 Step 3. Check out the Recorded Music
After finish the recording, you can click the "LIBRARY" button on the top of the software, then next click the microphone icon on the left side of the pop-up window. From there, you can see all the recorded songs. Tick the checkbox to select songs to play or transfer to other devices. To transfer music to other device, you need to connect your device with your computer via a USB cable, then select songs and right-click on the main window. Select "Add to" > your device name.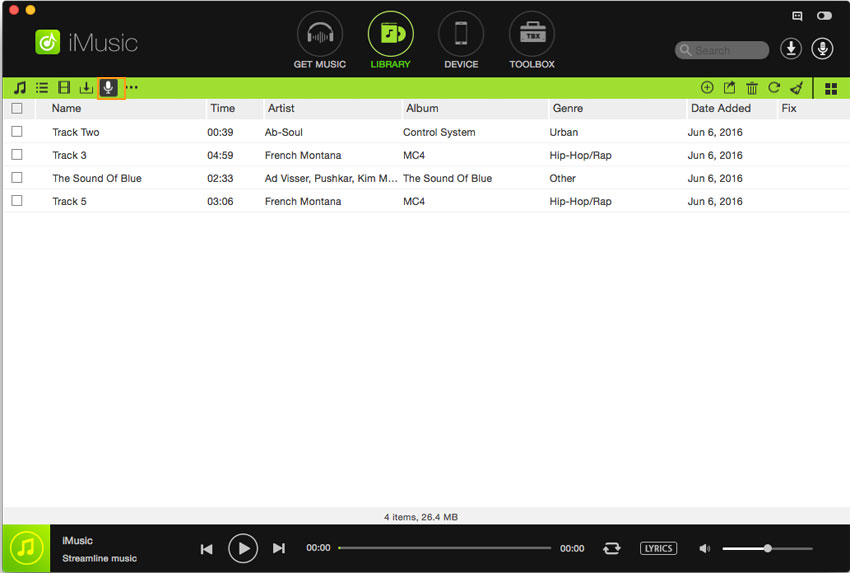 Part 2. How to Download Music to Android or iPhone from Spotify
Spotify Music is a music streaming app for Android devices, created by Spotify Limited. Spotify Music gives you your favorite playlist right on your Android through Wi-Fi or 4G. This makes it feasible for you to take your Spotify playlist and listen in to it every time you have an Internet connection.
Spotify Music also permits you to store your playlist in offline mode. It stores the tracks in your free memory and the next time you listen your playlist, poor internet access won't get in the way. It also flawlessly syncs with your computer, so any alteration you make will directly appear on your device. The steps for downloading and using it are pretty straight forward. Just follow the below steps to learn how to record music from Spotify on Android device.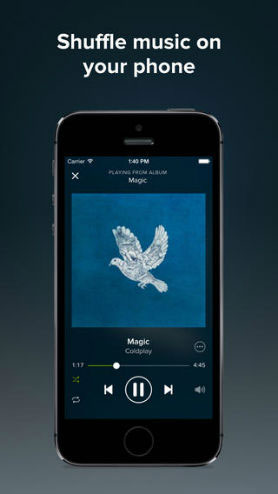 Step 1: Open Spotify and you are then taken to the service's list of playlists.
Step 2: Pick any playlist and click on it. And pick a sub-playlist and click on it.
Step 3: Click on the "Follow" button on the bottom of the cover of the playlist to add it to your collection. After you have added the playlist to your collection, you will now realize that there is a switch labelled, Available Offline.
Step 4: Flipping this switch on your songs, albums and playlists stores content on your Andoidr for playback later.Any music you add to your collection or follow, will show up in a list of songs and other media in a fly out menu.
Step 5: Click Your Music. In Your Music, hit Local Files to observe what songs have been added while offline.
How to Download Music from Spotify on iPhone
Spotify for iPhone permits Spotify premium users to download music from the service to their iPhones. This way, users get one or two playlists that are assured to work even in places where there is no respectable internet connection.
You should download the Spotify app from the iTunes App Store and log in with the account you will create. You can also download the app and login to it with your Facebook account. You can create your personal login credentials for the service, but it is easier to find friends and family in the social media aspects of Spotify if it has access to your Facebook account and the friend list. Then follow below guide on how to record music from Spotify on iPhone.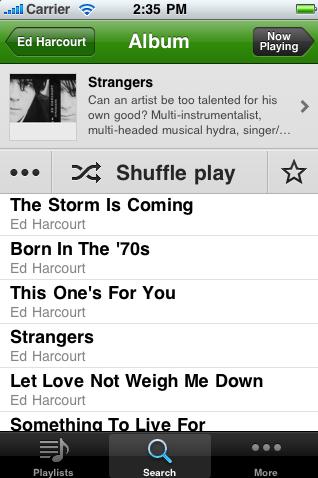 Step 1: Open Spotify and you are then taken to the service's list of playlists.
Step 2: Pick your lovely playlist and then sub-playlist, and click on it.
Step 3: Click on the "Follow" button and add the playlist to your collection. Then available Offline. When you add music to the collection or Follow, it will show up as a list.
Step 4: Click Your Music and hit Local Files to observe the offline files. As long as you pay premium subscription for your spotify account every month, the songs you downloaded will be readily available for you to listen to.
Part 3: Best 10 Free Spotify Downloader App