Youtube Downloader
1. Youtube Music Downloader

2. Download Youtube Music

3. Convert Youtube MP3

4. Convert Youtube MP4

5. Youtube Converters

6. Youtube Songs

7. Tumblr Music Download

8. MP3 Converter Alternative

9. Youtube MP3 Tips
YouTube launched in February 2005 and changed the video streaming completely. YouTube tremendous help to make a form of visual known as music and video art back to life, and the platform became a most popular for people listening to music and watching videos. In this article, you will discover the top 30 most popular song s on YouTube, and you can download the most popular songs right now with iMusic desktop application.
YouTube don't allow users to download music, but you can download your favorite music with iMusic software. iMusic is an all-in-one music manager to download music, transfer music between your Smartphone (iPhone or Android), iPad or iPod and iTunes/MAC/PC. This application is must have for all the music lovers who want to manage music easily, maintain iTunes Library and transfer songs from Apple devices, Android Phones and Computer. iMusic has separate versions for both Windows PC and Mac. It is fully compatible with iOS 10 and iPhone 7 and 7 plus.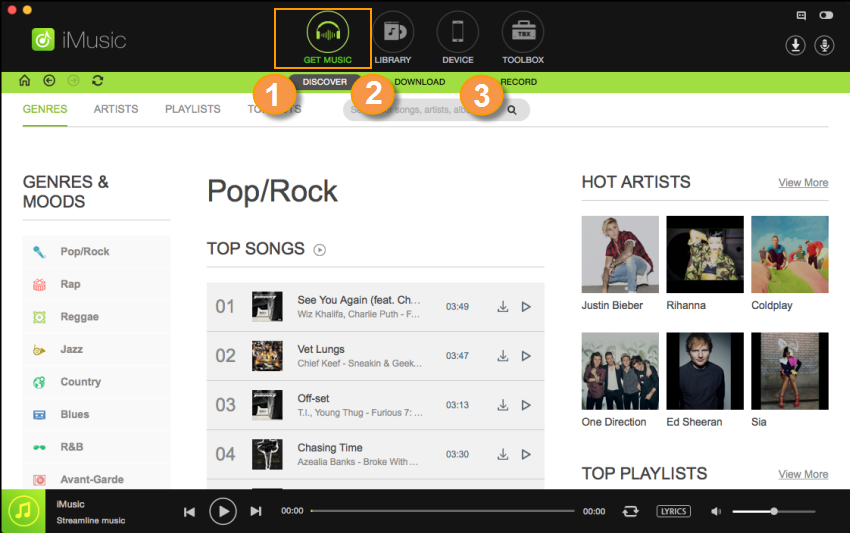 Supported Devices:
iOS: the latest iOS 10 and former ones
Android: Android 2.1 to Android 6.0
iPod: iPod OS 1.0 and iPod OS 2.0
The application is very rich in features and offers a lot to the users. It is a 1 MB application and is one click installation.
Key Features:
YouTube provides its fans with a large number of videos and hot music and allows you to stream the videos and songs online for free. However, the drawback is that YouTube do not allow video or music download from the site. But the fact is that you now can download music from YouTube to iPad, iPod or iPhone conveniently for playback on the go as long as you have got a reliable YouTube music downloader. Here in this article, we will share you the easiest way to download YouTube music to iPad, iPod or iPhone for enjoying music anythere anytime.
Discover and Download Music
The built-in library of the iMusic gives you the freedom to discover all your popular artists and playlists. You can search for artists, songs, and thousands of playlists and download any song or playlist. The iMusic let you download your favorite songs from not only YouTube but also 3000+ websites.
Record songs and create playlists
The recording feature identifies the music playing around you. Tap the record button to instantly identify the song and then download it straight to your library.
Transfer music between your Apple and Android devices
Transfer your music library, playlists; TV shows across your iPhone, iPod, iPads and many Android phone with ease. You can check whether your Android device is compatible or not by following this link
Backup and Rebuild your iTunes library
The iMusic can also create a backup of your music library, and you can restore the data if lost.
Fix your iTunes library
Fixing your iTunes library is now as simple as clicking a button on iMusic and sitting back with your mug of coffee. It makes your library clean and uncluttered and adds missing music covers to your albums.
Here's a guide to download your favorite music via iMusic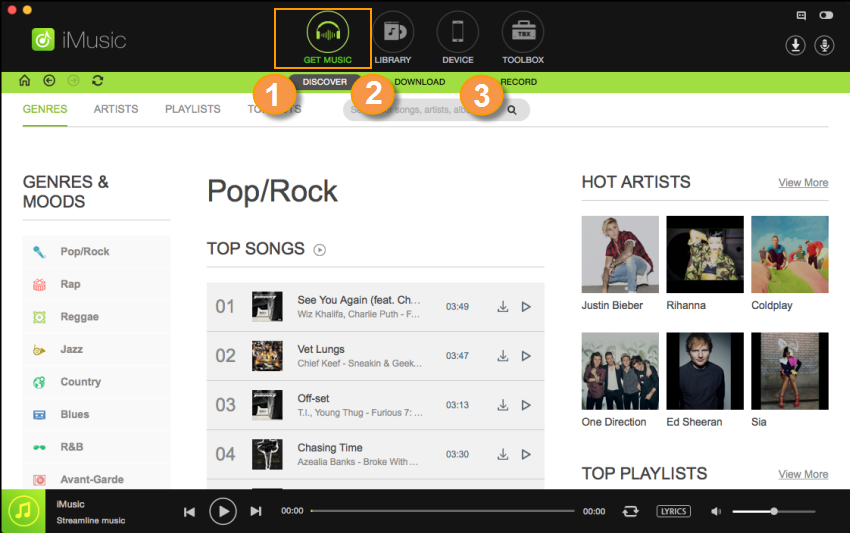 Step 1: Simply download the application (Trial or Paid), Install and open the application. Click on the "Download" in the "GET MUSIC" Section, After then you can see the copy/paste URL box as well as some accesses to some websites.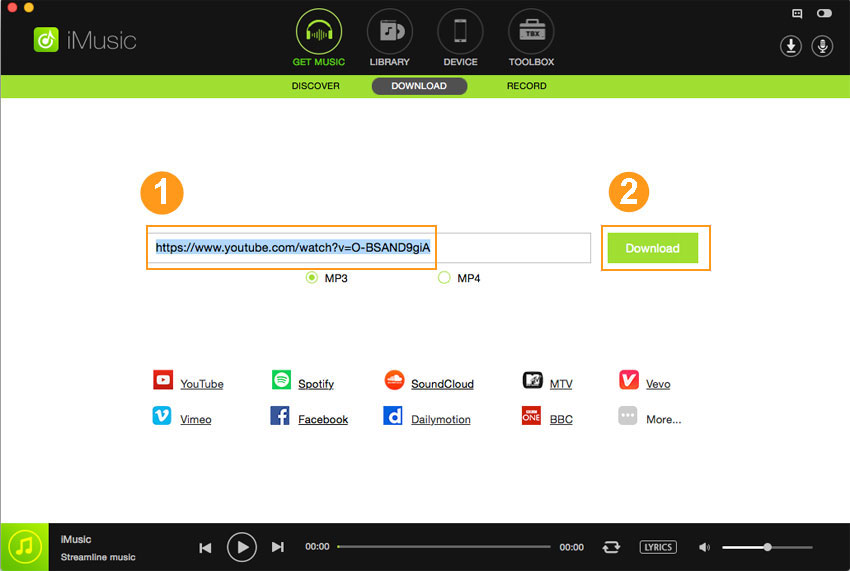 Step 2:
Method 1: Open YouTube or any music streaming site. Copy the video link and paste the URL of the song in the URL BOX and click the download button to start to download your favorite YouTube Music. The iMusic allows you to download either in mp3(audio) or mp4 (video) format as well. Click on the download Status(Point 4 in the above picture) and enjoy your favorite song.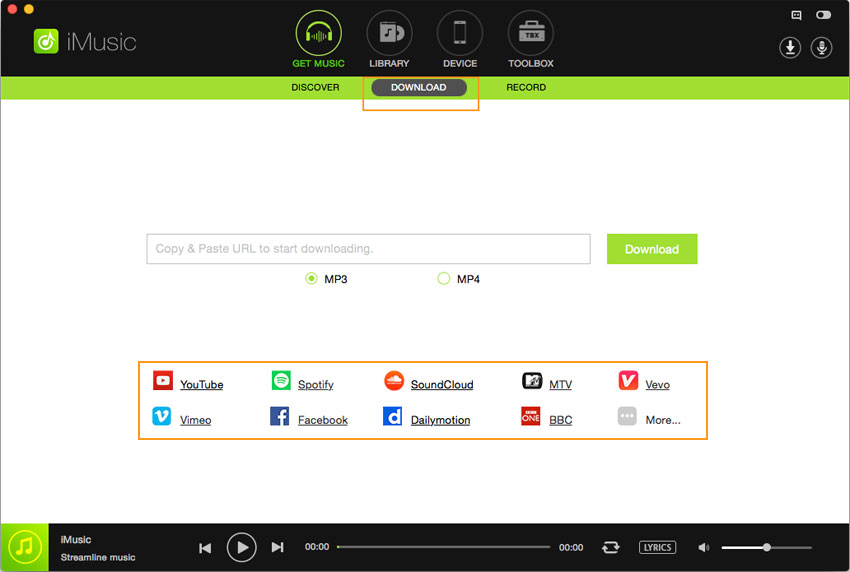 Method 2: The 2nd method to download your favorite music is to click on the YouTube Icon. YouTube will be open in the application window and then select your favorite video. When you select your favorite video, click on the "Download Icon" Select the music format and quality, click "Download" to begin the download process.