Youtube Downloader
1. Youtube Music Downloader

2. Download Youtube Music

3. Convert Youtube MP3

4. Convert Youtube MP4

5. Youtube Converters

6. Youtube Songs

7. Tumblr Music Download

8. MP3 Converter Alternative

9. Youtube MP3 Tips
YouTube is a great source for watching videos and listening to the music. However, we do not have internet connection all the time or the YouTube Ads can become really irritating for some users. These issues can be resolved by downloading and converting YouTube Videos to MP3 files and they can also be transferred to any smartphone or tablet. There are plenty of YouTube to MP3 Converters present online and one of them is MediaHuman YouTube to MP3 Converter.
About MediaHuman YouTube to MP3 Converter
MediaHuman YouTube to MP3 converter is a simple application to download and convert videos to MP3 tracks from different video streaming websites such as YouTube, Dailymotion, VEVO or Vimeo. The unique thing about this software is that you can download audio songs up to 320 Kbps which is better than many other YouTube to MP3 Converters. You can directly drop the link in the program or paste the URL of the video and it will automatically download that video. With the powerful editing feature, you can instantly edit the Artist name, Track name, Genre, Album and the art cover of the audio track. Lastly, when the download is finished, the tracks can be transferred to the iTunes Library on Windows or Mac OS X. The free version comes with the limited options while the turbo boost mode will let you download the videos instantly but it will cost you $9.99 every year for this option.
Advantages of MediaHuman YouTube to MP3 Converter
Easy to use, Clean interface
Supports Multiple Languages
Download multiple tracks or playlists at the same time
Download tracks in 320Kbps bit rate
Download tracks in 320Kbps bit rate
Works with other many video streaming websites
Does not contain any Ads or Malwares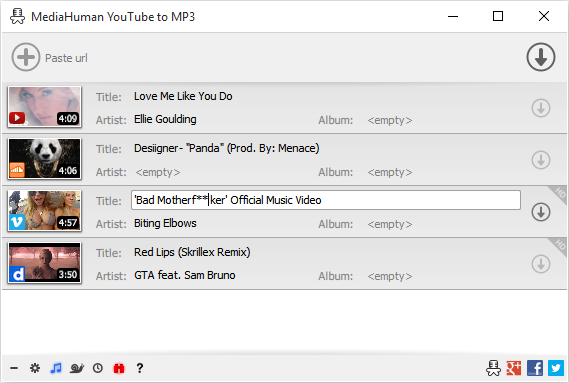 Disadvantages of MediaHuman YouTube to MP3 Converter
Hefty price for the features that it provides
No option to download songs from Spotify or other music streaming websites
Got stuck while downloading more than 3 tracks simultaneously
Limited Speed for Free version.
Best Alternative to MediaHuman YouTube to MP3 Converter – iMusic
Although MediaHuman YouTube to MP3 Converter provides many options to get the YouTube videos in MP3 format but it lacks some very important features. iMusic will not only fill those missing features in the program but also provide the already present features in MediaHuman YouTube to MP3 converter.
It is a cross platform application available for both Windows and Mac OS X which can download any YouTube track with one click in highest possible quality. It also works with other video or audio streaming websites such as Spotify, Apple Music, Vevo and even Pandora. Virtually, you can download songs from any website. It supports more than 300 websites. Besides, iMusic has a built-in audio recorder which comes with a smart feature. It records the song when it is played and once you are done with the recording, the software will automatically add ID3 Tags and artworks to the songs.
iMusic is also a complete music transfer application which can transfer music from your computer to iPhone and vice versa. This option is not present in iTunes. You can also transfer the music from your iPhone to Android or Android to iPhone with one click option. The unique managing features in iMusic will let you manage all kind of music, you can delete the MP3 tracks, rebuilt library or can edit the Playlists in iMusic.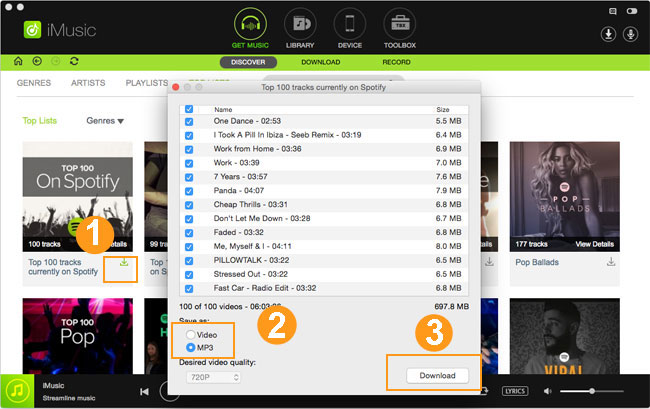 Comparison of iMusic and MediaHuman YouTube Converter
| Feature | iMusic | MediaHuman YouTube Converter |
| --- | --- | --- |
| Main Features | Downloader, Manager, Recorder, Music Transfer Tool | Downloader |
| Available Operating System | Windows and Mac OS X | Windows, Mac OS X and Ubuntu |
| Supported Music Websites and Amount | More than 300 different video and audio streaming websites such as YouTube, Spotify, Apple Music, Pandora, Dailymotion, Vevo | Limited Number of Video Sharing Websites |
| Save Music to iTunes | 1-Click option | 1-Click Option to save Music |
| Creating New Playlists | Can individually create new Playlists for different tracks | All downloaded tracks will be added to only one Playlist on iTunes |
| Transfer to iOS Devices such as iPhone, iPod Touch and iPad | Can transfer music to any iPhone, iPod Touch or iPad without iTunes | Not Available |
| Transfer Music to Android | One Click option to import files or folders to Android Devices | Not Available |
| Transfer Music from iPhone to Computer or iTunes | Can easily transfer all media from iPhone to computer or iTunes | Not Available |
| Transfer Music between iPhone and Android | Available in Windows version | Not Available |
| Automatic Download | Automatically download tracks from the YouTube | No option Available |
| Download Speed | Ultra-Fast | Slow Speed for free version |
| Price | One price for Life time | $9.99 every year with high speed download |