If you have purchased movies or TV Shows in iTunes Store, you cannot use the copy-n-paste method to transfer movies from iTunes to Android phone. And Apple never gives any solution to transfer movies from iTunes to Android. In order to resolve this issue, users will need to install third party software that will copy the movies from iTunes Library to Android.
Part 1. Transfer Movies from iTunes to Android with iMusic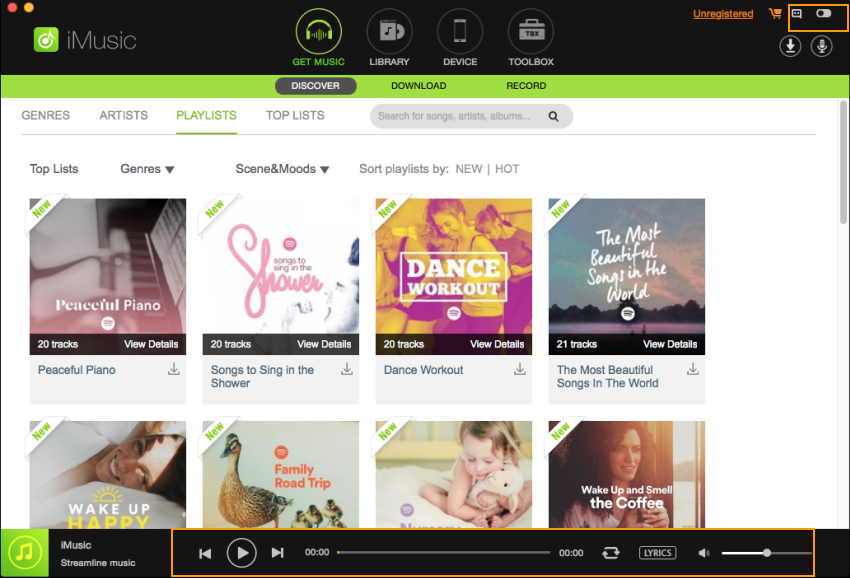 In this article, I'd like to recommend iMusic to you strongly. It is a cross-platform, multi-purpose, simplest application to transfer the movies from the iTunes to Android Phones and Tablets. The process of transferring the content is pretty much simple because it will copy the whole iTunes Library which can be copied to your Android Phone or Tablet. Besides, if you have some videos on your iPhone, iPod, iPad and Android phone, you can transfer them to your another Android device for enjoyment as well. iMusic makes watching and transferring movies so easy!
Here are the steps for how to transfer movies from iTunes to Android phones via iMusic on Windows PC or Mac.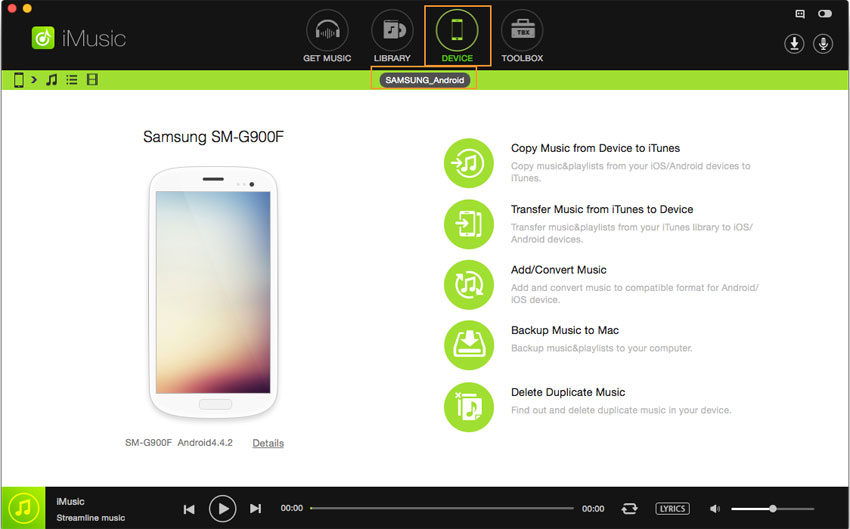 Step 1. Download and Install
First of all, you will need to have the latest version of the iMusic on your Windows Computer or Mac OS X. Click Here to download the latest version of iMusic on your computer. Connect your Android Phone or tablet with the computer and it will be shown in Devices tab in iMusic. Make sure to enable the USB debugging on your Android Phone while connecting.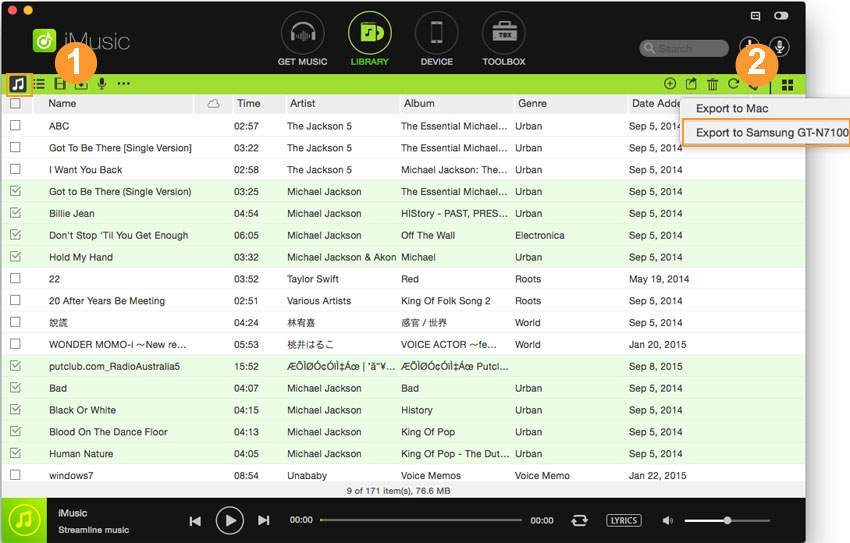 Step 2. Copy Movies from iTunes to Android Phone or Tablet
Once everything is set, click "LIBRARY". It is the quick access to iTunes library. Then, next, click the movie icon on the left side of the window to display all videos in iTunes Library. Check the ones you need, and click the export button to export them to your Android device. That's it! Viola! You have successfully transferred the movies from iTunes Library to your Android Phone or Tablet. In case of any problem, please leave a comment below or contact with our support team.
Part 2. More Features for iMusic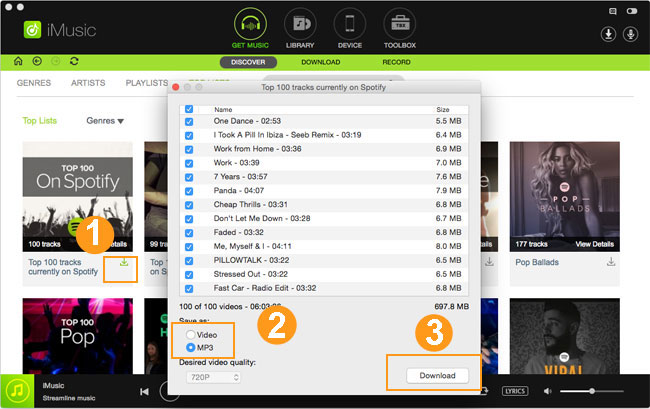 Besides transfer iTunes movies to Android phone, iMusic has many features you might be interested in. It will let you browse through hundreds of music streaming websites and you can even download music from popular music streaming websites such as Spotify, Pandora, Last.fm, YouTube Red, Apple music and 8Track. Once a track is downloaded or recorded, it will automatically add the artist name, date of the track, cover photos and genre for that music track. Moreover, you can even download the Mp4 music videos from certain video streaming websites such as YouTube, Vimeo or Dailymotion. Once the tracks are downloaded, they can either be saved on local storage of your computer or can also be uploaded to the other websites such as Google Music, SoundCloud or Spotify. Users can also modify the whole music library, make new playlists or can rearrange the tracks as they deem fit.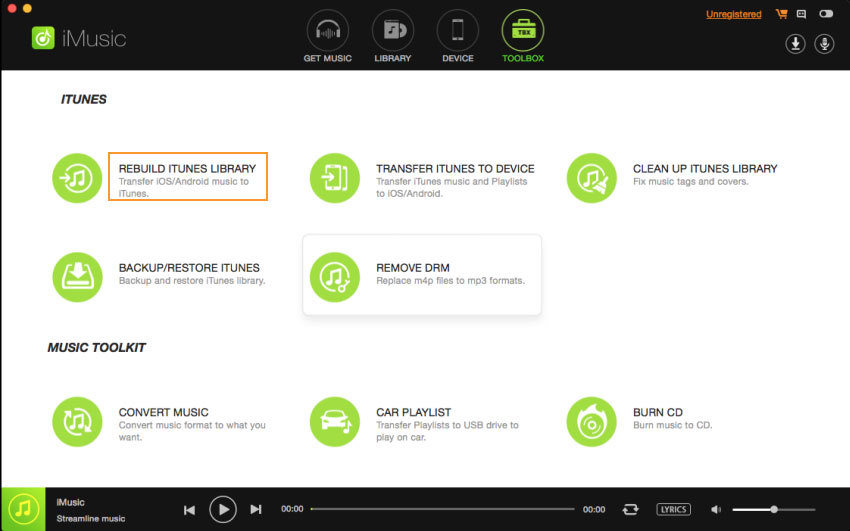 One distinguished feature present in our software is the fixing the iTunes Library to rearrange the tracks, add metadata to the tracks and even the album arts to certain tracks. You can not only transfer the movies from the iTunes library to the Android phone, it will also let you perform the same task in opposite direction which means that users can also transfer the movies from the Android Phones to the iTunes Library on Windows and Mac OS X using iMusic. Moreover, you can also make a complete backup of all the tracks present on your computer to save them in a flash drive or upload them on a cloud service. If you have purchased a song or movie from the iTunes, iMusic iSkysoft will also let you remove the DMR to copy them on other devices. Lastly, you can also convert the music or movies present in your iTunes Library to make them compatible with the Android Phone. Similarly, the whole music library can be copied on a USB or burn on a CD to play the music or movies in the car. Here's the step by step guide on how you can transfer the Movies from iTunes Library to the Android Phone using iMusic on Windows or Mac OS X.