Microsoft's Windows and Apple's Mac OS X have always seemed to be at the opposite ends of the operating system spectrum since time immemorial. While most people recognize this fact, it's also undeniable that some of the built-in applications that these different operating systems carry are made to be compatible with each other, to some extent.
Such compatibility applies to Windows Media Player, the main music player for Microsoft's operating system, and iTunes, Apple's flagship music application for its computers and iOS devices. Since these two applications serve the same essential purposes, they open virtually the same types of files and use these files in generally the same way. Because of this, transferring media files, particularly music, between these two applications is definitely an easy task to do.
You Might Like All-in-One Music Downloader and Management Software - iMusic
iMusic is a great tool that integrates all the features you need for getting and managing music. It is able to download and record music from music sharing sites, transfer music between computer and iTunes Library, iPhone, iPad, iPod, and Android devices. Here are its main features.
Download music from more than 3000 music sites to totally free.
Download YouTube music to MP3 and save to iTunes Library directly.
Record music from music sites, software that can play music on computer.
Transfer music between Mac, Windows, iTunes Library and iPhone/iPad/iPod and Android devices
Built-in "LIBRARY" gathers all the songs on your computer for further music fix and management.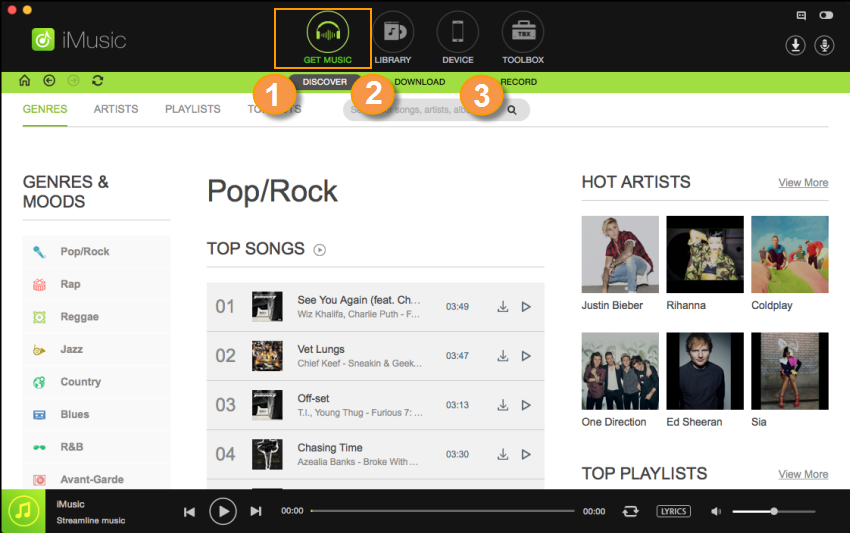 Part 1: How to transfer music from Windows Media Player to iTunes
You can definitely open in iTunes the songs you play with Windows Media Player. To get them to play in iTunes, you basically need to access your Windows Media Player library and have your songs there imported to your iTunes library. See the detailed instructions below:
Step 1. Open Windows Media Player
You will be taken to your music library by default. From your library, select the song you want to play in iTunes. Right-click on it and select Open file location.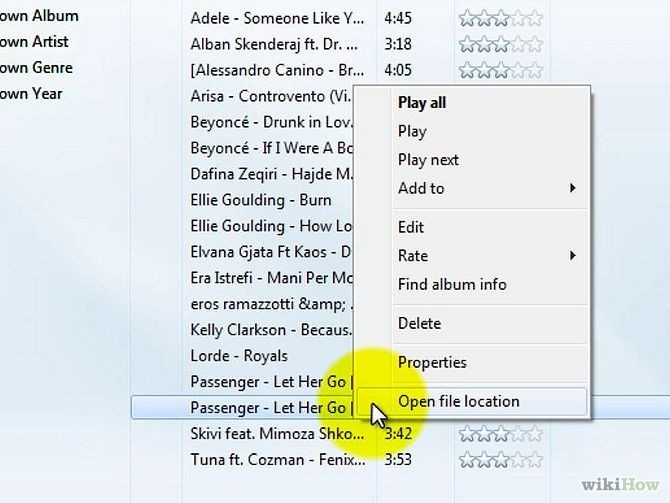 Step 2. Copy music from Windows Media Player
Once you're taken to your selected song's folder, go to the address bar. Highlight the path, right-click on it and click "Copy".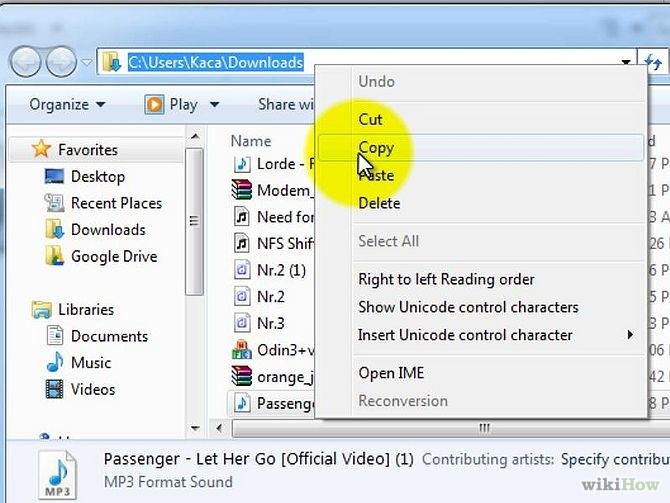 Step 3. Run iTunes
Now launch iTunes. On the "File" menu, select "Add file to library..." if you wish to add individual music files. Click "Add folder to library..." instead if you'd like to import multiple songs contained within a folder.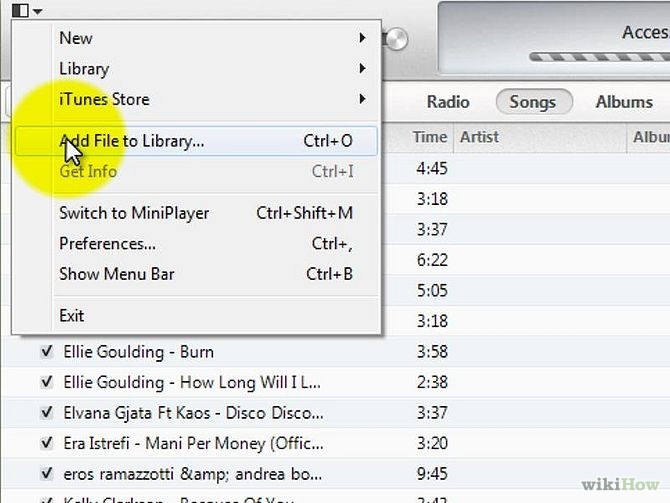 Step 4. Add music to iTunes
iTunes will ask you to locate the file or folder you'd like to add. Enter the file path you copied earlier in the address bar and select the music files or folders you want to add to your iTunes library. Click "Open" after making your selection. The songs you've selected will now be imported to your iTunes library and you can now play them within the application.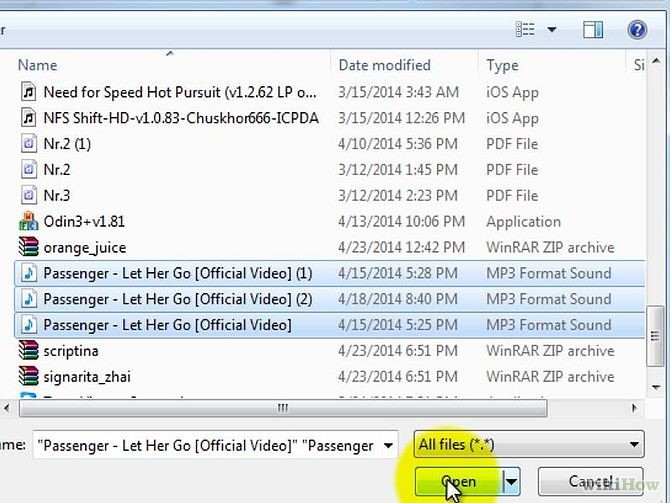 Part 2: How to transfer music from iTunes to Windows Media Player
If instead you'd like to get songs from your iTunes library to your Windows Media Player library and play them there, you should follow the instructions listed below. Take note that this process, as compared to the transfer from Windows Media Player to iTunes, is more straightforward and much easier. See it for yourself:
Step 1. Launch Windows Media Player
Launch Windows Media Player. Go to the "Organize" menu. Select "Manage libraries" and click on "Music".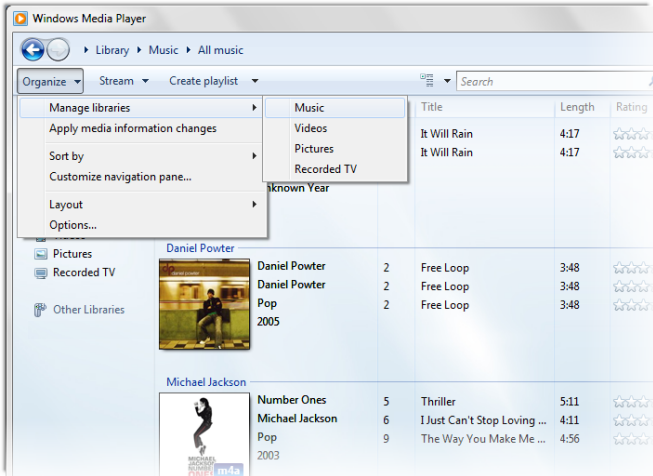 Step 2. Import music from iTunes to Windows Media Player
The "Music Library Locations" window will appear. Click on the "Add" button and locate your iTunes library which is usually located in your computer's music library. Click "OK" when you've added your iTunes library. Your Windows Media Player library should now include songs from your iTunes library
Part 3: About formats compatible with Windows Media Player and iTunes
Aside from knowing the process of how you can be able to open and play different media files, especially music, between iTunes and Windows Media Player, the file types that these two applications support are also worth noting.
Formats supported by Windows Media Player:
Listed below are the different file formats supported by Windows Media Player, as presented in one of Microsoft's support pages. While most file formats in the list belong to the audio category, there are video file formats as well which are not given much attention in iTunes. Take note, however that the list only applies to Windows Media Player 12, as older versions may not be capable of opening some formats.
Windows Media formats (.asf, .wma, .wmv, .wm)
Windows Media Metafiles (.asx, .wax, .wvx, .wmx, .wpl)
Microsoft Digital Video Recording (.dvr-ms)
Windows Media Download Package (.wmd)
Audio Visual Interleave (.avi)
Moving Pictures Experts Group (.mpg, .mpeg, .m1v, .mp2, .mp3, .mpa, .mpe, .mpv2, .m3u)
Musical Instrument Digital Interface (.mid, .midi, .rmi)
Audio Interchange File Format ( .aif, .aifc, .aiff)
Sun Microsystems and NeXT (.au, .snd)
Audio for Windows (.wav)
CD Audio Track (.cda)
Indeo Video Technology (.ivf)
Windows Media Player Skins (.wmz, .wms)
QuickTime Movie file(.mov)
MP4 Audio file (.m4a)
MP4 Video file (.mp4, .m4v, .mp4v, .3g2, .3gp2, .3gp, .3gpp)
Windows audio file (.aac, .adt, .adts)
MPEG-2 TS Video file (.m2ts)
Formats supported by iTunes:
While iTunes offers more functionalities and features than its Windows counterpart, it's easy to see that it supports fewer formats. It does play video formats as well, aside from the basic audio formats that most media players can open and play. The list, as reflected in Apple's support page, can be seen below:
Video formats (.mov, .m4v, or .mp4)
AIFF
AIFC
audio CD
MP3
System 7 Sound (SND)
uLaw (AU)
WAV
QDesign
QuickTime audio (audio only movies)
Audible.com (format 2, 3, and 4)
AAC (Advanced Audio Coding)
MPEG-4 Audio (M4A)
Although it is undeniable that these two media players from the most-trusted operating system developers support a handful of media files – not only music but video files as well, it can't be avoided that in some instances, they can't recognize the file you're wanting to play.
With the plethora of media file formats growing in number, there are some situations where you'll have to consider doing extra steps first before opening and playing your files in either iTunes or Windows Media Player. Take for example the FLAC audio format, which isn't supported by either media players. You would have to convert a FLAC audio file first before you actually get to listen to it.