When it comes to listening to music, there isn't any device that is better than the iPod. It has a long lasting battery, a huge storage space and the best part is that it's so portable. In this guide, we will show you the different methods through which you can add music to your iPod from your iTunes.
Part 1. Add Music from iTunes to iPod Directly
Most people are really surprised when they get to know that you can easily sync music from your iTunes to your iPod directly. Let us take you through the steps through which you can add music to your iPod from your iTunes.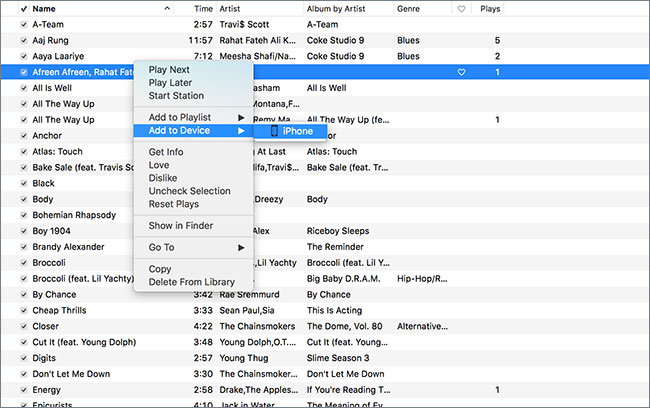 Step 1: First of all, ensure that you have iTunes installed in your computer since you would need that to perform this task. Now, open your iTunes and navigate to File. Now select the option to "Add File to Library" which will begin the process of transferring music to your iTunes.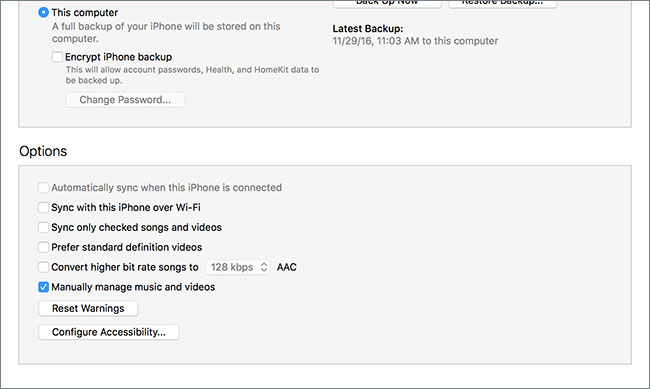 Step 2: Now connect your iPod to the computer using a USB data cable. Now, all you have to do is copy your music files from your iTunes to your iPod. Your connected device will be shown on the left side of your iTunes window. In some instances, nothing happens when you copy songs to your iPod. To overcome this issue, you have to tick the box with the caption "Manually Manage music and videos."
All your selected music has now been shifted to your iPod from your iTunes. Enjoy your music!
However, when you put your songs on your iPod directly from iTunes, all your previous data that has been synced before will now be erased. Moreover, in case you didn't copy your music files together, you will have to search for them one at a time, which can be super frustrating. To ensure this doesn't happen, it is recommended to use easy software.
Part 2. Using MediaMonkey to Add Music to iPod from iTunes
Many Apple users are really unhappy with how iTunes seems to be having so much technical issues all the time, so they might turn towards other applications that are able to perform the same functions in a much easier way. An app that will perform these functions to the fullest is MediaMonkey. This is a really easy alternative to manage your iPod and audio collection. Now, let's take you through the steps through which you can transfer music to your iPod from your iTunes through MediaMonkey.
First of all, click here to get the latest version of Media Monkey on your computer. Next, install the downloaded setup. Using its preset instructions, MediaMonkey will automatically scan your music folder, including any music that is present in your iTunes library. Also, it will give you an option to import all of your data from your iTunes library if it hasn't done that already. Just click OK on the pop up window that appears.
After the import has completed, all your content can now be seen in your MediaMonkey library, including all the audio content, podcasts, music, videos and iOS applications.
Now, plug in your iPod into the computer on which you installed MediaMonkey. Your device will be recognized automatically, with no additional plug-ins needed. In MediaMonkey, you'll be able to access the music files that are present on your iPod currently as well.
All you have to now is just drag the music that you want on your iPod, and it will get transferred to your Apple device. Moreover, you can also just right click on the song, and select the option of "Send to iPod."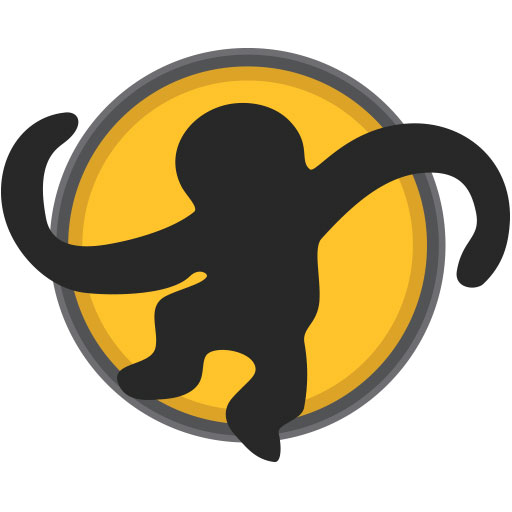 Your music will now be sent to your iPod from your iTunes. However, one of the biggest problems with MediaMonkey is that it's not available on Mac OS X, and instead only works on Windows PC.
Part 3: The Perfect Tool to Add Music to iPod - iMusic
So, is there any software that effectively manages and transfers the music that is present on your iPod and your iTunes, and is available on every platform, both for Apple and Windows users? Well, now you do not have to look further than iMusic. This software is your perfect music companion that you have been looking for. With this application, you get the ability to discover, record, download and transfer music to your iTunes library from any place, both iOS and Android, which increases its uniqueness. For audiophiles, iSkysoft is the best tool to tinker with music. You can transfer anything, including songs, videos and even photos from your computer to iPod, bypassing iTunes. Moreover, iMusic also makes sure that when you transfer files into your iPod, the music file type is easily playable on an iPod. If the file type is different, it is automatically changed by the software.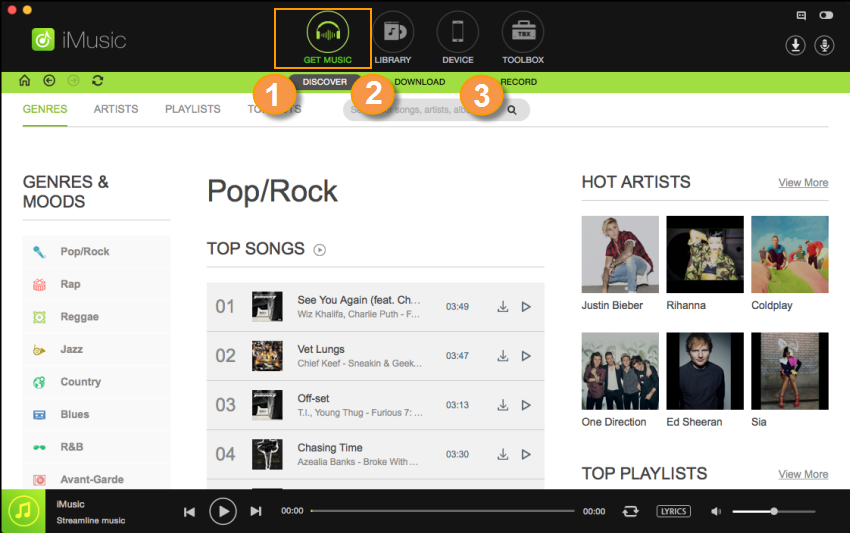 There is also one more issue with iTunes that iSkysoft can solve through its Transfer feature. Sometimes when you're transferring music from your iTunes to your iPod, you might face a pop up window warning you that all your data might be erased. This usually occurs when your iPod has been synced with another computer as well. To minimize the chance of this happening, the best option is to use Transfer, a feature of iMusic. You can also copy all your playlists from your iPod to your iTunes library with all the track information intact. Moreover, it is also compatible with both Mac OS X and Windows PC.
The steps that you have to go through to ensure that all your music has been added are given below: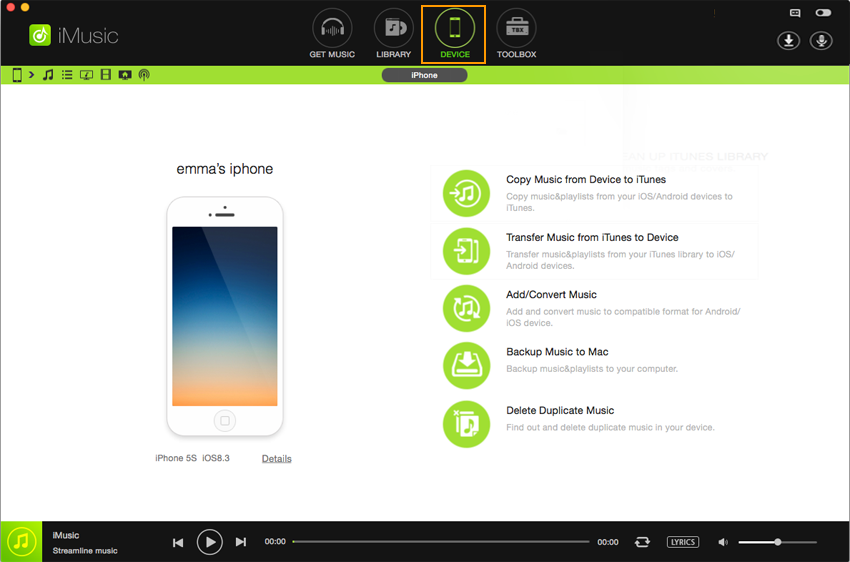 Step 1: Firstly, you have to download and install iMusic. Now, launch iMusic. When you do, you will have to establish a connection between your iPod and your computer using a USB cable. Your iPod device will now be shown in the main window of DEVICE tab in iMusic.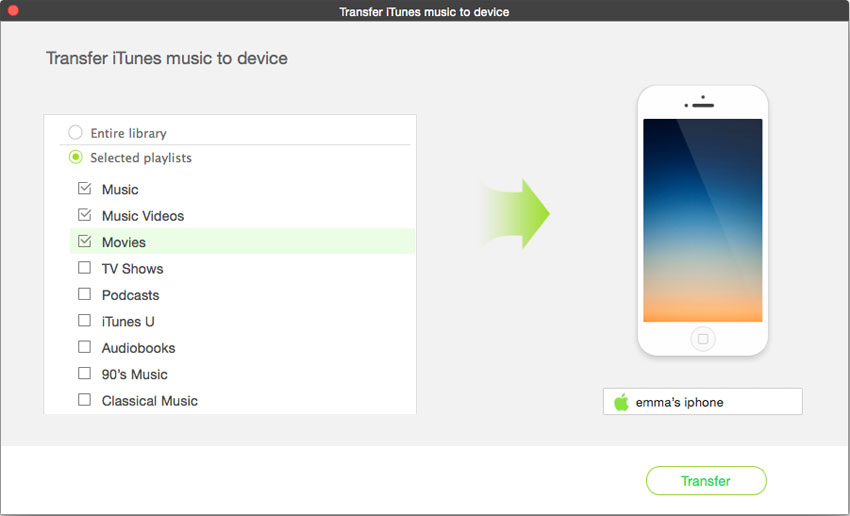 Step 2: Now click the Transfer Music from iTunes to Device option. Check the files types that you want to transfer and click "Transfer" button. Note that this process will sync the whole items in your checked files. If you want to only transfer some selected items, try Step 3.