Spotify is an easy-to-use music streaming service, which allows you to stream millions of songs in 1 click legally. You can customize playlists on Spotify and share with your friends through social media. You are allowed to register Spotify free service, but with ads in streaming music. You can also pay $9.99 a month to subscribe Spotify Premium and access Spotify with ad-free, high quality, offline mode and other features.
But you might think $9.99 a month for music streaming is very expensive and wondering if there is any way to get Spotify discount code or Spotify gift card to enjoy Spotify Premium service for less payment. Luckily, below we collect 3 different ways to get a discount on your Spotify services.
Part 1. The Easiest Way to Download Unlimited Free Music from Spotify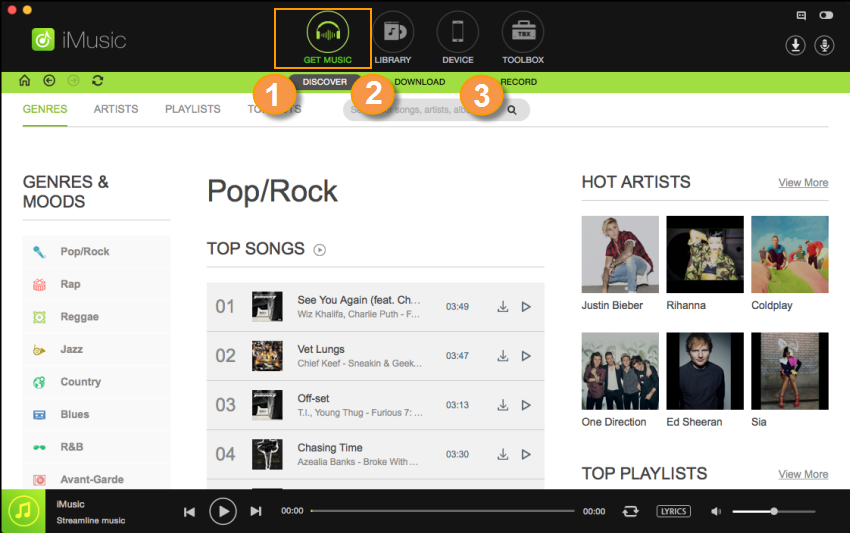 To enjoy Spotify music with ease, you can download the Spotify music with iMusic. This Spotify music downloader allows you 1 click to download music from Spotify, Pandora, Napster, Rhapsody, and 3000+ music sites, as well as music apps.
You can directly download the music to MP3 high qulity, which is compatible with most of devices and players. It comes with an ID3 tag feature that allows you to get music information like artist, genre, album, and more. And the recorded music can be saved to iTunes library directly.
Part 2. Top 3 Ways to Get Spotify Discount Codes

• Spotify Student Discount
If you are a student at a recognized school then you qualify for a 50% discount off of your Spotify Premium account. All you have to do to qualify for this discount is show your valid student I.D when you register. This discounted service lasts for one year and can be renewed up to 3 times, so for up to four years in total, which is the length of the average degree. So as long as you are in post-secondary education, you will be able to enjoy your favourite music at half the normal cost. Spotify understands that college is an expensive time and that music can help create a pleasant study environment and so they've created this discount program to help.
This is the easiest, most reliable way to get a Spotify discount, if you qualify, all you have to do is show proof of your student account and then sign up and start listening to your favourite music for half the price. This discount is only available to students, however, and only valid for a maximum of four years.
• Sign Up With Sprint
If you are a customer of Sprint's "Framily" plan, then you can qualify for a discounted Spotify membership. This new partnership between Spotify and Sprint allows customers to access Spotify's services at a discount. All "Framily" plan customers will start with a six month free Spotify trial and then they qualify for Spotify Premium at $7.99 a month. If there are more than five people on your plan, the discount is $4.99 a month. Sprint customers who are not part of the "Framily" plan will have to pay full price for the monthly plan, but still qualify for a free 3-month trial. This is a good way to combine two services one and use your cellphone plan to get you a discount on streaming music.
• Spotify Discount Code
There are a few websites that offer Spotify discount codes. These codes range from offering 1 to 3 months free service or a discount of up to 25% off your Spotify services. These codes are all through third party distributers and not verified by Spotify. To access these codes you have to click on a website and many of them will then redirect you to another website and ask you to provide information or fill out a survey. Most of these discount sites are just trying to gather your information and are not legitimate discount codes. You should be very careful before you decide to check out these sites because you could be leaving your computer vulnerable to malicious software. You should also be very wary before giving away any of your personal information online, including your mobile number. Because of that, all third party Spotify discount code sites should be treated with caution.
Part 3: How to Obtain and Use a Spotify Gift Card
If none of the discount options work for you, another way to save money on your Spotify Premium account is to ask for a Spotify gift card. You can ask your friends and loved ones to get you these gift cards for special occasions and then you can use them to save money on your Spotify services. Spotify gift cards are easy to obtain and make a great gift idea. If you have someone particularly hard to buy for on your gift list, why not get them a Spotify gift card and give them the gift of music?
Where to Buy Spotify Gift Cards?
You can purchase a Spotify gift card online or you can go to one of several approved retailers. In the U.S you can get a Spotify gift card at Walmart, Target, 7-Eleven and many other retailers. To buy online, you do have to have a valid Spotify account or you need to create one.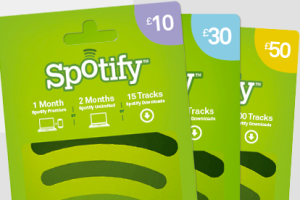 Buying Online:
Step 1: Log-on to Spotify and then go to your Spotify account and click on the drop-down menu. There should be an option to buy an e-card. You want to select that option.
Step 2: Choose the option you want and then enter your billing information.
Step 3: Enter the required information about the person you are sending the gift card for, such as name and e-mail address. You can also add a personalized message if you choose.
Step 4: Choose your payment option. Spotify accepts both credit card and PayPal. Either log-in to your PayPal account or enter your Credit Card information.
Step 5: Confirm you information and the information about the recipient and then click 'send'. It's that easy.
If you do not have a Spotify account and don't want one, then you can go into an approved Spotify account and buy a physical gift card. The person who receives the gift will then be able to use the card to add the months of free service to their Spotify account.
How to Use Spotify Gift Cards
Spotify gift cards can be purchased in 4 different amounts. You can choose between 1 month ($10), 3 months ($30), 6 months ($60) and 1 year ($120). The 1-year option is available online only, physical gift cards only go up to $60. Once you've chosen the denomination that works for you, you simply purchase the gift card using one of the two options above.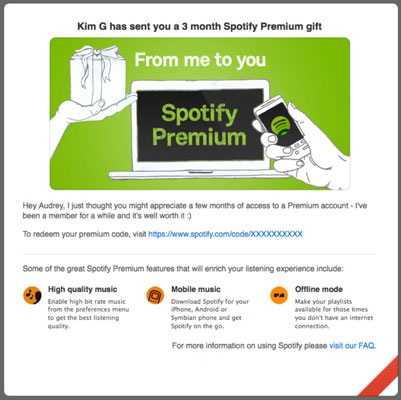 If you have received a Spotify gift card, it is simple to apply it to your account. If you have received a Spotify virtual gift card, you just follow the information in the e-mail that you will receive. There will be a link for you to click on and then you will need to sign-in to your Spotify account and the gift card will be automatically applied to your account. It will now show that you have however-many months of free service and that you will not be billed during those months.
If you have received a physical Spotify gift card, then you just need to log-in to your Spotify account and go to "payment options". This should give you the option to add a gift card and you just to need add the code on the back of your Spotify gift card. Once you do, the amount will be credit to your account and you will be ready to go. It's that simple.
If you were using Spotify Free or Spotify Unlimited services, you will be automatically upgraded to Spotify Premium and once your gift card amount runs out, you will continue to be charged the $9.99 a month. If you do not wish to continue to use Spotify Premium once your gift card expires, you just have to remember to downgrade your services back to Spotify Free or Spotify Unlimited.