iTunes gives you a great freedom and control over your music. One of the best things is that you can listen to that music anywhere you want because it is synced with your devices through iTunes. But sometimes users face issues while playing music through iTunes. This is a common issue which randomly occurs every now and then. There are many reasons which can cause this issue. Let's take a look at some of those issues.
#1. Music Format not Supported
If some specific tracks which you recently transferred to iTunes are not playing, then maybe their file format is not supported by iTunes. This is one probable cause of iTunes not playing your favorite tracks. The current version of iTunes supports 6 different audio formats named AIFF, MP3, WAV, MPEG-4, AAC, and Apples Lossless(.m4a). Other than that, iTunes also support the formats supported by QuickTime which are protected AAC files purchased from iTunes store. A limited supported for FLAC and Vorbis is also incorporated with the latest version.
You have to make sure that the track you transferred to iTunes comply with the above-given format standards. If you notice that the format is different from mentioned above, then use a good music converter to convert your tracks into an appropriate format. Transfer those converted tracks to iTunes and try playing them. Hopefully, the problem will be solved. If iTunes is still not playing those tracks, then there are other solutions too.
#2. Missing or Broken Tracks in iTunes
If some music tracks which were working fine in the past are not playing now, then maybe they are missing actual files or broken tracks. Certain different circumstances can lead to missing or broken tracks. We won't get into details of those circumstances, but there is a solution to fix missing or broken tracks. Software named iMusic is a great music manager and can easily clean up your iTunes music library.
iMusic removes the broken/missing tracks, and fixes covers and labels. If you are a music lover, your iTunes library must contain hundreds of songs. Managing those songs, fixing covers, removing duplicated and broken tracks can take hours. iMusic has made that easy with the help of few clicks. Let's take a look.
Step 1: First, download iMusic from the links below. Install and launch it. Click the LIBRARY icon from the menu bar. Now you can see all the songs present within the library. Towards the right side of the screen, you will find the broom icon that performs the cleaning action. The figure is available in the image as shown above.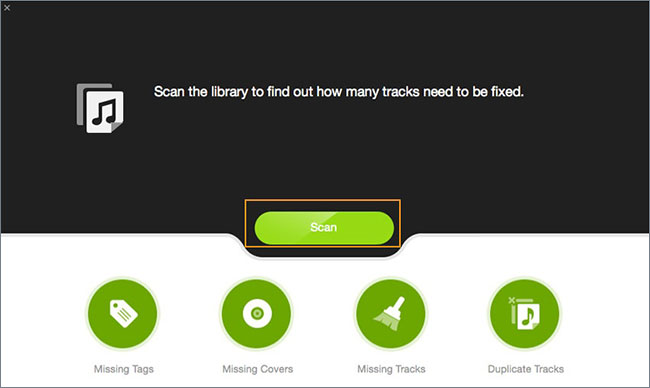 Step 2: Clicking the icon will open a new pop-up window, where you have to choose the scan option. It will allow iMusic to search for duplicate, missing, broken, and mislabeled songs within the library. The duration for completing the action depends on the number of songs present in the iTunes library.
iMusic is a great tool that integrates all the features you need for getting and managing music. It is able to download and record music from music sharing sites, transfer music between computer and iTunes Library, iPhone, iPad, iPod, and Android devices. Here are its main features.
Download music from more than 300 music sites to totally free.
Download YouTube music to MP3 and save to iTunes Library directly.
Record music from music sites, software that can play music on computer.
Transfer music between Mac, Windows, iTunes Library and iPhone/iPad/iPod and Android devices
Built-in "LIBRARY" gathers all the songs on your computer for further music fix and management.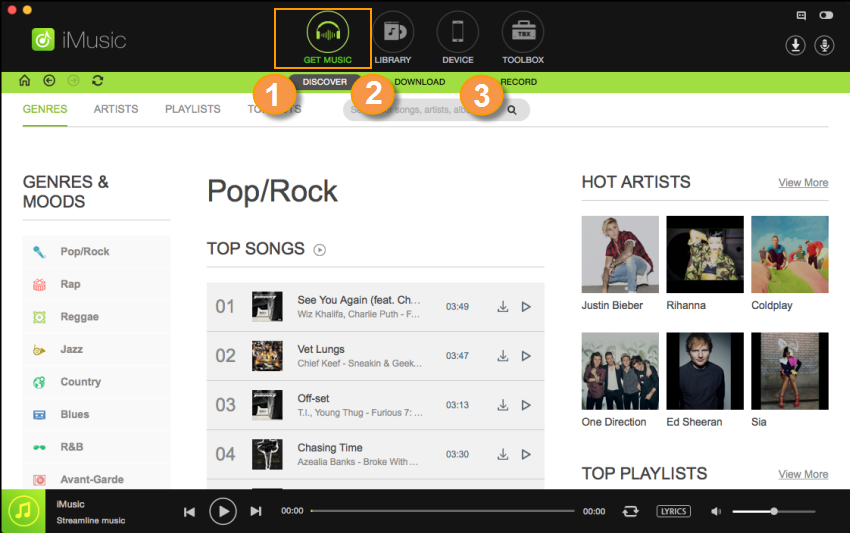 #3. iTunes Won't Play iTunes Store Purchased Songs:
If you purchased some music from iTunes store in the past and now it is not playing despite shuffling the playlist and clicking on the song exclusively, then there is a simple enough solution for that. Delete that track from iTunes and re-download that track from your purchases. Here is the official method provided by Apple to re-download your purchases.
First of all, make sure that you are using the latest version of iTunes and the Apple ID is the one which you used to purchase that specific track.
On your Mac or PC, click on Account menu on top and then click "Purchased". The music you purchased will appear.
Now click on "Not in My Library" and the albums/tracks which are not in your iTunes Library will appear. You can search for your specific track too from the top right search bar.
Now click on the download icon located at the top-right corner of your track cover and it will be re-downloaded.
An issue with your account authorization level can also cause this problem. If you are an Apple Plus user, then you can play your music on all the Apple devices like iPhone, iPad, iPod, Apple TV, etc. But if you are not, then there are only five authorized devices on which you can play your music. If you want some other device to play iTunes music, you have to de-authorize one of the five devices.
#4. iTunes Crash
If your iTunes just crashed and it crashes every time you start it, then there is only one solution for that. Completely uninstall the iTunes and reinstall and fresh copy. You can use windows default uninstall method any good software which completely uninstalls softwares. After installation of fresh copy, the crashing issue will surely be fixed.
#5. iTunes is out of Date
Maybe the iTunes version you are using is out of date which is leading to the problem of music not playing. There is a simple solution for that. If iTunes is installed on your Mac or PC, follow these simple steps.
Open iTunes and click "iTunes" menu located on top of the software panel and then click "Check for Updates".
If there is any update available, follow the prompts to update your iTunes.
#6. Hardware Driver Issues
iTunes is not always the culprit for not playing your music. If this problem is happening only on your computer, then maybe there is something wrong with your audio hardware and it needs the latest drivers to operate properly. Whether you have a separate audio hardware or built-in on the motherboard, you can search on the vendor website for the latest drivers. Sometimes a simple issue is right under your nose and you are unable to detect it. The driver update is worth giving a try.