iTunes is the default application for iOS users to transfer music to iPhone, iPod, iPad on Mac and Windows PC. Do you know that you can add music to iPhone without iTunes? Even know that you can download music without iTunes to iPhone, iPod, and iPad? If you want to get rid of complicated iTunes and avoid erasing any contents by iTunes, here are better iTunes alternative to transfer music without iTunes.
Part 1: The Best iTunes Alternative for Mac or Windows
#1: iMusic
iMusic is a great iTunes alternative, an all-in-one tool that integrates music download, record and transfer. It allows users to download music from over 300 music sites and record music from unlimited music sites and radio stations directly to Library. After then, you can connect your iPhone, iPad, iPod and even Android devices to transfer music to these devices for listening offline. It also has a built-in library, offering you the hottest music to download for totally free.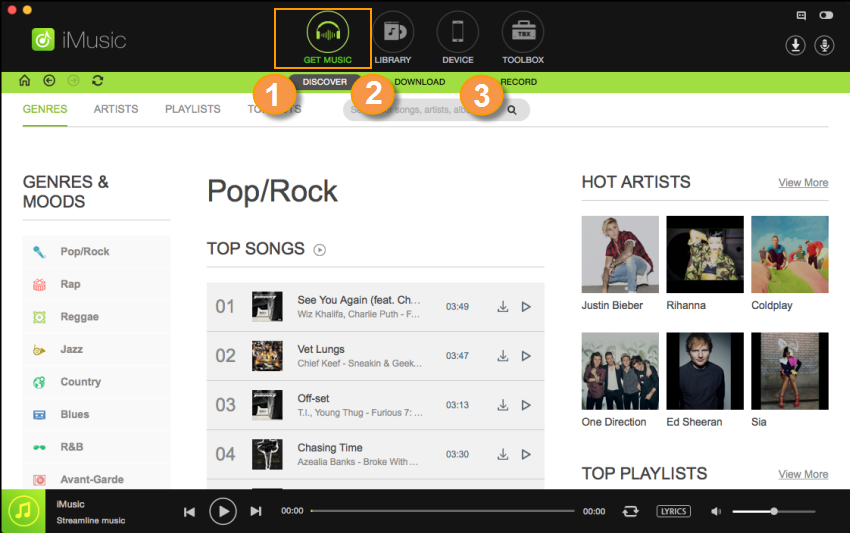 Why Choose iMusic
Transfer Files to Mac/PC/iTunes Library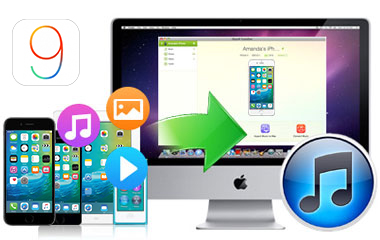 Transfer music, playlists, videos, and more from iPhone, iPod, iPad/Android devices to Mac/iTunes/PC.
Copy Files to iOS/Android Devices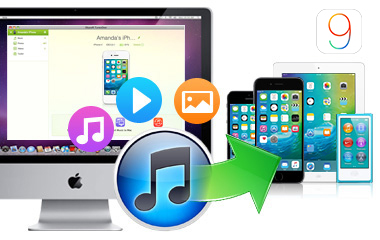 Put music, photos, playlists, videos, audiobooks and more from Mac/PC to iPhone, iPod or iPad.
Download Music from 300+ Sites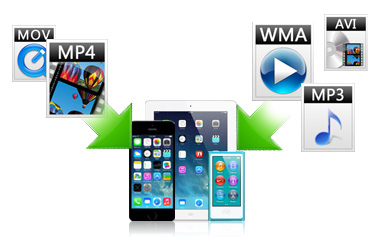 Download music from YouTube, Dailymotion, Spotify, etc 300 music sites for free.
Record Music from Radio Stations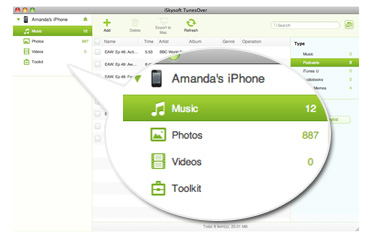 Record any song that you can play on your PC/Mac with ID3 tags attached.
AnyTrans is the iTunes alternative that used for any kind of transfer of apps, music libraries, media file content and many more. This app is getting famous because of its easy use, fast speed, restore ability, rebuild music libraries, easy connectivity with multiple device and many more. All these qualities make the app more reliable as compared to iTunes. You can just connect your iDevice with the computer and then use the Add button to put music to iPhone, iPod, iPad without iTunes.
Best for iOS in transferring the files from one iDevice to other iDevice
Can restore data even from the iTunes backup
Convert the media file formats according to need
Can play iTunes playlists from old iPods
Allows creation of music library
Price: $39.99
Support OS: Runs on all Windows and Mac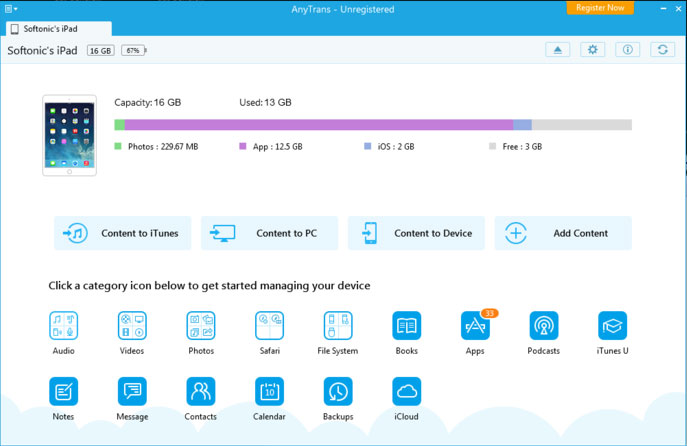 Floola is an iTunes alternative freeware specially designed for iPod, Motorola mobile phone transfer and management. You can put music on iPod without iTunes on Mac, Windows and Linux platform. The great feature of Floola is that you are able to add music from any computers (including your friends' computers) to your iPod. The transfer step is quite simple with just drag-and-drop.
Free to transfer music and playlist to iPod and Motorola mobiles
Manage iPod and Motorola mobiles data
Price: Free
Support OS: Mac OS X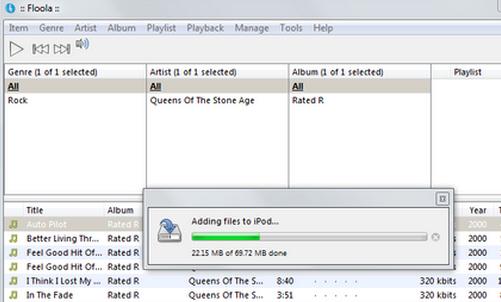 PodTrans is a data shift way out for iPods as the name shows, Pod (iPod) Trans (transfer data). Without iTunes you can easily transfer your music files and all your media file data from your iPod to PC. It is excellently compatible with Mac and Windows and performs on a very high speed. This app is also called one click transfer solution. Its friendly interface filter window makes its use trouble-free for the new users. It is easy to organize the data and you can make a large number of playlists of your favorite music without getting your device over burdened.
Simple way to import and export media files between your Apple device and PC
Has backup files to restore data
Organize your music file
Price: $29.99
Support OS: Runs on Windows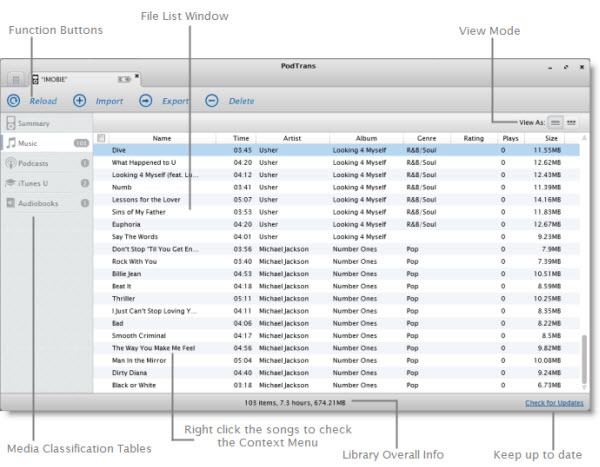 SharePod is a transfer tool for Mac and Windows users to transfer music to iPod, iPad, iPhone without iTunes. You also can use SharePod to play and manage your music. It also has the ability to organize music and build playlist or library. When you launch SharePod and connect your iPhone to your computer, you can just select "Copy to iPhone" and choose the music files you like to add music to iPhone without iTunes.
Copy music to iPhone, iPod, iPad
Organize iDevice library and playlist
Play music
Price: $20
Support OS: Mac OS X, Windows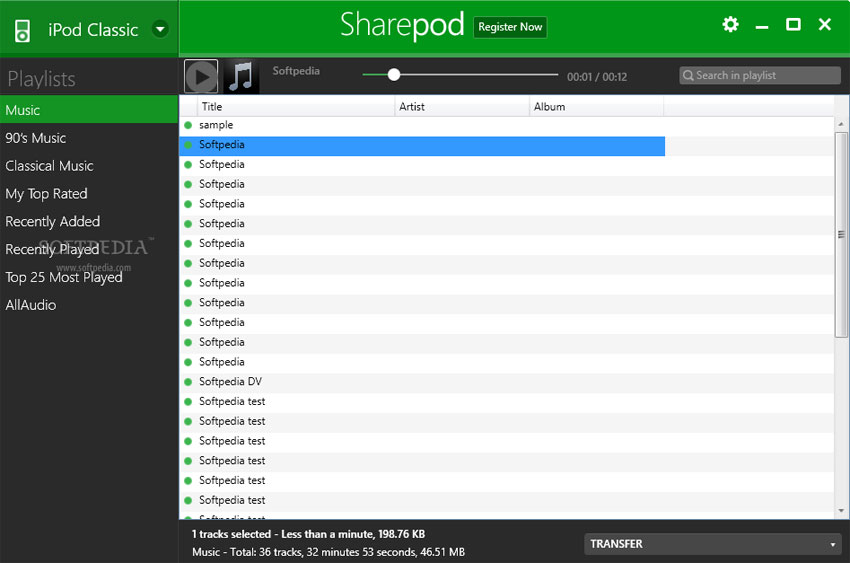 iTools is a free alternative to iTunes that have an excellent compatibility with Mac as well as with Windows. iTools is much more similar with iTunes in manifestation so, very useful for those users who feel difficulty in dealing with the new software just because of new and unfamiliar interface. iTools have same side bar with similar options as iTunes have and both share similar functions like transferring music file, managing other apps, convert format at fly, connecting the iDevices with iDevices and with PC indeed.
Great help in arranging, deleting, restoring the media files and music libraries
Transfer any type of app and file among iDevices
Help to deal and transfer the data from iDevice to PC
Can play iTunes playlists from old iPods
Allows creation of music library
Price: Free
Support OS: Mac or Windows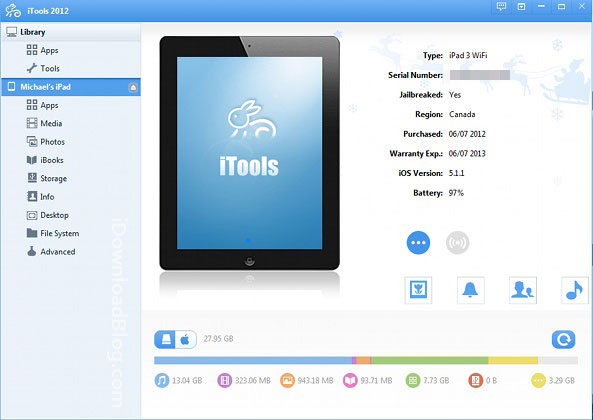 DiskAid is an app manager which assists you to get rid of iTunes. It is best for synchronization of your media file and to transfer the music from windows to Mac and vice versa. One of the exciting feature that make it prominent is that it can transfer file through USB as well as through Wi-fi. It can detect and can connect with multiple devices through Wi-Fi and Cable. Other features are same as iTunes. Easier interface helps to understand the software and helps to edit, view, buy and manage the apps inside.
Create backup and can restore data if your hard drive get crashed
Transfer voice memos, audio books, media files to iDevice
Create music library so deals with the music files
Price: $29.90
Support OS: Mac or Windows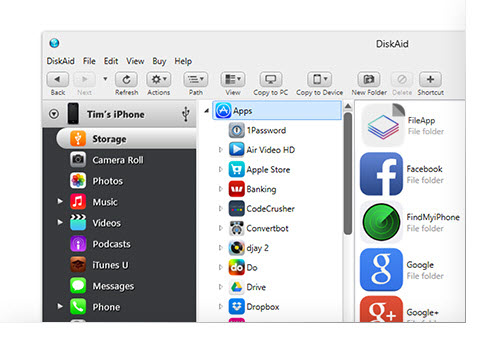 SynciOS is a free alternative to iTunes for Windows that not only helps you to download any kind of music or whole albums of your own choice but is also a great assist in managing it. With SynciOS you can make a lot of playlist without interrupting the original music library. Sharing your music files with SynciOS will be a pleasant experience for sure.
Help to export the music files from one iDevice to other
Make backup files to save your valued data for future use
Assists in adding the media files to your iOS devices
Price: Free ($19.95 for Pro version)
Support OS: Windows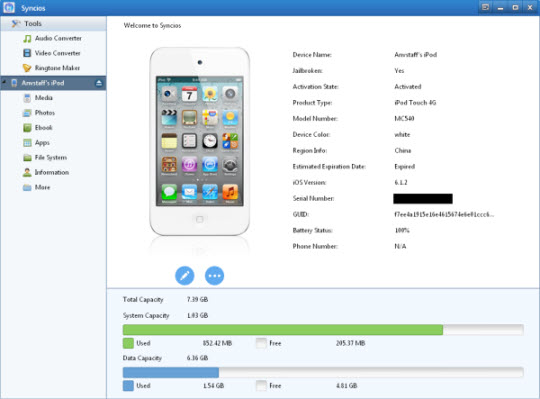 Media Monkey is another free iTunes alternative. It allows you to manage music, and sync or transfer your music to iPhone, iPod, iPad, Android devices, just like iTunes for Mac. To sync music to iPod, you can go to Tools > Sync Devices, and select the option of Auto-Synchronize, or Sync selected to start to put music on iPod without iTunes.
Play audio and video files
Manage your music, videos, podcast and rip CD
Sync music to iPhone, iPod, iPad and Android devices
Price: Free ($24.95 for Media Money Gold)
Support OS: Windows
CopyTrans Manager is a free iTunes alternative that enables you to copy music to your iPhone, iPad, iPod without using iTunes on Windows PC. To use CopyTrans Manager, you do not need to install or launch iTunes as the other iTunes alternatives. It can only work well in sync data while comes with lack of features when comparing with iTunes.
Price: Free
Support OS: Windows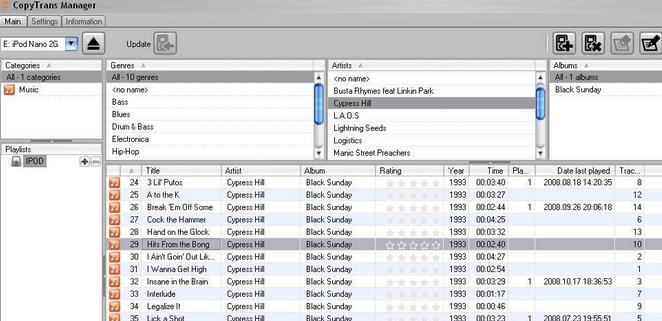 Part 2: Choose the Right iTunes Alternative that is Best for You
Choose the right iTunes Alternative

to put music to iPhone, iPod, iPad and Android

SharePod
Floola
PodTrans
AnyTrans
iTools
DiskAid
SynciOS
Media Monkey
CopyTrans Manager
iTransfer

Mac

---
---
---

Windows

Transfer/sync music to Devices

Export Music from iDevice to PC

---
---
---

Manage your music, videos, etc.

---

Convert music to device compatible formats

---
---
---
---
---
---
---
---
Part 3: Share Your Opinions on iTunes