Platform Music Download
1. Download Music from Platform

2. iMusic Alternative

3. Online Music Downloader

4. Music Converter

5. Download Music Tips

6. Others
Pandora is a streaming music service, offering users the ability to create a "radio station" of their favorite music to stream to their device. However, whilst this service is great, even in today's connected world there are times when you may be out of range of the internet, or simply impractical to use a streaming device, and would like to have at least some of that favorite music available to play offline by downloading it.
Happily this can be achieved fairly easily these days, with numerous software packages designed to help you download the music you want to listen to available. The difficult bit is finding which of those pieces of software to use. In this article, I will introduce you the top Pandora music downloader for different platforms and the easiest way to download Pandora music.
Part 1. Top Pandora Music Downloader for Mac
The key to successfully downloading Pandora music is finding the best software package to assist you, here we will look at the options available for Mac.
Comparisons for the Top 5 Pandora Music Downloaders Mac
| Features | iMusic | Jaksta Media Recorder | Leawo Music Recorder | Audacity | SoundTap |
| --- | --- | --- | --- | --- | --- |
| Product | | | | | |
| Compatible Sites | Over 500 streaming Sites built in plus all other Audio | Audio Recorder | Audio Recorder | Audio Recorder | Audio Recorder |
| Auto Tagging | Yes | No | Yes | No | No |
| Auto Filtering | Yes | No | Yes | No | No |
| File Conversion | Yes | Yes | No | Yes | Yes |
| Cost (US $) | $39.95 | $49.95 | $19.99 | Free | $29.99 |
Why Choose and How to Use iMusic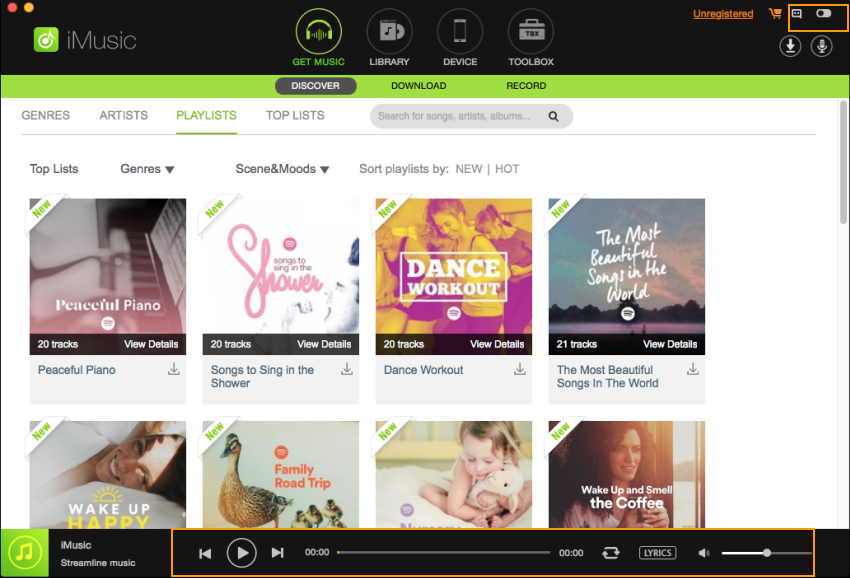 From the above form you might be still confused for not knowing choose which software. To be honest, iMusic is the best option for you. It is an all-in-one software that combines music download, recording, transferring and management. It even integrated with media files in iTunes library,letting you manage all your media files easily. Here are its main features
Download music directly from more than 3000 music sharing sites.
Built-in music library offers to download hottest songs for free.
Record music from thousands of radio stations, music players and music/video sites.
Share music between computer, iTunes library, iPhone, iPad, iPod, and Android phone.
Steps to Record Pandora Songs on Mac
Recording Pandora music and radio is as simple as can be, we will walk through it step by step.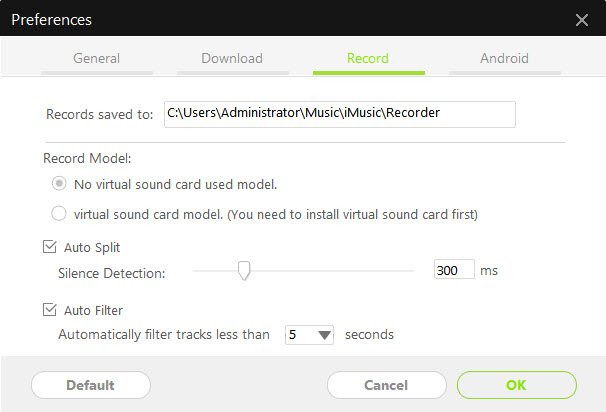 Step 1. The initial thing you need to do is download and install the Pandora Music Recorder on your Mac. Then launch the program and set up the format and quality for the audio. To do this, you need to click the Gear button on the top left corner to open the drop down list. When the setting is done, click Save to confirm the change.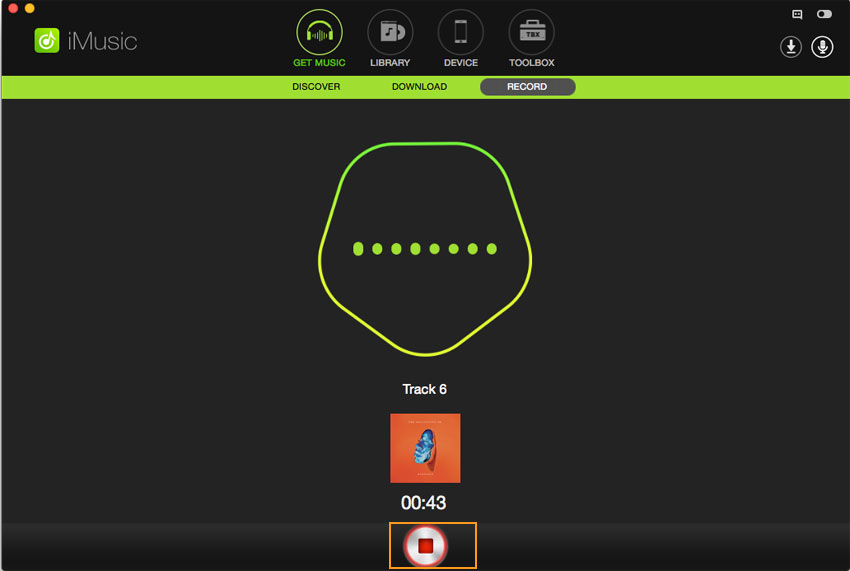 Step 2. Then click the red Record button and play the song you want to download in Pandora radio. The program will start recording the music for your. When the recording is done, you can hit the "LIBRARY" tab to access the downloaded songs. You can play the songs, transfer them to devices and burn to a CD from the application.
Part 2. Top Pandora Music Downloader for PC Windows, Android and iPhone
Of course, not everyone is using Mac based hardware, happily there are options for more or less every platform, and here is a brief rundown of the more popular systems.
#1. Top Pandora Music Downloaders on Windows
Features

Product

Pros

A great, free program that allows you to download Pandora music,
not too many bells and whistles,
but for free, it does what it is supposed to, which is all you want really.

This one can download not only from Pandora,
but also strip audio from YouTube and other video sites as well,
another free package as well.

A commercial package with the same features as the Mac version we discussed above,
this Windows version is another good proposition for the platform with scheduler, auto tagging and so on.
#2. Top Pandora Music Downloaders on Android Devices
Features

Product

Pros

The first Pandora downloader available on Android,
lovely little app that works exactly as you expect,
it downloads your favorite music.

Has the ability to record from a wealth of internet radio stations in addition to Pandora,
slick interface and a range of output formats.

Records anything you play,
in addition, this one lets you record your phone calls or conversations you have within range of the devices microphone.
Easy to use, just two buttons, record and stop.
#3. Top Pandora Music Downloaders on iPhone
Features

Product

Pros

The first app of its kind,
Pandora Downloader enables downloading from within the Pandora app itself,
a slick product that gets your music onto your hard drive,

Another simple app that allows you to download from the Pandora Internet Radio app itself,
not compatible with all iPhones however and is not user friendly.
Part 3: Recommend 10 Hot Radio Programs on Pandora