Platform Music Download
1. Download Music from Platform

2. iMusic Alternative

3. Online Music Downloader

4. Music Converter

5. Download Music Tips

6. Others
Rhapsody offers online music store subscriptions to its users. It has got a collection of over 32 million songs that the users can listen to without being distracted by unwanted advertisements. The users can listen to music for as long as they want as there are no limits placed on duration. With Rhapsody, users can build their own customized playlists consisting of songs that they want and listen to them whenever they want. Rhapsody does not play any type of advertisements which means you can enjoy music without being disturbed. Also, you are able to download Rhapsody music when offline or stream online. As mentioned, you can listen to your favorite music on almost any platform including your PC, home, phones, cars, MP3 players, TV and tablets.
Best Rhapsody Music Downloader
It is suggested that you can download Rhapsody Music with iMusic. This software will enable you to record music from Rhapsody and various other platforms like Spotify, Pandora, Google Play Music, Allmusic, eMusic, and countless sites, download music from over 3000+ music sites directly.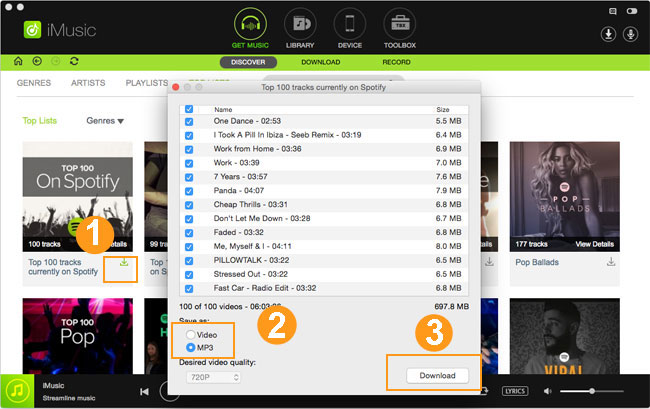 iMusic - Download Rhapsody Music with Ease
Directly download music to MP4/MP3 formats by copying and pasting the URLs.
Record music from thousands of online music and video sites.
Get rid of the annoying ad automatically while recording music.
Transfer music between iTunes Library, Mac/PC, iPhone, iPad, iPod and Android devices.
Integrated with iTunes Library/media library, allowing you to manage music much easier than ever.
How to Download Music from Rhapsody
With this Rhapsody Music Downloader, you can download all kinds of music from Rhapsody and play them on various devices such as your iPods, iPhones, Android phones and many more. The following step-by-step process will show you how to do this.
Step 1: Install and run iMusic
Firstly, download the Rhapsody music downloader. An installation wizard will show up for the program. Follow the instructions given by the wizard and complete the installation. After the installation is complete, launch the recorder. Click "GET MUSIC" > "RECORD".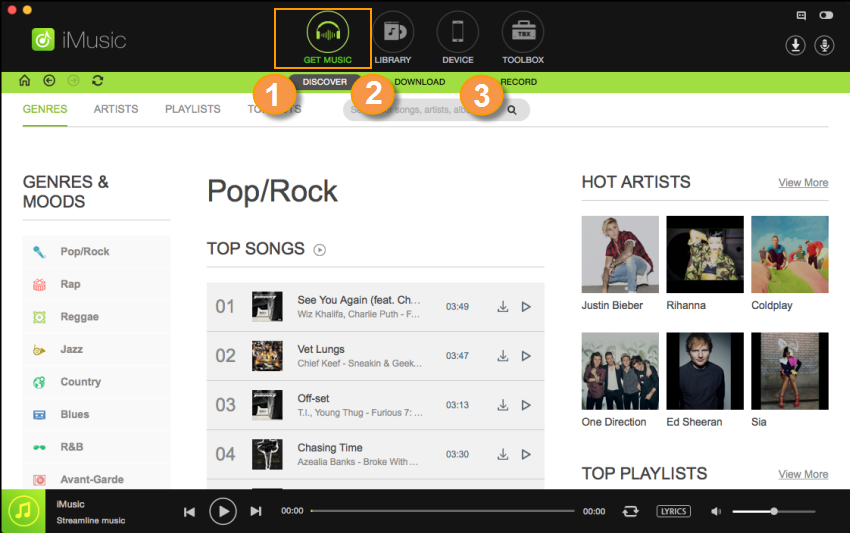 Step 2: Start downloading Rhapsody music
In order to make it work, simply click the red"Record" button at the top and the recorder will be ready to record any type of supported audio. Open Rhapsody and listen to any music and the recorder will record the audio automatically. Make sure that the Audio Recorder driver is installed otherwise, it will not work.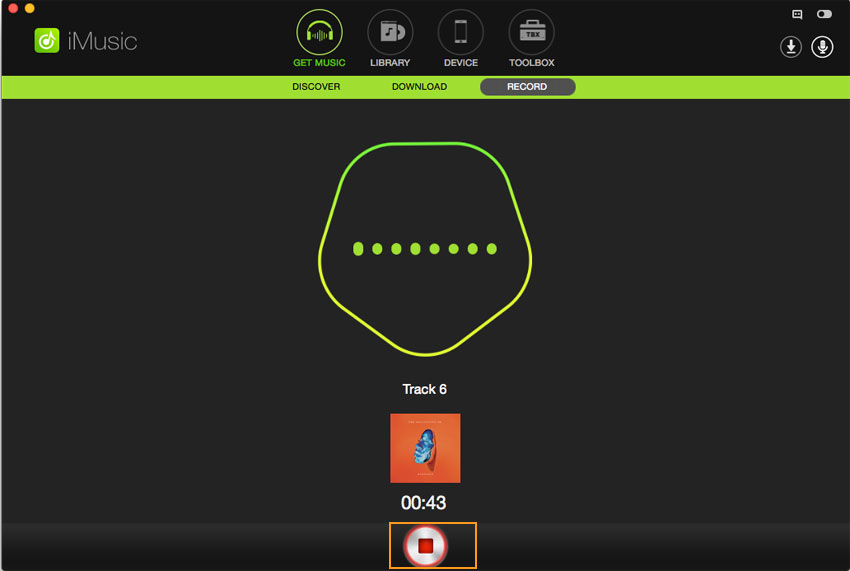 Step 3: Check the music information
You can leave the audio playing as it gets recorded and work on something else. Also, you will be able to get information about your audio such as its album name, title or the name of the artists and genre. Just go to the "LIBRAR" tab and select the music, and then right click the music to check "Identify" to view the music details.
For playing the audio, just double-click the song you want to hear in the Library or on the Cover Flow and listen to your favorite tunes.