Spotify is making a big success in music field. With Spotify, you can enjoy any song anywhere, for as many times as you wish. But the real problem arrives when you want to download that song. This article will explain how you can download music from Spotify easily to your computer using Spotify Premium Plan or via third-party software.
Part 1: How to Download Music from Spotify to Computer via Spotify Music
If you are looking to avail Spotify services, you can grab it for free from their website. Alternatively, if you are looking for legally downloading music from Spotify, you should subscribe to Spotify Premium. You can use trial service for 30 days, and then start paying the £9.99/month subscription charge afterwards. With Premium services, you will be able to download and listen to music offline.
Step 1. Sign in to Your Account
On your Macintosh or PC, sign-in to your account and navigate to your library or playlists.
Step 2. Find Songs and Add to Library
If you have not added any music yet, simply search find some songs you like and right-click on them to add them to your library. Or you can press the small three dots next to the right side of the song, in order to add it.
Step 3. Toggle 'Available Offline'
When you navigate to your library and playlist and there will be a toggle to listen to the songs offline: 'Available Offline'. Spotify will make those songs available offline once you toggle the option, where it downloads the songs and enables you to listen to them whenever you want. You can see a circular symbol alongside the songs being downloaded which indicates the download process. Once it is complete, it will be replaced by a downward-facing greenish arrow.
Step 4. Use Spotify in Offline Mode
Navigate to the File at the top left-hand side of the program and click on the 'Offline Mode' option to force Spotify to go in offline mode.
Advantages and Disadvantages of Using Spotify Service to Download Music from Spotify to Computer
There are tons of reasons to love Spotify. It makes the listening experience better and the reach to music songs much easier. Below listed are some advantages and a disadvantage of downloading Spotify music to your PC.
Uninterrupted Listening Experience
With Spotify Premium Plan, you can download your favorite music to your Mac or PC. With this feature, you can listen to music without worrying about the internet or any specific application.
Easy Sharing and Transferring
You can easily share the downloaded music with friends or can simply transfer it to your other devices.
No Special App Requirement for Listening
The downloaded music can be listened on any music app without any hassle.
Large Storage
The only disadvantage of downloading Spotify music to computer according to us is the storage space it takes. Due to high quality of music, it takes good amount of storage space but this is not a major issue for majority of people.
Part 2: How to Download Music from Spotify to Computer via iMusic
iMusic resolves issues people encountered on Macintosh and Windows. It can help you achieve quick and satisfactory results in many situations as it packs various relevant functions. If you are looking for an all-in-one music tool for discovering, downloading, transferring and maintaining music, then iMusic software is surely the best choice for you in the market.
An amazing, intuitive interface that lets you discover, download or record music content, manage it on your computer, play it and transfer it to your device in a blink of an eye. It combines all music related features into one application. It also offers a smart feature to burn music to CD with just one click. It can be operated on both Macintosh and Windows computers.
Step 1: Run iMusic
Download iMusic from its official website and follow up instructions to finish installation process on your computer. It has separate versions for Macintosh and Windows PC. After installation, launch the software and click the "GET MUSIC" tab.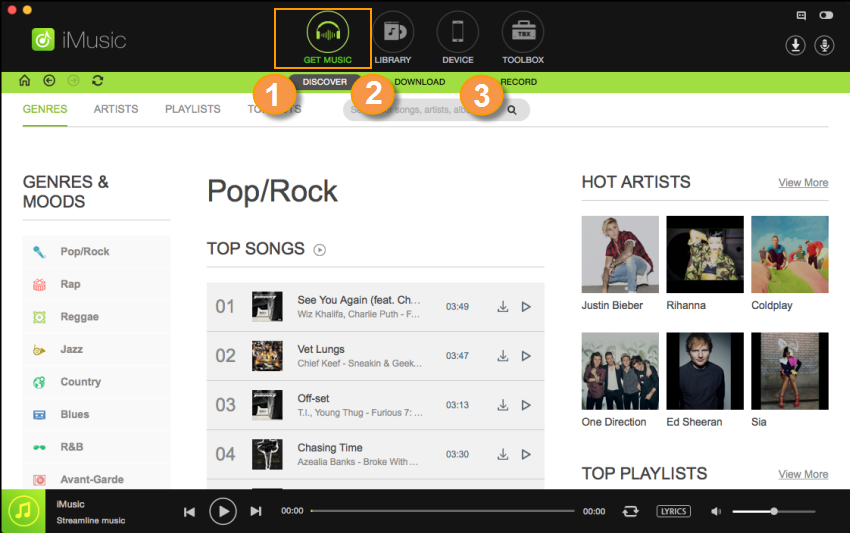 Step 2: Download Spotify music
There are 3 options in the "GET MUSIC" window: DISCOVER, DOWNLOAD, and RECORD. You can find the latest hot songs from Spotify by tapping the "DISCOVER" button, then "TOP LIST". Click the download icon beside the list to download the hottest Spotify music to your computer.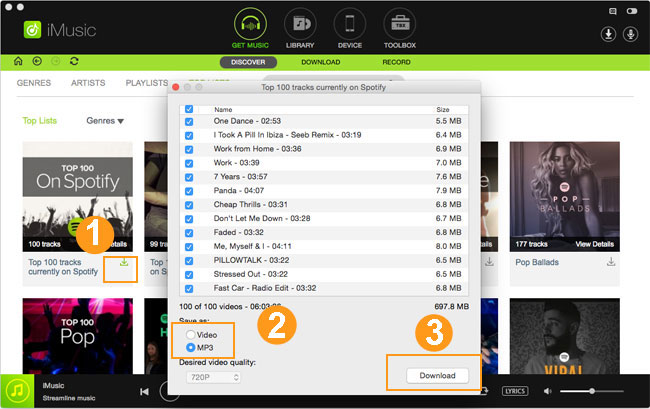 You need to click "DOWNLOAD" in iMusic if you have found a song on Spotify with web browser. In the main window, copy and paste the web address of the song to the box. Click Download to download the song to your iTunes Library.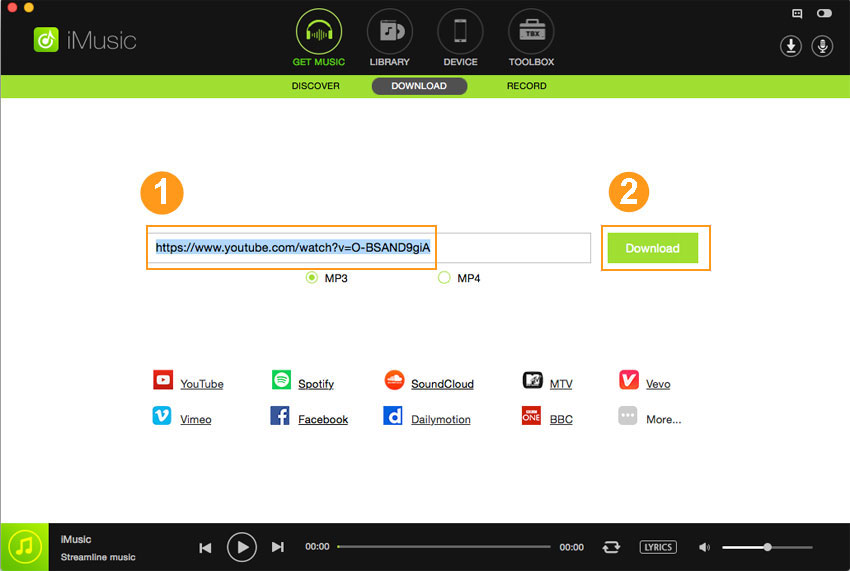 Step 3: Transfer Spotify music to computer
Step 4: You can check all the automatically downloaded songs by clicking the "LIBRARY" tab on the main window of iMusic, then click the download icon on the left side of the window. Select a song to listen it or right-click on the window to transfer it to other devices.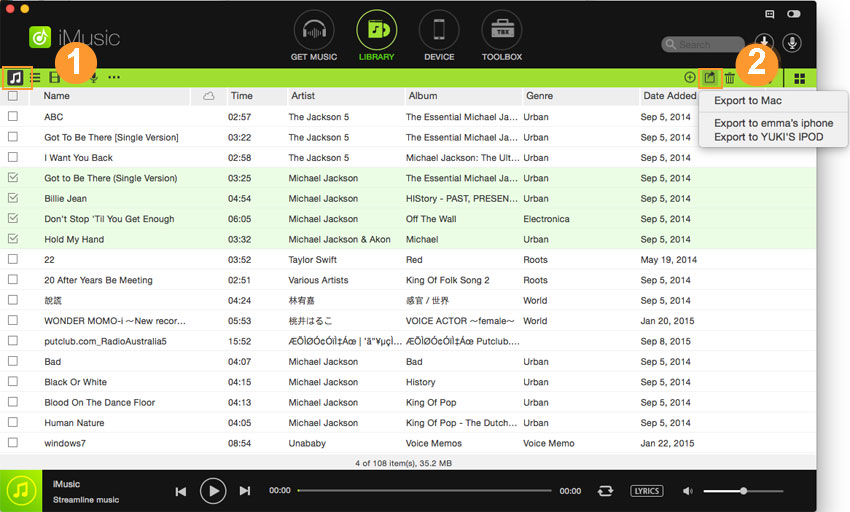 Part 3: Chart to Display the Subscribe Services Price for Spotify
| Feature | Spotify Free | Spotify Unlimited | Spotify Premium |
| --- | --- | --- | --- |
| Price | Free | $4.99, £4.99, or €4.99 per month | $9.99, £9.99, or €9.99 per month |
| Millions Of Tracks Availability | Yes | Yes | Yes |
| Organize Your Own MP3s | Yes | Yes | Yes |
| Spotify Social | Yes | Yes | Yes |
| Play Local Files On Your Cell Phone | Yes | Yes | Yes |
| Time Limits | Yes | No | No |
| Take Your Music Abroad | No | Yes | Yes |
| Spotify Radio Mode | No | Yes | Yes |
| Advertising | Yes | No | No |
| Offline Mode On Your Computer | No | No | Yes |
| Offline Mode On Your Cell Phone | No | No | Yes |
| Exclusive Content | No | No | Yes |
| Enhanced Sound Quality | No | No | Yes |
| Play Spotify Through Multi-Room Music Systems | No | No | Yes |