Since time immemorial, music has been embedded in our daily lives. Given this, it comes as no surprise that recent technological advances have led to humankind being blessed with smartphones capable of obtaining music anywhere you go at any given time. There are many applications that offer music online and here are the top 5 easy ways to buy music on Android device.
Google Play Music, as the name suggests, is a Google-operated music streaming service and online music locker. An "All-Access" subscription is available at $9.99 monthly, providing the user unlimited skips while listening to the online radio, the ability to create custom radio stations, unlimited listening to millions of songs, and more. Users may also purchase songs directly from Google Play's Music Store without the hassle of syncing if they wish to download and store them on their Android devices for offline listening.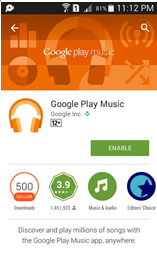 Amazon MP3, now Amazon Music, is an online streaming service and music locker operated by the giant Internet-based retailer Amazon.com, Inc. In 2008, this app became the first music store to sell music without digital rights management or DRM from the four major music labels (EMI, Universal, Sony BMG, and Warner Music), and many independents. To purchase music for your Android device, you must first sign in using your Amazon account. If you don't have one yet, you may create an account from within the app with a payment method or gift card balance. Once done, simply browse the music store and purchase your preferred music by tapping the price. You will be asked to confirm the purchase, after which you may then enjoy your music by selecting it from your library.
Part 3: Buy music on Streaming music apps: Spotify
Spotify is a prominent Swedish music streaming service that provides DRM-restricted content from the four major record labels. Initially, users are allowed to purchase music through Spotify, but the company has long since ruled out this service in all countries where it had been previously available. Instead, Spotify now offers Spotify Premium, where you can download songs for offline listening for only $9.99 per month. Premium subscribers, unlike basic Spotify users, have access to unlimited skips on the ad-free online radio service with the highest quality audio available.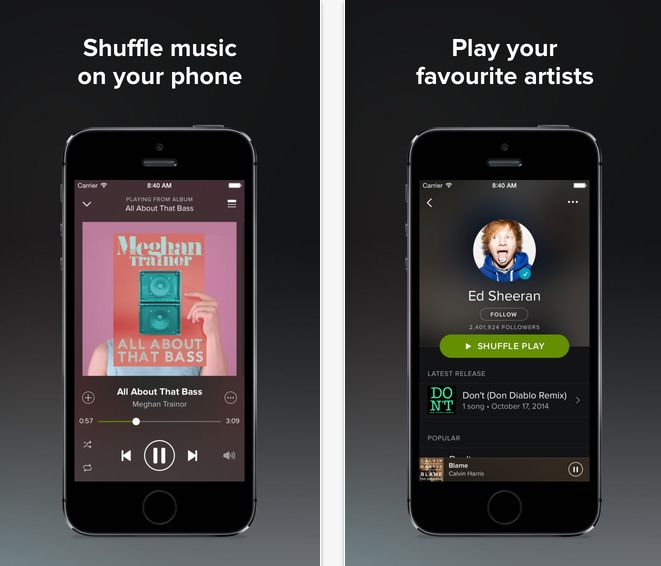 Part 4: Buy music on Streaming music apps: Pandora
Pandora Music is a music streaming service which also serves as a personalized internet radio powered by the Music Genome Project and operated by Pandora Media, Inc. This app provides users an easy way to purchase music by simply clicking the "Buy" button in the upper right corner of any song tile of your choice. If you have the Amazon Music application, you may choose to click the "Amazon Music" option to purchase the song as an MP3 from the Amazon MP3 Store. Pandora Music is only available in the United States, Australia, and New Zealand.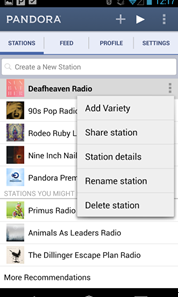 Part 5: How to get music for Android without purchasing
If you do not wish to shell out money to purchase songs but would still love to get music for your Android device, there are also many applications available online that provide free music downloads. One of the most highly recommended software for this purpose is the iMusic, which is capable of recording high quality music from over 500 sites such as Spotify, Pandora, YouTube, among others. Aside from being able to automatically delete ads during the recording process, iSkysoft Audio Recorder also automatically splits tracks and separates audio files, in addition to allowing you to choose the audio quality you prefer. You may also create a ringtone for your Android device using this app.
Key Features:
Support over 500 radio stations and online music sites.
Record Audio with 100% Original Quality.
Automatically get music information from Internet.
Come with a built-in media player that enables you to play and check the audio quality once recorded.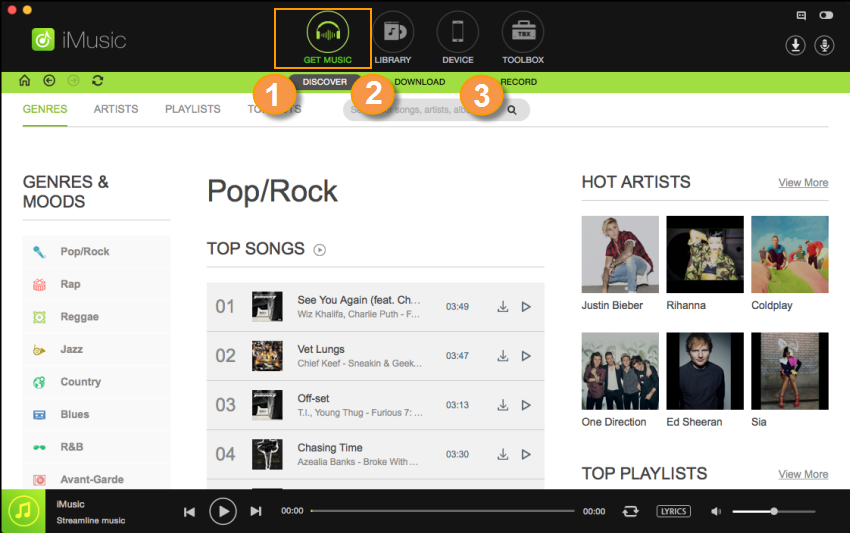 Steps to get music for Android for free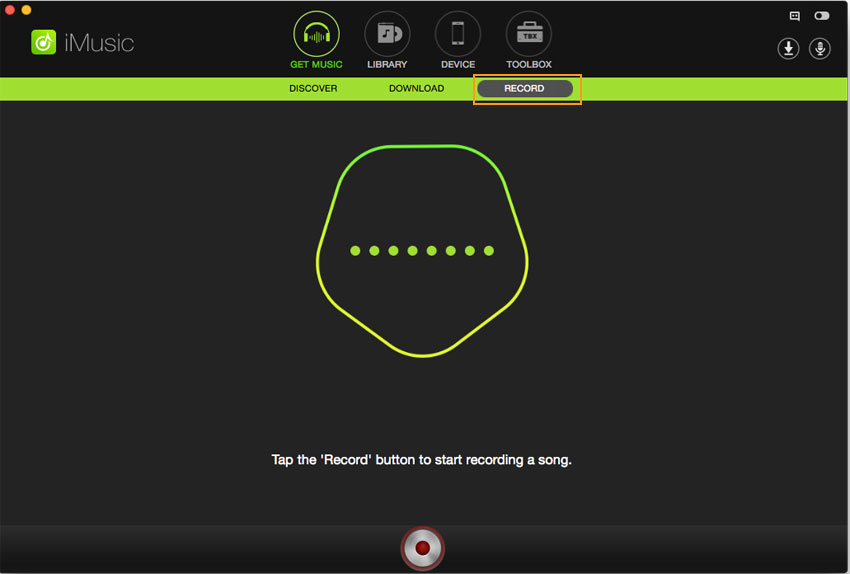 Step 1: Install and launch the audio recorder. Then click the "Record" button on the top of the main interface and click the red button to get ready for recording.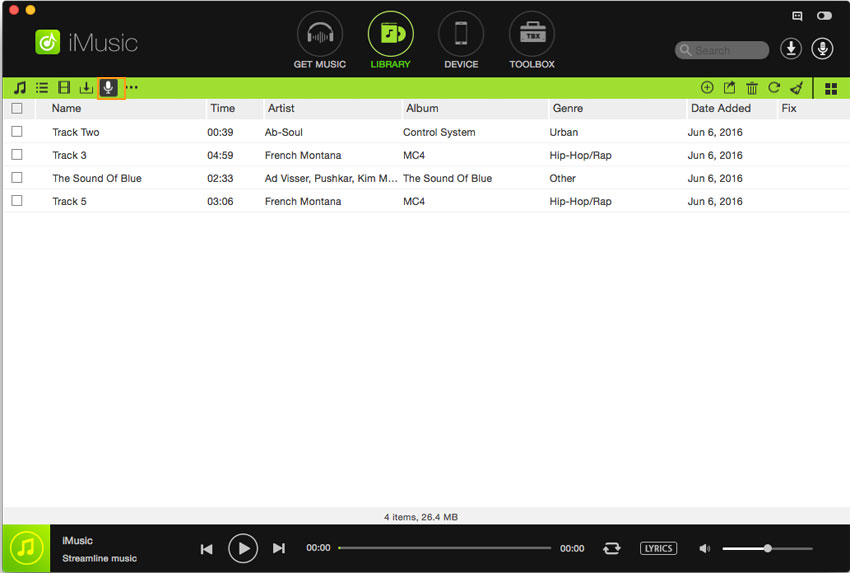 Step 2: Now go to find your favorite music you want for Android and play the music. This audio recorder will detect the music and start recording music for Android devices. It can automatically filter ads and split tracks fro batch downloading.
Once finish recording, just click the Stop button to stop recording. Now you can find the recorded music in LABRARY. Right click on them to export to enjoy the music on any of your devices.
Part 6: Google Play Music vs. iTunes Store, which one is better?
As mentioned, Google Play Music is among the many online music providers that have gained prominence among smartphone users all over the world. In line with this, we cannot rule out the iTunes Store from the picture, as it is also one of the major players in the music providing industry.
iTunes is a media management software created by Apple, Inc. This software works on both the Mac and Windows operating systems and is used by many to manage their audio and video files. The iTunes Store, on the other hand, (originally the iTunes Music Store) is a software-based online digital media store.
The rivalry between Google Play Music and the iTunes Store is apparent to millions of consumers around the globe. Both, as mentioned above, are major players in the music providing industry – at the top of it, no less. So when one has to choose between the two best stores available, which one would you rather use? Let us try to break down their differences to see which store is the best.
Content
As of date, Apple continues to provide the biggest catalog of music offerings, having more than 28 million songs available for purchase, according to its market research. Google, on the other hand, offers a less specific number regarding the size of its catalog, only stating that they currently have millions of songs available, though it has been speculated that the company trails far behind Apple.
Price
Prices for both Google Play Music and the iTunes Store for current releases are the same, offering $10.99 for an album and $1.29 for a single. Older ones are a different story, though, as there is a considerable variation in their pricing. For instance, Google Play Music offers a very good marketing strategy. The said music store gives away one free song every day, which seems to be a very attractive option for consumers.
iTunes Store
Apple has pioneered the music store industry with the iTunes Store when they launched iTunes with the amount of items they offer in their catalog, which no other music store could match up to. The current version of iTunes has been looking bleak, though, as it still basically follows the format of the very first iTunes Store released. Bono even commented on its appearance and told Steve Jobs that the iTunes Store looks like a spreadsheet. Putting appearances aside, the exclusivity of iTunes also tends to frustrate most users as they are limited only to Apple products and services. This seems to be an irony, given that Jobs had once advocated that products should simply work, not make you work. To be fair, Apple now allows download to iTunes through outside sources.
Google Play Music
Google Play Music has been tagged these days as the "new kid in town" when it comes to online stores – and for a new player, it has been doing fairly well and has actually gained favor from consumers worldwide. Although Google Play Music still cannot match the huge catalog that the iTunes Store provides, the former compensates by offering an easy way of acquiring content directly through the app, whereas the iTunes Store still requires a software app on your desktop. Simply maneuver to the content category of your choice, and search and browse away. The items that you purchase through the app automatically go to your online library, from where you can stream it to any Android device or browser. Apart from this, you may also download your purchased items for offline listening to up to ten authorized computers or Android devices.
Provided with all these relevant information, it seems right to highly recommend Google Play Music to consumers for their purchases over the iTunes Store, despite the latter being the new kid on the block.