Imagine this: you set up an incredible iTunes playlist of your favorite songs, and use it for your party, after the party your playlist's admired by others and hence is asked to be shared. Yeah, this is really encouraging. But now, there is one question for you: how to share playlists with others? Don't worry about it. You will find the detailed answer here to successfully share iTunes playlists: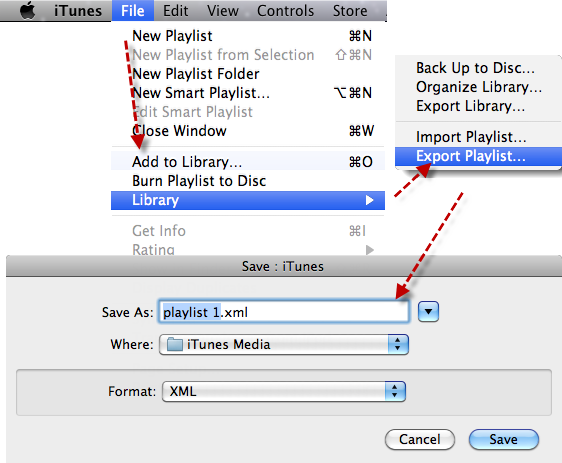 First of all, you of course need have created your iTunes playlists. I bet you have done this like this: click the plus icon (+) below the siderbar or choose file> New Playlist> name it> navigate to your iTunes Media files in your library> add the media files to the playlist.
After that, you then start sharing playlist to others like this:
Open iTunes.
Select the playlist in the iTunes sidebar.
Head to "File">go to "Library"> choose "Export Playlist".
Save the file as default .xml file.
Share it with others. If you are about to share with someone online, send it to he/her.

Now you have done all you can do for the playlist sharing, it's the recipient's turn.
Open iTunes.
Head to "File">"Import Playlist"> select the .xml file received.
But the recipient ought to have all the songs included in the playlist or he/she will see an alert like this:
So if he/she doesn't have all the songs, then you need additionally share your songs to he/she or he/she need get these songs by himself/herself.
Share playlists between Any iPhone, iPad, iPod with Any computer
There is a problem with the above mentioned way to share iTunes playlist: you must make sure the songs contained in the playlist are in another iTunes Library. Otherwise, you can't play the shared playlists well. A playlist in iTunes is just a list of songs, not with the songs themselves. And it can't allow you to share playlists between any iPhone, iPad, iPod with any computer. iMusic allows to copy playlists from any iOS devices to any computer with songs attached. You can download it to see how easy it is to share playlists, even songs, videos, and photos between differenct devices.
Download music from more than 300 music sites to totally free.
Download YouTube music to MP3 and save to iTunes Library directly.
Record music from music sites, software that can play music on computer.
Transfer music between Mac, Windows, iTunes Library and iPhone/iPad/iPod and Android devices
Built-in "LIBRARY" gathers all the songs on your computer for further music fix and management.