Are you an Apple fan? You must have tried syncing Apple music on your iPod nano. Most of the users are finding it difficult to download music and listen to it using an iPad nano. It seems that the iPod nano and iPod shuffle cannot sync Apple Music songs. There's a whole lot of weird problems that the users are facing. And, that has been disappointing for most of the Apple fans who want Apple Music on iPod (iPod nano).
Part 1: Common Problems and Solutions of Apple Music on iPod
iPod nano looks pretty, but it cannot sync Apple music tracks. However, the iPod touch can. Although Apple has revamped both the iPod nano and the shuffle and added Bluetooth authentication for playing Apple Music into the devices, there is some sort of problems with the iPod getting access to the offline copies of the streaming service by the brand.
Most of the users who are trying to offline sync the music tracks from Apple Music have faced this problem. Whenever they are trying, they are seeing a message, "Apple Music Songs cannot be copied to an iPod". In case, you have any purchased music on your PC or Mac, you can use those for iPod shuffle and iPod nano. You can somewhat avoid this problem by, first, syncing nano with Apple Music tracks, now cancel the Apple Music subscription and use the songs that you copied. But that would be for forever. And, it's no good a solution. Here are some of the problems of Apple Music not syncing to iPod nano and shuffle: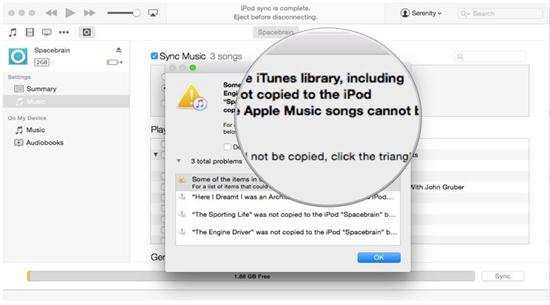 • iPod Shuffle is not syncing Apple Music tracks
In the iPod's section for the Apple Store, Apple Music has been advertised prominently. But the sad truth is that the iPod Shuffle won't sync the Apple Music tracks. If you ever try to sync cached songs to your iPod shuffle, the software will show an error message that the tracks from the Apple Music cannot be copied to the iPod shuffle. It is a form of copy protection that Apple is focusing on.
Solution: You can sync music with your iPod shuffle, cancel Apple Music. Now you can have all the tracks that you copied to your shuffle forever with you. However, make sure that they are not syncing with the iTunes library. So, you need to cancel your Apple Music subscription. The DRM will let Apple delete all the cached tracks from the iTunes store and completely from iOS.
• Unable to transfer Apple Music to iPod nano
There are some users who are facing problems of transferring Apple Music to iPod nano. When a user is connecting the iPod nano and trying to sync, it is showing that the song cannot be copied as the iPod is a subscription item. So, the users are speculating whether they can play the songs offline.
Solution: There is no viable solution to this problem, as Apple clearly stated in its site that syncing of Apple Music and iPod nano will not happen. However, may try syncing with the Apple Music using a WiFi connection. If the subscription is active, syncing can happen. You can also try by installing Apple Music songs on iPod nano and you should copy the songs to a unique folder. Now you can take the songs to an iPod or to any device of your choice. Even if you cancel the subscription of Apple Music, you could still listen to the music that you downloaded from the Apple Music earlier.
Part 2: Download Music from 3000+ Sites to iPod - iMusic
The users of iPod nano and shuffle cannot stream songs from Apple Music. So, they are actually looking for an alternative to download and stream music using some suitable application. One of the best applications or alternatives for the problem of iPod not syncing with Apple Music is using a software like iMusic. It allows you to download music from 3000 music sites and record songs from unlimited radio stations. What's more, it can help to transfer music from anywhere to your iPod for playback freely.
Only 1 click is needed to download high quality music from 3000 music sites.
Record music from unlimited radio stations. You can play the music, then you can record them.
You will be able to filter-out the advertisements that come in between tracks.
You can connect iPod and other devices to transfer music from one device to another for sharing freely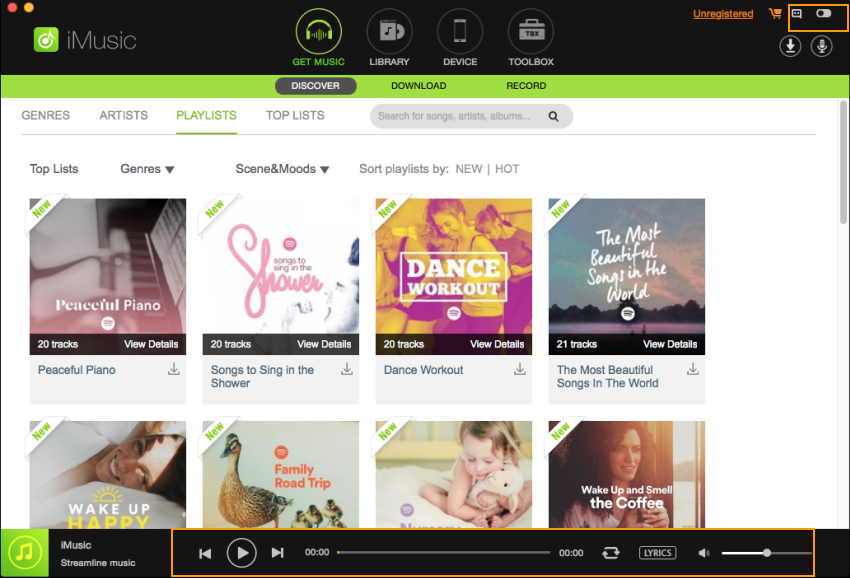 To be able to use the application, you need to download and install the audio recorder in the first place. You can download the application to your Mac or your Windows PC. And then follow the below steps to download music.