Youtube Downloader
1. Youtube Music Downloader

2. Download Youtube Music

3. Convert Youtube MP3

4. Convert Youtube MP4

5. Youtube Converters

6. Youtube Songs

7. Tumblr Music Download

8. MP3 Converter Alternative

9. Youtube MP3 Tips
YouTube has one of the largest video library in the world, but most people do not know that it also has an extensive audio library. The audio library mostly consists of sound effects or music you might want to add to the background of your videos or slideshows. Downloading these audio files seems like a difficult task but they can be downloaded to your Mac, PC, iPhone, iPod or Android phones. To do that you require a good downloader. iMusic is the best application to fulfil this task. The app makes it easier for you to download audio files from Youtube.
iMusic is the reigning king of all music apps. The application has become very popular among users because of its incredible features. The app has a very friendly user interface, with a classy and modern design. The whole outlook makes it easy for people to use and understand. This application has the following key features:
Built-in music library allows you to discover the hottest music from popular music sites.
Download music from over 3000 websites that include YouTube, Pandora, Spotify, Facebook, Dailymotion, and more.
Record playlists and songs from your website. The feature is useful for online radio listeners.
Transfer music and videos between Apple devices and iTunes, and between iTunes and Android phones.
The powerful Toolbox gives you access to all the essential tools that you require in managing the iTunes library, Apple devices, and Android phones. You can also use the toolbox to remove DRM protection, transfer media to USB drive, and even burn playlists and selected songs to CDs.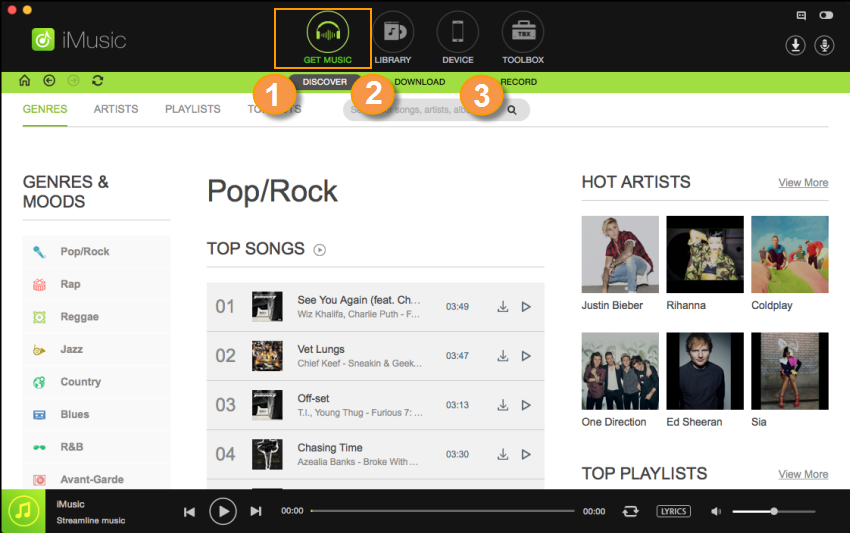 Follow the steps given below to download audio files from Youtube to your Mac or PC: