Record Music
1. Music Recording Software

2. Record Audio

3. Alternative

4. Record Christmas

5. Audio Recorder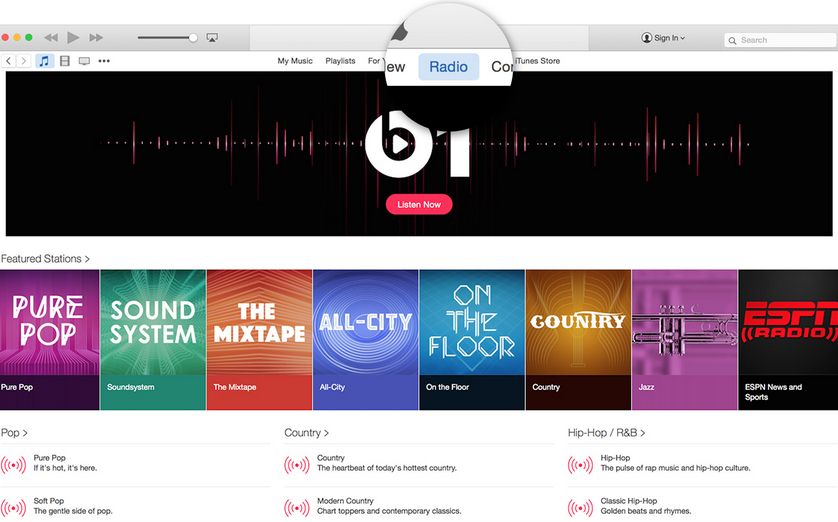 The company Apple sums up their Apple Music Radio as - All the ways you love music. All in one place.' This is true seeing that Apple Music has a 24/7 radio station, allowing you to listen to certain artists and mix your songs with their songs in on- and offline playlists. The beauty about Apple Music Radio is that streaming music allows you to listen to millions of songs from any genre, any artist and any song you want as apposed to listening to a set number of songs in your library. Apple wants you to be able to find new music to buy or stream with tailored recommendations with its new Beats 1 radio station.
The service's content is accessed through iTunes or the iOS Music app and one of the sought after features of Apple Music is Connect. This allows artists to share news, videos, songs and photographs with their subscribed fans, allowing them to play and save Connect content.
Thrilled that many people are with the new Apple Internet radio, they are running into problems and one or two with their 'fix-it' solutions are:
unable to turn off shuffle in Apple Music - press on the grey bar appearing at the bottom of the screen where the current song playing is showing. A new screen will appear and you'll see shuffle and repeat buttong. The shuffle button will be greyed in which means it is activated, and you can press it to deactivate the shuffle mode.
so irritating to find that Apple Music has removed music which you want to play. Also when you are trying to sync through iTunes it won't work because of not enough memory. How frustrating not to be able to play the music you had before Apple Music. To sort out the problem you need to update iTunes to version 12.2 and then try syncing. Even if you get an iTunes warning saying you are over capacity, just go on ahead with the sync.
Fix Apple Music Radio Not Working Problems
Just remember that availability and features do vary by region so some featue may well not be available where you are. It is worthwhile taking note that Apple's discussion forums have the solutions to some of the service's start-up problems. Users complain about some music not showing up in their library and have found in these discussion forms that a quick settings change to allow music fixes the issue. Some Mac users have been distraught, believing the have lost their entire iTunes library. If your library disappears, you'll be able to sort out this kind of problem here.
Apple say they are aware of problems for iPhone and iPad users, citing that as a new service, users can expect growing pains. Apple engineers are working at sorting out some of these problems.
With Internet Radio Apple, you will be able to record music from iTunes Radio, even if you aren't connected to an active internet connection. There is superb software, allowing you to record music from iTunes Radio known as iMusic. It is a professional video downloader for Mac and Windows users. You'll be able to: