Play Music
1. Deezer Related

2. Spotify Related

3. Pandora Related

4. Rdio Related

5. Soundcloud Related

6. iTunes Music

7. Others
Spotify is part of a music revolution, part of a new class of programs that provide legal platform for online music streaming. Spotify offers both free and premium membership options and members of both levels gain access to millions of songs. While Spotify is an innovative music platform, it is not the only service of its type. There are several other programs similar to Spotify available for streaming music like Google Play Music.
Since there are several options for online music streaming out there, you may be asking yourself why you would want to choose Spotify over another, similar program. You will find the answer here.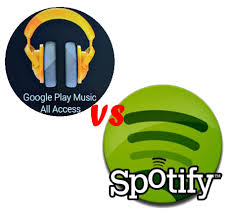 Part 1: Spotify VS Google Play Music
In the competitive market of music streaming, Spotify has earned its spot at the top of the list. Spotify is comparable, and often superior, to its competition in every category. The best way to understand what makes Spotify standout from the crowd is to compare it to similar programs. By comparing Spotify vs Google Play Music, you will be able to see how Spotify measures up to the competition.
Comparison
Choose the Best

Online Streaming Service

Web App

Desktop App

Offline Storage

Regional Availability

Audio Quality

Monthly Price

Spotify

Windows, Mac
10,000 Songs per Account
55 Countries
320kbps

Free/$9.99

Google Play Music

---
Unlimited
21 Countries
320kbps

$9.99
Spotify offers more choices than the competition and is also available in more countries and on more platforms. When you combine that with Spotify's extensive music library, you begin to understand what a fantastic product Spotify really is. When you look at the straight comparison between the three programs, it is obvious to see why Spotify should be your choice for online music streaming.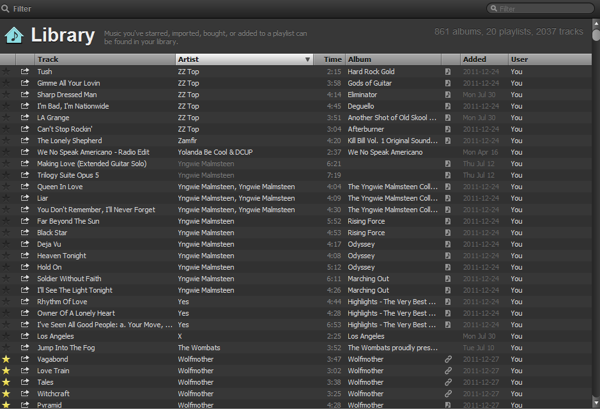 • Best Online Music Library
The most important factor when choosing a music streaming program is the variety of music available. You want access to the best variety and biggest catalogue of music. With Spotify that is exactly what you get. Spotify was created to be a legal alternative to illegal music streaming and this was accomplished by creating agreements with many of the top record labels to access their song catalogues. Because of these agreements, Spotify offers the listener a choice of over 20 million songs.
Google Play Music has similar agreements with the big labels and offers a catalogue of around 18 million songs, though lacking some of Spotify's exclusive artists. Google Play has less independent artist's in their catalogue than Spotify does, which can be disappointing if you're hoping to discover some great new music. Still, Google Play does match up fairly well to Spotify in terms of catalogue and song choice.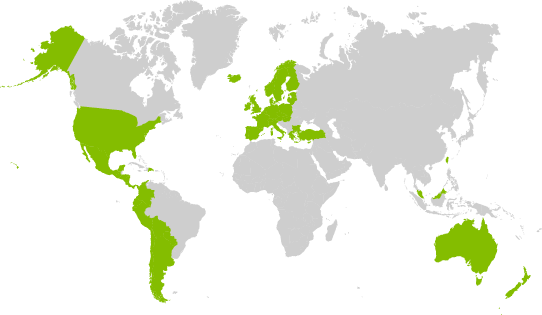 • Available in the Most Markets World-Wide
One of the biggest advantages to Spotify is availability. Unlike its competitors, Spotify is available in over 50 countries. It is the most widely available online streaming company, offering access across the globe. This makes it easier to travel and still be able to access your Spotify accounts and also makes it possible to bring Spotify to more homes.
In comparison, Google Play Music is only available in 22 countries, giving it less than half of Spotify's global reach. This means there are more options for travelling with Spotify. It also just gives Spotify the advantage of having a wider, more varied customer base.
• The Best Bang for Your Buck
Another one of Spotify's many advantages is its free membership option. Spotify offers two levels of membership: a free level and a premium level. Spotify's free service offers some content limitations and restricts access to online only. The free service also has ad-content. The premium service is ad-free and offers temporary offline access to your playlists as well as other bonus features. Both levels of service off access to Spotify's extensive music category.
Unlike Spotify, Google Play Music only offers one level of membership and that is a $9.99 paid membership. To use Google Play Music, you have to subscribe and pay a monthly fee, which may be discouraging for consumers who are not quite sure what to expect from online music streaming.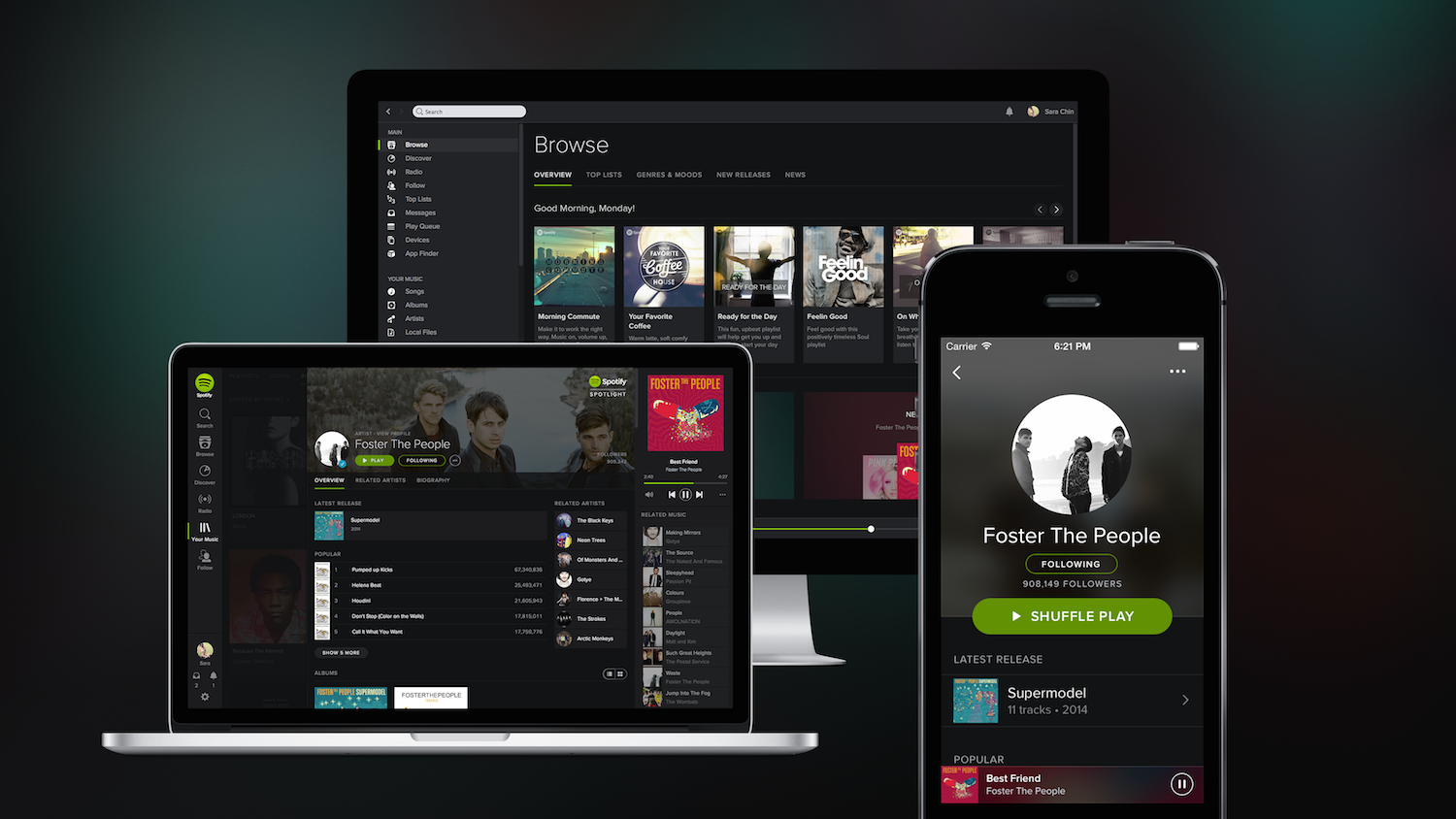 • Multi-Platform Access
Most people have more than one device or computer and want to be able to access their music programs in multiple ways. This is one of the biggest advantages to Spotify. Spotify is available on many different platforms, including mobile, desktop and separate streaming devices. You can access Spotify on Android, iOS and Windows Mobile, as well as on Windows, Apple OS and Linux desktop systems. Spotify offers more platform option than the competition, allowing you easy access to your Spotify library regardless of what platform you are using.
In comparison, Google Play Music is much more limited. It is only available for download on Android or iOS. To access Google Play on your desktop computer, you have to log-in via your web browser, there is no desktop version available. Google Play is meant to be listened to on your mobile device, whereas Spotify is meant to be enjoyed wherever you happen to be.
• Customized Playlists and Offline Access
Spotify and Google Play Music both allow the listener some customization options, like the ability to create play-lists of their favourite music. Spotify is particular has an easy search function that allows you to find songs you like and save them to play-lists. Spotify's software also creates suggested playlists for you based on songs you have chosen in the past, for those listeners who are looking to broaden their horizons.
Google Play and Spotify are pretty much neck and neck in this category. They both allow you to create customized playlists and allow you to skip over songs in auto-playlists. Both Google Play and Spotify also have easy to use interface and search engines meant to make your streaming experience easier and more enjoyable.
• Spotify is the Clear Winner
In a straight-out comparison between Spotify and Google Play Music, it is easy to see that Spotify is the clear winner. Spotify offers a slightly larger music catalogue and is available in the most countries and on the most different platforms. The biggest advantage of Spotify is the flexibility it allows it customers. With its free and premium levels of service, Spotify offers listeners options, unlike Google Play Music which is only available for a fee. Spotify also offers a customized listening experience, as well as an intuitive music-matching option.
Whatever your music streaming needs, Spotify is the platform for you. Spotify lives up to its reputation and is able to match or out-class the competition on every level, proving that it should be your choice for streaming music.
Part 2: Spotify VS Google Play Music, Which One Do You Like Most?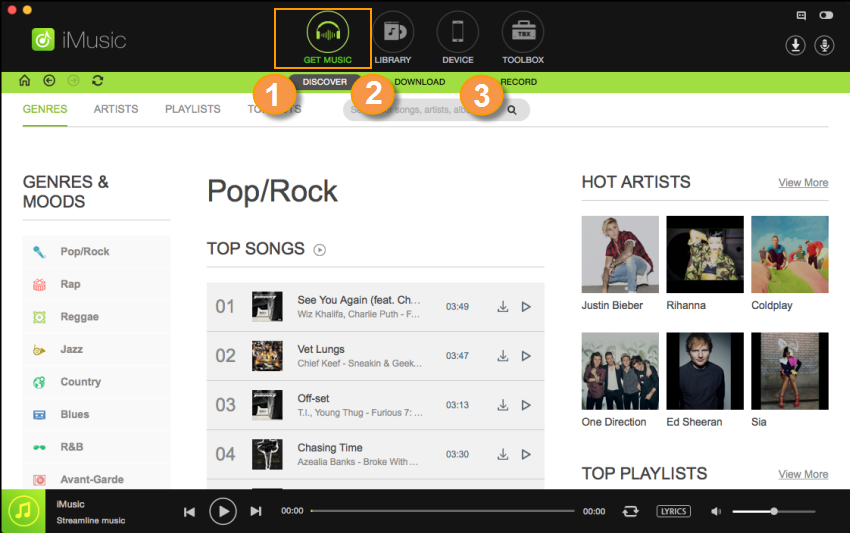 Download Any Music from Spotify and Google Play Music
With the help of iMusic, you are able to download unlimited free music from Spotify, Google Play Music and other sites, so that to enjoy your favorite music offline anytime you want. This Audio Recorder allows you to record music in high quality MP3 or M4A format, which can be supported by many portable devices and players.
Record unlimited free music from 500+ music and video sites.
Download music in high quality MP3 or M4A.
Automatically filter Ads and split tracks.
Identify and get music information like artists, album, etc.
Directly transfer recorded music to your iTunes Library.