Platform Music Download
1. Download Music from Platform

2. iMusic Alternative

3. Online Music Downloader

4. Music Converter

5. Download Music Tips

6. Others
For millions of music lovers around the globe, streaming music is the best way to access a variety of songs straight to your computer. With streaming music you can play the songs you want. When you want, all you need is an internet connection. Instead of being limited to your own personal music collection, you can now choose from millions of songs. What more could a music fan ask for?
Part 1: Spotify Allows Streaming, Not Downloading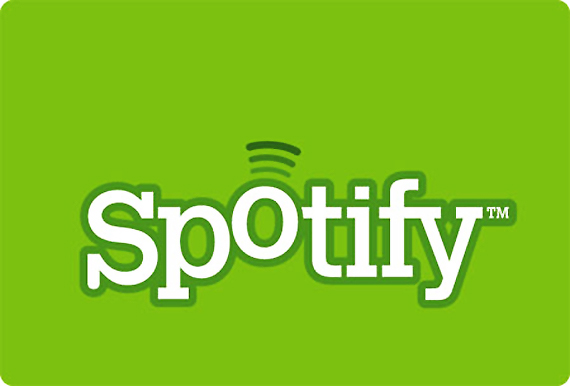 Spotify is a great way to be able to listen to music whenever you choose. However, Spotify is strictly a streaming program. It is not a music store like iTunes. Instead of making you purchase the songs you want to listen to, Spotify lets you listen to a large variety of music and you can listen to songs as many times as you like. The downside is that you are limited to listening to the songs online through your Spotify account but you cannot go through Spotify download music.
These limits might seem unfair, but limiting their services to streaming music is how Spotify is able to provide their customers legal access to a varied catalogue of music. Spotify operates by making licensing deals with the major record companies and as part of these agreements, Spotify pays royalties based on the number of plays each song gets. This is the reason that you are not able to process Spotify free download.
If customers were able to download the songs they wanted from Spotify for their own use, then Spotify would not be able to track the specific number of plays that each song received and pay royalties accordingly. Spotify prides itself on offering a legal way to stream music and to do that it relies on its licensing deals. With Spotify, customers still have access to their favourite bands and songs but in a way that allows the bands to be fairly compensated. It's a system that's designed to make sure everyone gets what they need.
Part 2: How to Record Music from Spotify
While you cannot operate Spotify free download, there are a few third-party programs out there that allow you to record the music that you hear on Spotify. These programs simply record the audio as you are listening to it. They are not recognized by Spotify and there is no official way to record music from Spotify account, however recording for your personal use is different from downloading a track and is ok as long as you do not redistribute the music anywhere. If you really want a copy of a Spotify song, then you can consider the following programs.
#1: iMusic
One of the best choices for Spotify free download on your Mac is iMusic. The iSkysoft recorder not only records music as you listen to it, it is also able to identify all the relevant information about a song. Once you save your music, this Spotify downloader automatically labels the song title, artist and album information, saving you the work of having to do it yourself. iMusic has an easy to use interface and supports several different programs, including Spotify. The music can be saved to MP3 or M4A and it promises to preserve your music's audio quality. However, because its ease of you and above average sound quality, this Spotify downloader is one of the most popular audio recorders available. You can go to detailed tutorial on how to download music from Spotify.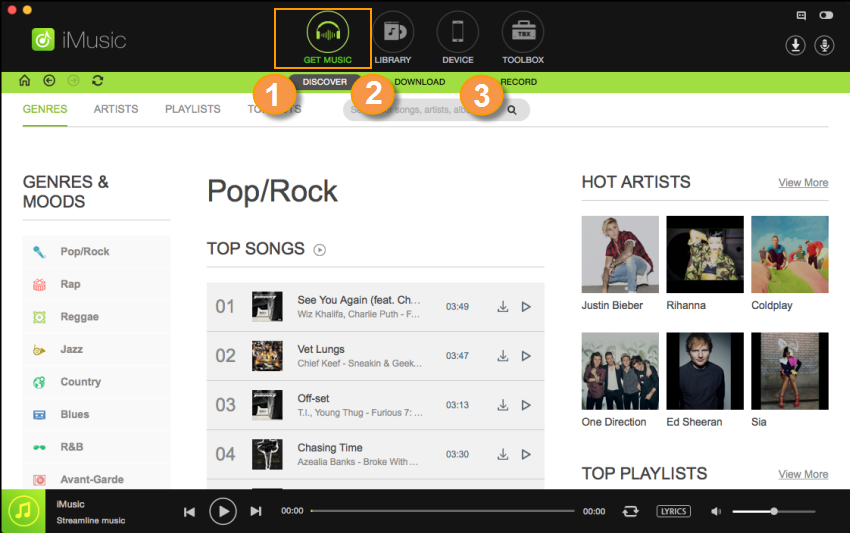 Why Choose iMusic
Support 500+ Audio Websites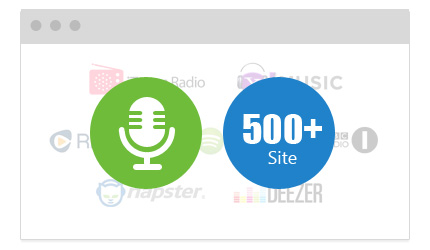 Automatically detect and record music from Spotify, BBC Radio, Pandora, Napster, Grooveshark, iTunes Radio, and more unlimitedly.
Record High Quality Music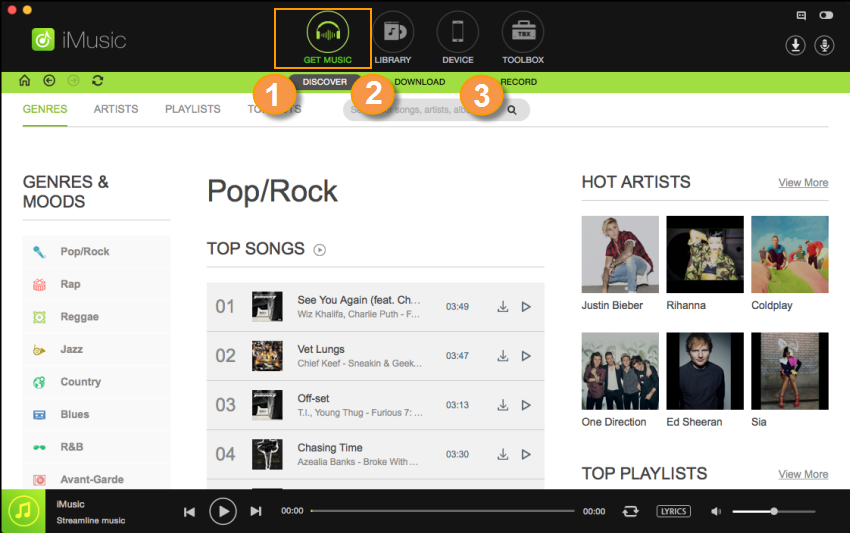 Preserve 100% original music quality and record music to high quality MP3 or M4A. Automatically filter Ads and split tracks.
Identify Music Information
Identify music and get music information like song title, artist, album and genre due to the ID3 tag identification technology.
Export Music to iTunes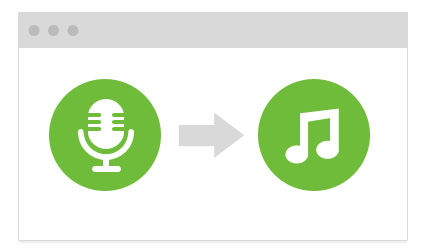 Directly transfer recorded music to your iTunes library allowing you to enjoy the music on any of your Apple devices.
#2: iSkysoft Audio Recorder
Another popular option to record music from Spotify is iSkysoft Streaming Audio Recorder. iSkysoft does a pretty good job of recording music as it streams. There is a little bit of sound quality sacrificed, but that is going to be true with any music streaming recorder. iSkysoft Audio Recorder allows you to edit the music you record, so you can edit out dead air or ads, if you are using Spotify's free service. iSkysoft's audio options are limited to MP3 and AAC format, which could be a major drawback for some. However all in all, this Spotify downloader is a pretty good program.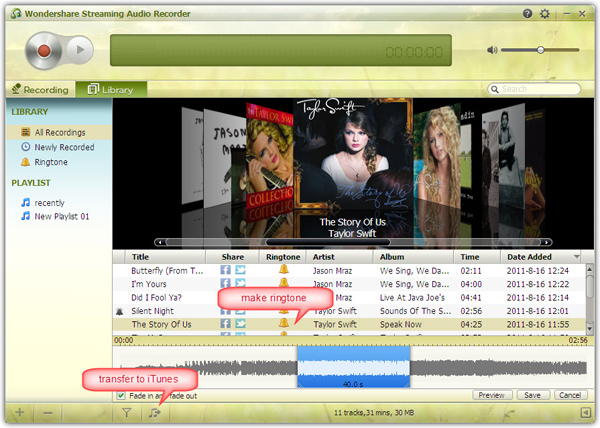 #3: Aimersoft Music Recorder
A third option for recording music from Spotify is Aimersoft Music Recorder. Aimersoft advertises that you can record your music at 100% of the original audio quality, though like other programs, this applies to standard bitrate. Aimersoft Music Recorder will automatically identity your songs which makes it easy for you to sort them. It also gives you the option of creating a custom ringtone from your recorded music. This Spotify downloader has an advanced recording feature that allows you to set up a Spotify playlist and then record it automatically while you are doing other things. One drawback to Aimersoft is that the interface can be a little tricky to manage and is not a user friendly as some other audio recorders.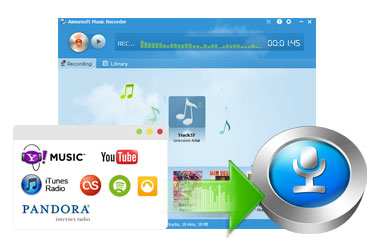 Part 3: Spotify Premium Allows Offline Access
However, if your issue with streaming music is that you don't always have internet access and you still want to be able to play your favourite songs, Spotify is able to help you. Spotify Premium offers Spotify customers offline access. With Spotify Premium, you can sync a certain number of songs to your Spotify device and mark them in offline mode which means that you still have access to these songs without having to be connected to the internet.
The songs are linked to your Spotify account, so you still have to open Spotify on your computer and they can't be used by another other music player. This allows Spotify to still be able to keep track of play count, but allow you to access your music offline. You also have to log-in every 30 days to sync your device with Spotify and keep your account up-to-date. This feature comes in handy when you are on vacation. You can take your laptop or tablet with you and have access to your favourite songs, even if you don't have internet access.
Offline content is only available through Spotify Premium, which costs $9.99 a month. While Spotify Premium may not be the right choice for everyone, if you were looking to be able to do more than just stream your music, then it might be the service for you. For someone who travels a lot or even commuters who use the subway every day, the offline feature alone could be enough to make Spotify Premium worth the monthly fee.