Download Music to Device
1. Download Music to Device

2. Mobile Music Downloader

3. Download Videos to MP3

4. Convert MP3

5. Alternative

6. Burn Music to CD

7. Festival Song List

8. How to Download Music

9. Download Music Tips
It is very easy to download music on iPad since the update of iCloud. Unlike older version of iOS, you do not have to go to the iTunes and download a new track, all you have to do is to login with your iTunes account and you can download the music directly on the iPad. Apart from the Apple music, users can also download the tracks in the Spotify to listen them offline. There are certain benefits to download music on your iPad; you do not need a USB cable to connect to your computer. Moreover, you also do not have to have to follow the complex process of downloading the songs to the iTunes and then transferring them to your iPad. If you have downloaded the tracks from the music application on your mobile phone, you can also re-download these tracks to the iTunes on windows or Mac OS X. Here's how you can download the music using Apple music on iPad.
Part 1. How to Download Apple Music on iPad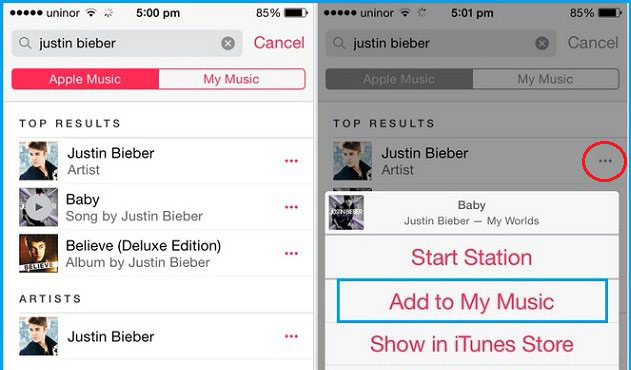 Recently, Apple introduced the Apple music, a service which will let you listen the tracks online. If you have using the premium version, you can also download these tracks on your iPad to listen them offline without any problem. Apart from download the songs in the Apple music, you can also purchase the songs from the Apple music on your iPhone. Here's how it will work to download Apple music on iPad.
Step 1. Open music application on your iPad and search for the track that you want to download on your iPad. Click on the three dots next to the song that you want to download.
Step 2. On the next screen, please select "Make Available Offline". That's it! It will start downloading the track on your iPad. Similarly, you can save as many tracks as you want to listen them without an internet connection. Once the song is download, you will see an offline icon next to the song on your iPad.
Part 2. How to Download Spotify Music on iPad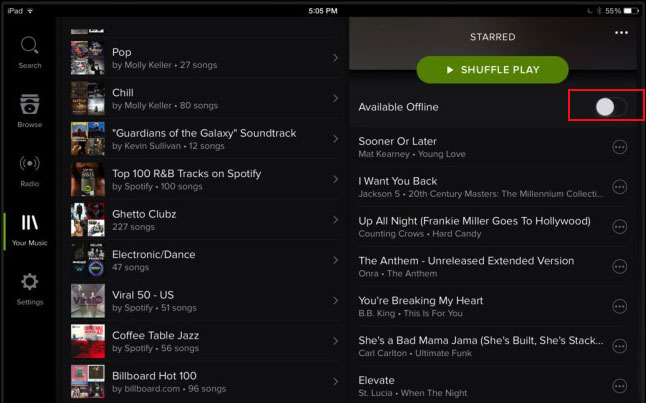 If you are using the premium version of the Spotify, you can also download the tracks in the Spotify application on your iPad.
Spotify is one of the largest music service using on different devices such as iOS, Android, Windows Phone and even the Mac OS X. With a monthly subscription, users can download the tracks on their devices to listen them anytime. You cannot only download the songs but can also download the whole playlists, albums or all the songs by an artist. Here's how to download Spotify Music on your iPad.
Step 1. Go to App store on your iPad and download the latest version of the Spotify. Login with your username and password in Spotify.
Step 2. Open the song that you want to download on your iPad and turn on the Available Offline option to save this song in Spotify on your iPhone. Similarly, you can also open a Playlist to download all the tracks at once.
Step 3. In order to listen the songs in Offline mode, Go to Settings .Now, Select Playback and turn on the Offline mode to listen the locally present track on your iPad.
Part 3. Download Free Music for iPad
Although download songs directly on the iPad is convenient and easy but sometimes it can be very problematic and have certain disadvantages. One of the main cons of downloading the tracks directly on the iPad will consume a lot of data which will in turn result in a hefty bill. Moreover, it is also a slow process as compared to syncing the music directly from your computer. Another disadvantage of downloading the song is that you cannot transfer these tracks to your computer. Moreover, every time you want to download music from the Apple music or Spotify, you will either have to buy their subscription or pay for individual songs that you want to download. Lastly, there are not many songs to download from these services. Alternatively, you can download any track from any site on your computer using the iMusic.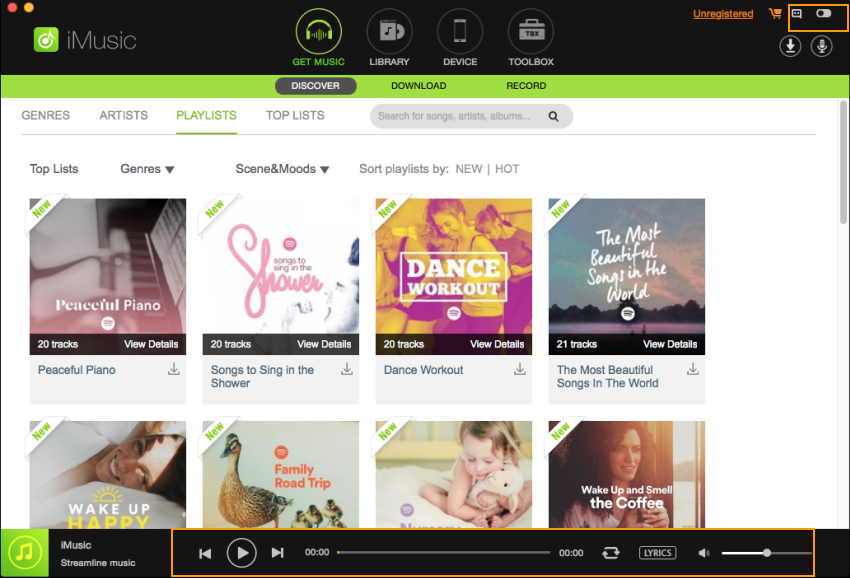 Download Music from 3000+ Music Sites – iMusic
iMusic is a cross-platform application which will let you download any song from thousands of the website in the highest possible quality. The best thing about this software is that you will not have to spend even a single cent to download the songs from these websites. As the name of the software indicates, it is a recorder to record sounds on your computer, but it is not an ordinary recorder rather it is a complete tool to record the songs from different websites. The best thing about this software is that once you have downloaded a track, it will automatically add the track name, artist name, album and other related information. Moreover, you can also transfer the tracks to iPad, iPhone, or iPod Touch. Here's how you can use iMusic to download songs for iPad.
Step by Step guide to download songs for iPad using iMusic: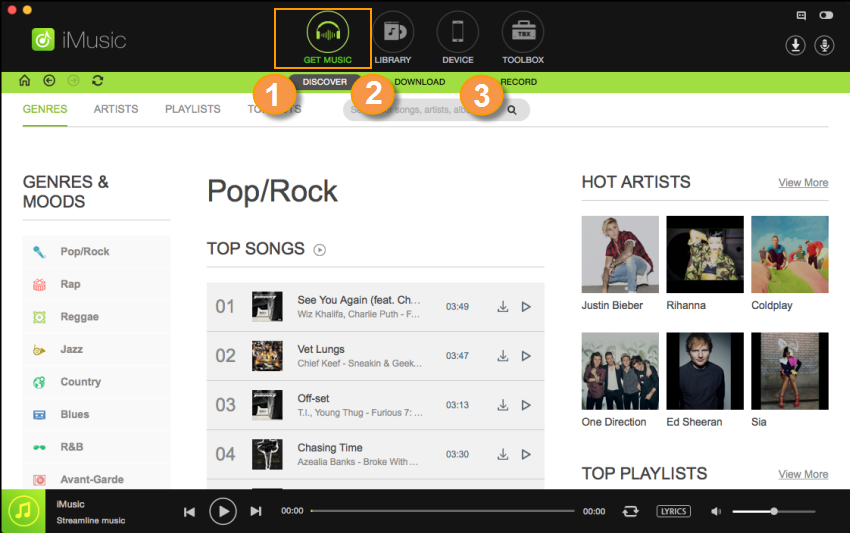 Step 1. Download and install iMusic on your computer, it is available for both Windows and Mac OS X. Launch the software on your computer and click "GET MUSIC" on the top of the software. From there, you can see 3 options "DISCOVER", "DOWNLOAD" and "RECORD".
"DISCOVER": it is the built-in library, allows you to search for music and download for totally free.
"DOWNLOAD": copy and paste the URL of a song or playlist to download music from music site.
"RECORD": record music from any music site and radio station that you can't download.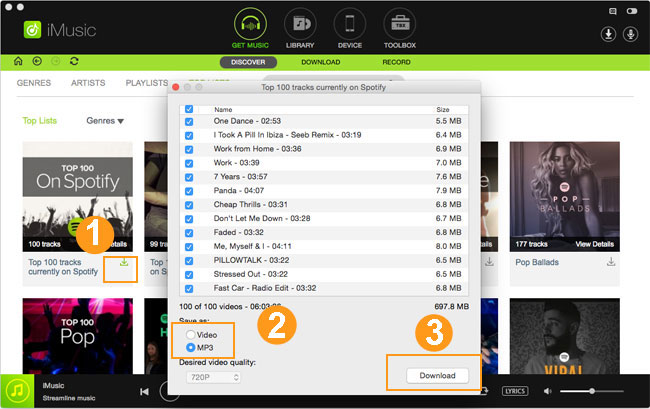 Step 2.
Download Music for iPad
Now you can choose to download music via "DISCOVER" or "DOWNLOAD", or record music from "RECROD". You can setup the download music format and destination to save them on your computer by clicking the Settings button.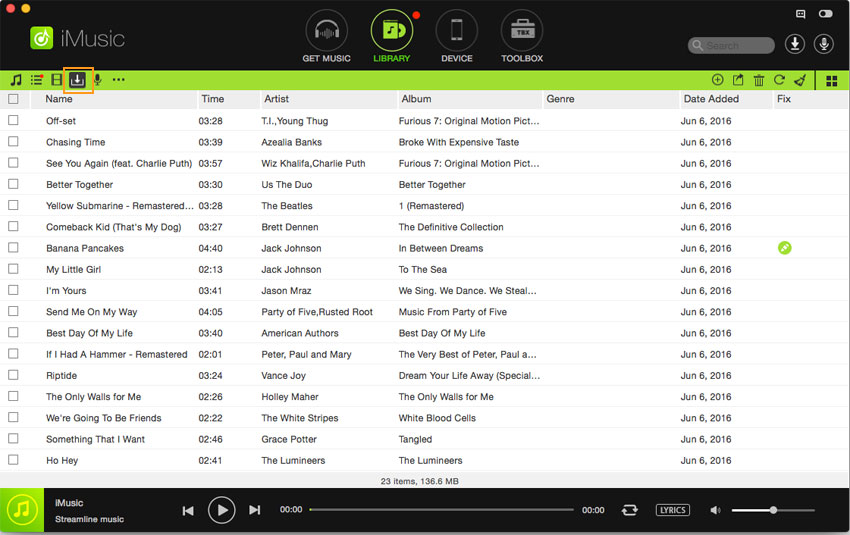 Step 3.
Transfer Downloaded Music to iPad
Connect your iPad with your computer via a USB cable. After then, click "LIBRARY" on iMusic, next you can see the download icon on the left side of the window. Click it to display all downloaded music. Check the ones you need, click the Export icon on the right side to export the selected songs to your iPad.