Download Music to Device
1. Download Music to Device

2. Mobile Music Downloader

3. Download Videos to MP3

4. Convert MP3

5. Alternative

6. Burn Music to CD

7. Festival Song List

8. How to Download Music

9. Download Music Tips
No matter from where you may belong there's one thing we all agree upon and perhaps it has the capability to unite us more than anything else in this world and it is none other than music. As more and more technology comes in, the way we listen to music is changing rapidly as well. Deezer is an online music site that has been praised for the quantity, quality, and features of personalization that it offers to its users. You can discover from over 40 Million tracks, create your favorite playlists and share them with your friends! As soon as you sign up they enquire about your favorite genres and artists and then hook you up with tracks you may not have listened before, all according to your taste.
The 3 efficient ways to download Deezer Music to mp3:
At first, some people may not understand what all the fuss about this new online music player might be but once you use it you perfectly understand what it is about. Many people have complained that Deezer does not allow its free users to download music but we are here to break down 3 efficient ways to download high-quality Deezer music.
1. iMusic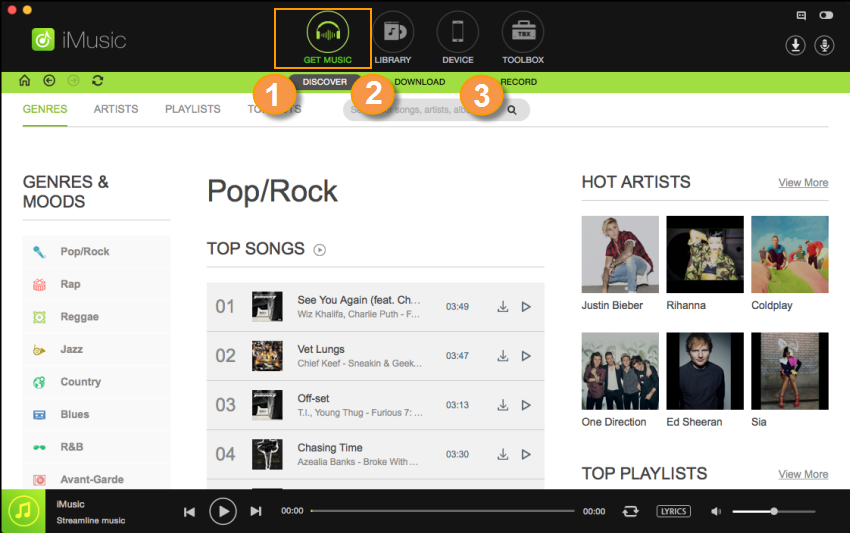 iMusic is renowned and famous for downloading free music online and transferring it to your devices. iMusic will allow you to record the music you're playing on Deezer without losing the quality of the music and save it in MP3 and MP4 formats. iMusic is the most recommended app to download Deezer music, the main reason behind it are the key features this app offers such as Downloading your favorite music, discovering new Music from thousands of options and the most exceptional out of these is the 'Record' feature which allows you to record music online in MP3 and MP4 formats. You can discover new music by genres, artists and top lists etc., it allows you to download music from its built-in music library and we saved the best part for the end, you can transfer music into your Android Phones, iPhones, iPads and iPods without any hassle. We highly recommend you to download the free trial version and see how it works for yourself.
Downloading Deezer Music through iMusic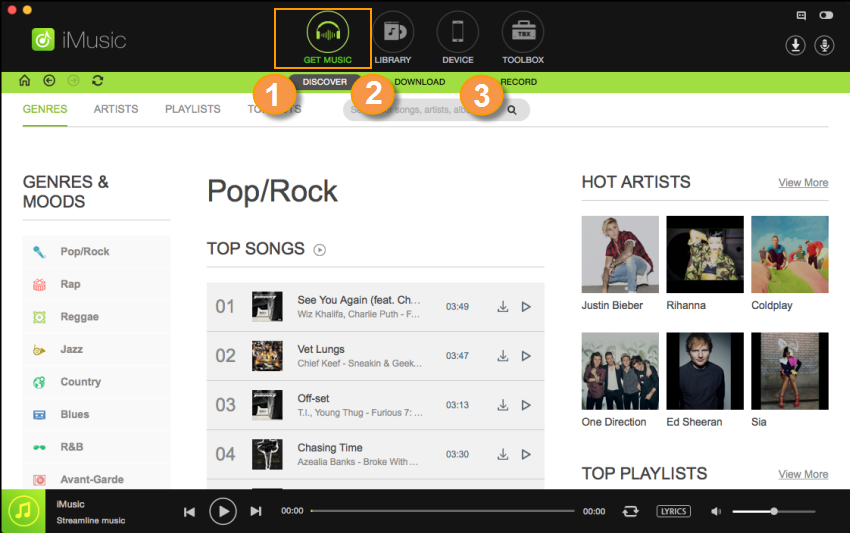 Step 1: Click on the Download button to get the iMusic for Mac/Windows. After downloading the program, you will get instructions menu on installation.Then open the program and click "Get Music" button at the top of the primary window.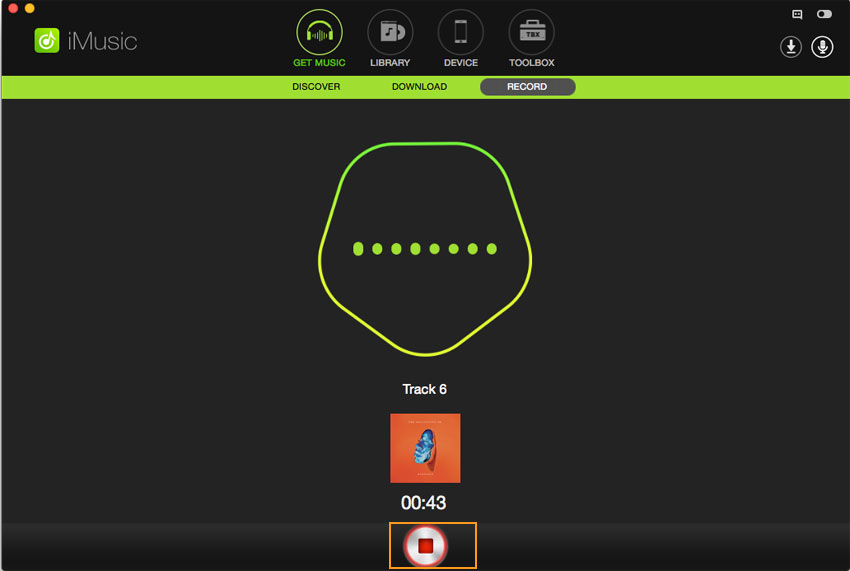 Step 2: Click on the "Record" button and then by pressing the red button prepare to record online music, afterwards search the Deezer web and pick out the song you want to download and play it. Your song will be instantly downloaded.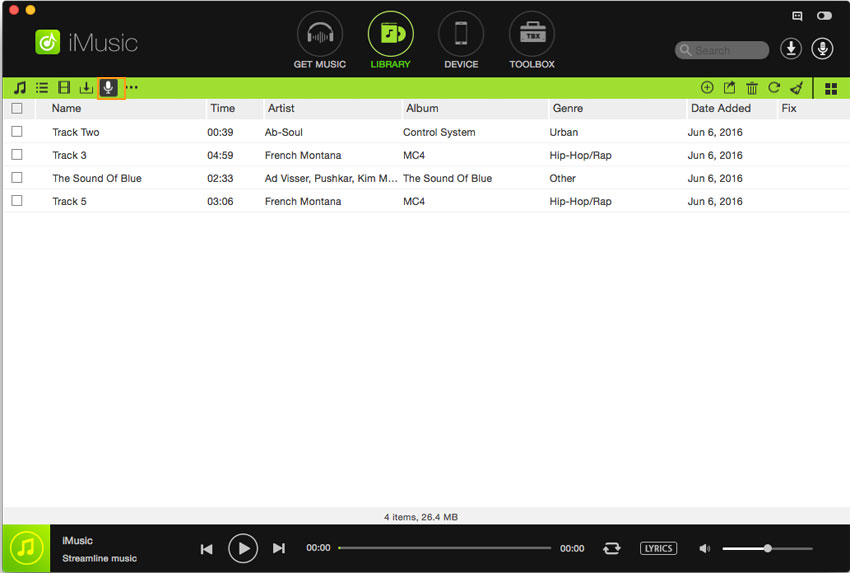 Step 3: Once you record all the music, click the "Library" tab, then the microphone icon in the LIBRARY music management windows. From there view your downloaded Deezer music. By double clicking, you play the music.
Or you can find the music from Cover Flow and then double click the music image to play the music. Check the ones you need and connect an Android phone or Apple device, then you can export the recorded music to the device easily.
iMusic and Deezer is the perfect combination for finding and discovering new music and once you feel you've downloaded enough tracks to your device you can transfer all of that music easily in no time. So why should you be using iMusic over any other music recorder? To put into simple words, the 4 outstanding features that iMusic offers over any other typical music downloader or recorder app is that it allows you to download music from anywhere around the internet, there's absolutely no compromise on the audio quality that it offers to its users, downloaded that one song randomly and you do not have much information about it? iMusic comes with ID3 technology which provides you with the basics such as Artist, Album, Genre and more, the compatibility is amazing to say the least as there are multiple export ways, you can transfer these songs into your iTunes Library or even burn recorded Deezer songs to CD.
#2: Freecorder
The next most reliable and efficient way to convert Deezer music into mp3 is by using a plug-in or a browser extension. If you prefer using browser plug-ins, then the Freecorder will work wonders for you as it can easily record anything you want it to. The first thing you need to do is enable the program extension for your browser, play the music you want to download and press the Freecorder circular icon at the top of your browser and just like that you have your Deezer music downloaded. The edge that this program gives you is that it doesn't require an internet connection to work. It also offers a handsome amount of free music that's why we are not ruling out the chances that you might come across your desired music in this program only.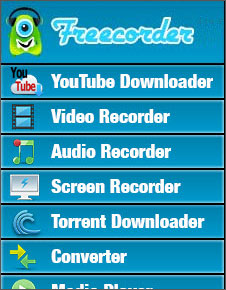 #3: Audicity
Audicity is a popular software which is famous for recording and editing audios, the edge it gives you is that you can edit your music in your own style. By accessing the settings option you can record streaming music on your browser. You need to first set your computer's sound device to be able to record computer playback and then play Deezer music on your computer. Audicity will record the audio and save it on your computer. It comes with a lot of editing options and you can use this program free of cost! There might be some disadvantages for using Audacity as well. For starters, it's surely not the most user-friendly program out there so it might draw away people who are not too much into investing time for better options. It does not get regular updates and you can't transfer music as easily as you can through iMusic. There is no option to filter out advertisements and neither will it provide you with the necessary song information like iMusic does.