Spotify
1. Spotify Tools

2. Spotify Account

3. Discount & Free

4. Spotify playlists

5. Spotify For Devices

6. Tips For Spotify

7. Others
Like any other music streaming site, Spotify take care about the charges that user will consider the budget of their pocket. Charges are paid as per the need and demand of the user, and user will get complete satisfaction in the service which package they have selected. This article is written to help to the users to get the best plan of Spotify according to their requirement. Just read this article and then you will get to know all the details about the each and every plan of Spotify and choose which the best one for you. So you can enjoy proper services of Spotify music.
iMusic - All-in-One Music Downloader and Management Tool
Download music from more than 300 music sites by copying and pasting the URL.
Record unlimited music from any website for playback in your computer with just one click.
Built-in music library let you browse and preview the lattest and hottest music.
Automatically save downloaded/recorded music to library for management and easy transfer.
Identify and tag music with artist, title, album, genre, and more with the latest technology.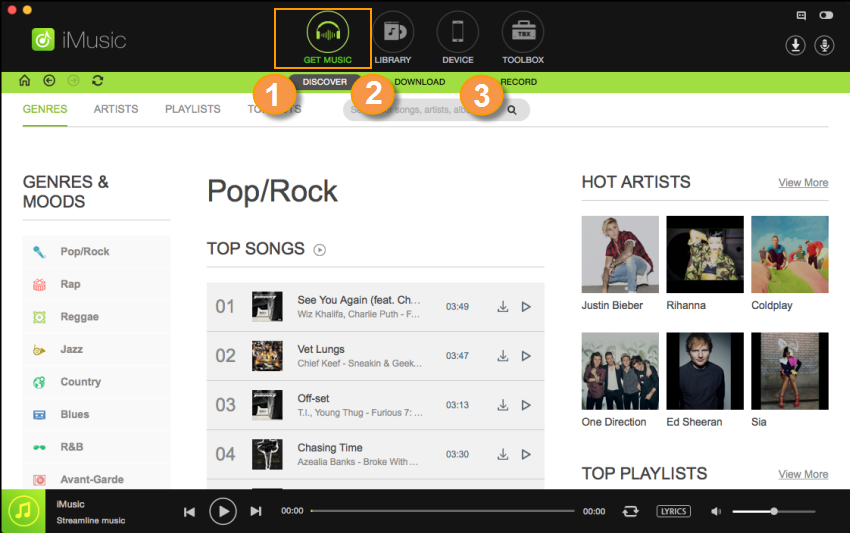 Part 1: How Much Spotify Cost
There are various packages available for getting premium service on Spotify and the user should be able to select the best one as per their need and requirement. We are going to share some of most common packages of Spotify which are really good for all types of users such. Spotify really take care the people of every age and requirement. Spotify is proving different plans such as trial package, premium, student and family plans with different cost in the different countries. Spotify is providing the promotional discounts also for the users but there are NO DISCOUNTED PACKAGES OF THE COMPANY and all packages are charged at normal. Users can find these coupons form the other coupon sharing websites. They cannot get discount from the official website of Spotify. The same has also been mentioned at the official website of the company where it can be viewed under the heading of pricing and plans.
Apart from these there is no other package is offered to the user and the offers we are going to share in this articles those only available from the official website of Spotify. We will discuss each and everything about every plan to for the people who wants to buy plans of Spotify can get best offer according to the requirement.
The packages will be discussed in detail to provide complete information about every plan to give the information as per the need of user. If the Spotify account is to be chosen then it is the first and last pace for the user where all the information has been compiled and they get the best and perfect services. While signing up for the Spotify the user should confirm that usage per month is also considered and the user gets the best and cheap way for listening their favorite songs unlimited from Spotify. You must know that the user can purchase family plan only in that condition when you are going to listen so many songs. You cannot buy it to listen one or two songs so you must create a big choice of songs before buying Spotify family plan. So in this article we are going to tell you each and everything about ever plan so you will get to know perfect exact costing about the plans. There is different prices for every country in the Spotify which we will discuss in the article.
1. Trial Package
Trial package is absolutely free of charge but you need to enter your payment details such as credit card or debit or any other payment method which is allowed on Spotify. Whenever user want to renew their trial package then Spotify will deduct payment directly from their credit card according to the selected plan. If the user does not want the service to renew then there is no need to pay anything your trial package will automatically finish after 30 days. Then Spotify will not allow you to listen any song for free and then it will ask you to renew and purchase a premium account on Spotify. This plan allow you to play music from any artist and create your own playlist but if you are looking to download songs on your computer or want to listen songs in the high quality then you must go for premium version of Spotify. Trial is free for 30 days.
2. Premium Package
It is one of the most used and widely recognized plans of Spotify. This plan is available for a single user to provide premium services with 24/7 customer care services. As it is premium account of Spotify so in this account Spotify really care about all the songs and gives a best music listening experience to the user. This plan is recommended by the Spotify official website also. This premium account comes with highest audio quality and able to play songs on your demand also. In this plan you can download music on your system for later use and create your own playlist also.
3. Student Plan
There is a discount of 50% is available in the above premium plan for the students to listen their favorite music at discounted rates. So with this plan student enjoy all of their favorite songs at 50% discount and same music like premium. But there are terms and condition to use this plan. If you want to use this plan then you need to mail a valid proof that you are a student. You can manually upload your documents to the Spotify account or send your proof via email to the Spotify support team. It automatically verification does not work then you can go for manually uploading of your documents.
4. Family Plan
This plan is created for a whole family and 6 members. Before it was available for the less members. But now you can enjoy this plan at the cost of 14.99$ per month for the 6 accounts. This new plan is directly matched to the apple music family plan. In the old plan it was 14.99$ for the two user and 19.99$ for the three users. Before biggest plan was only for five members which costs 29.99$ for the all five users but now Spotify is offering six account in the family plan instead of five. Now cost is also very less than before that is only 14.99$ per month for six user of one family. Spotify is announced that the user in the family plan will have their person separate premium plans. People who were registered with the old plan of Spotify family plan they will automatically upgrade to this new plan. They will receive less bill then before months. The source is http://www.cnet.com/news/spotify-rolls-out-family-feature-separate-accounts-one-bill/
5. Spotify Prices in Different Countries
First of all I would like to tell you that Spotify is not available in all countries and the countries where it is available there they are charging different costs. Spotify charges differently in every country according to their currency or according to their costing. So if you want to register any plan from your country then first you need to make sure that Spotify is available in your country or not. If it is available then what is the charges of their different plans in your country. So if you want to go for trial plan then this is same in all countries. Same means free no need to spend a single penny but if you are looking to register premium plan or family plan that will be different in all countries and the family plan also comes with different prices. If you want to add members from different countries in your family plan also then you do can do that thing also on the Spotify.
| Spotify Family plan | UK | US | Australia | New Zealand |
| --- | --- | --- | --- | --- |
| Family 2 (one extra account) | £15 | $15 | AU$18 | NZ$19.49 |
| Family 3 (two extra accounts) | £20 | $20 | AU$24 | NZ$26 |
| Family 4 (three extra accounts) | £25 | $25 | AU$30 | NZ$32.49 |
| Family 5 (four extra accounts) | £30 | $30 | AU$36 | NZ$39 |
Part 2: Membership Features of Spotify
| Feature | Spotify Free | Spotify Unlimited | Spotify Premium |
| --- | --- | --- | --- |
| Price | Free | $4.99, £4.99, or €4.99 per month | $9.99, £9.99, or €9.99 per month |
| Millions of tracks available instantly | Y | Y | Y |
| Play and organize your own MP3s | Y | Y | Y |
| Spotify Social | Y | Y | Y |
| Play local files on your cellphone | Y | Y | Y |
| No time limits | N | Y | Y |
| Take your music abroad | N | Y | Y |
| Spotify Radio mode | N | Y | Y |
| No advertising | N | Y | Y |
| Offline mode on your computer | N | N | Y |
| Offline mode on your cellphone | N | N | Y |
| Exclusive content | N | N | Y |
| Enhanced sound quality | N | N | Y |
| Play Spotify through multi-room music systems | N | N | Y |