Next Radio app is a smartphone app capable of connecting FM broadcasts over the air via the internet. It enables users to listen to radio programs and albums information, station features as well as other interactive features with a simple button touch. In short, it provides a real-time radio station interactivity with the internet. This app was introduced in 2013 in a deal between radio industry and Sprint. All new Android devices entering the market from Sprint, Virgin Mobile, and Boost Mobile among others comes preloaded with this application. The Next Radio's Live Guide enables users to navigate by what is playing on the user's favorite radio stations. Using the search tool within the Next Radio app, users can search their favorite radio stations including the out-of-market stations around the country. Furthermore, the program provides social integration as well as song tagging capabilities. You can browse for a channel based on Live Guide, genres, frequency and favorites.
Part 1. Download Next Radio in Mobile Phones Android and iPhone
Next Radio App for Android
You don't have to worry on how to get the Next Radio application for your smartphone device because it is super easy to access and download one. Although other smartphones would come already loaded with the program, majority of them however come without. This program is now available on Apple Smartphones and offers many local FM radio stations free of charge. In fact, this application has got neither gimics nor paid versions and is largely committed to unlocking FM chips in all smartphone.
Does Next Radio use data?
Next Radio original FM smartphone for Android devices is available in Play Store and has been updated to support streaming. The program streams radio stations with considerable less data and so users don't have to worry much on consumption of data.
Best radio downloader and recorder for apps like Next Radio
iMusic is arguably the best radio downloader and an all-in-one comprehensive music management program. The program lets users record radio programs, download their favorite music and transfer them to their devices including iPhone, iPod, iPad, and Android phones among others. There are separate versions of iMusic for Mac and Windows PC and is entirely compatible with latest windows and Mac operating systems. iMusic is definitely the best solution to download and record your favorite media files. The speed and the many integrated features would give an awesome user experience. Users can download the free version of this program to check out how the program works.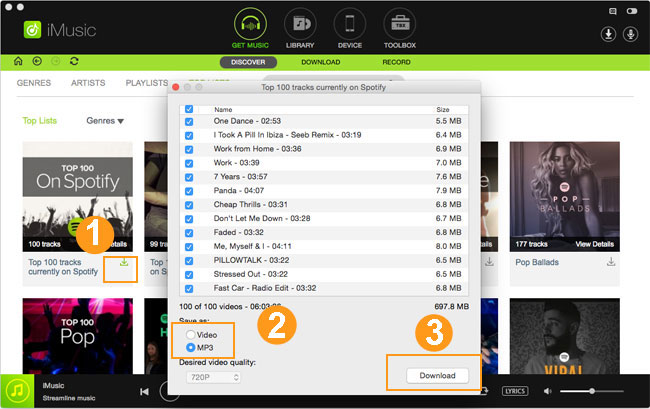 iMusic - Download MP3 to Android or iPhone from 3000+ Music Sites
Download music from more than 3000 sites including the popular video sharing platforms like YouTube, Vimeo, and SoundCloud among others.
iMusic enables users to clean up the dead or broken tracks, fix the mislabeled songs as well as remove duplicate tracks on iTunes library.
Transfer music files, podcasts, TV shows as well as playlists between Android devices, Apple devices, and iTunes free from device or computer legal limitations.
With iMusic, users can record songs they are playing with ease using the "Record" button on the program's interface.
Powerful toolbox that provides additional solutions such as recover iTunes Library, backup iTunes, and remove music DRM protection among others on your device.
If you purchase a new computer or accidentally lost your original iTunes Library, this program would allow you to restore iTunes Library or transfer your iTunes Library to another computer with ease.
How to record radio programs like Next Radio
Step 1. Run the radio downloader program
Run the iMusic application on your computer and locate the "GET MUSIC" menu situated at the top of the primary window.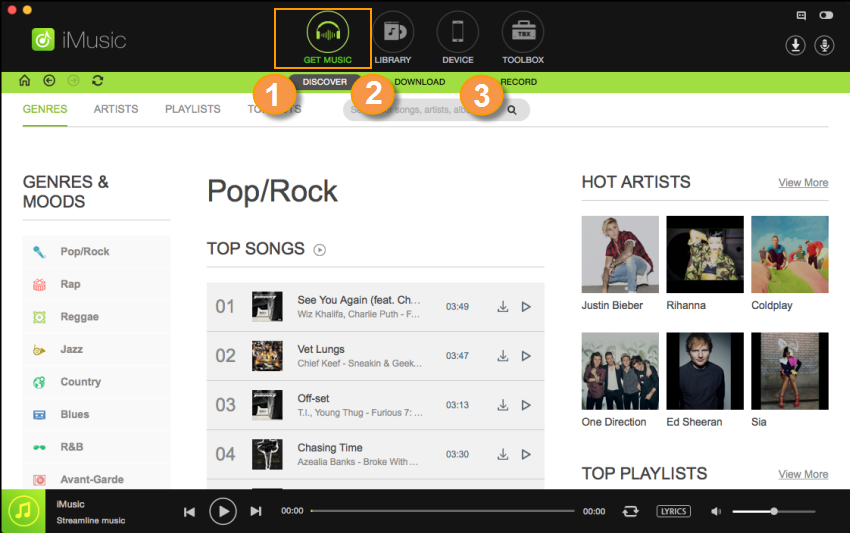 Step 2. Record Next Radio app
After selecting the "GET MUSIC" option, hit the "Record" button also at the top of the window to prepare to record the radio program. Now, visit the radio station with the program you would like to record. When the program is playing, the iMusic program will record it automatically. Both the cover and the artist would be automatically added as well and so you would not have a rough time trying to identify the song in iTunes Library.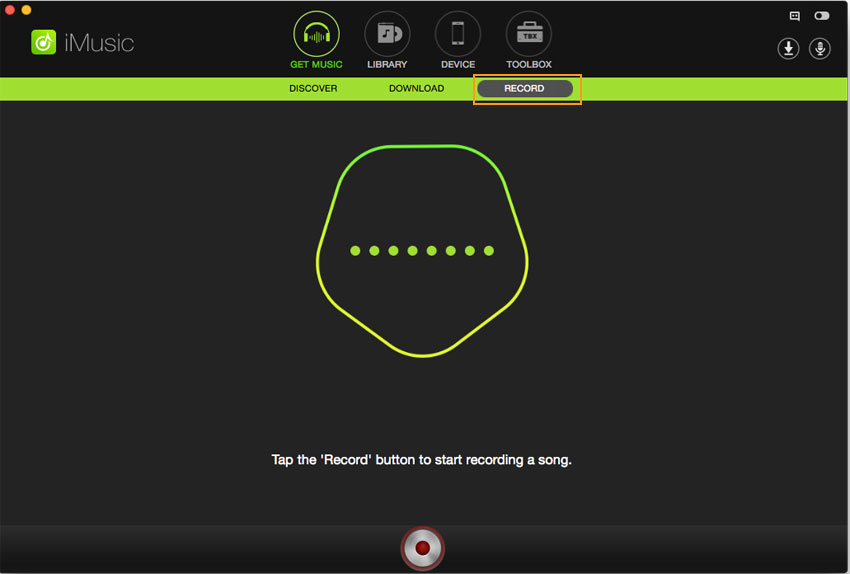 Navigate to the "LIBRARY" menu and subsequently the recording icon located on the left side to obtain your recorded radio program. You can then choose to transfer to your device using a suitable means.
Optional: How to download music from URL in 1 click
Step 1. Run the music downloader program
Launch the iMusic downloader program and navigate to the "GET MUSIC" window. You should be able to see the "Paste URL" button. Using your browser, go to the respective video site like YouTube and copy its URL code. Once you have copied the URL code, go back to the iMusic downloader. On the "GET MUSIC" window, locate and tap the "Paste URL" button to paste the URL code you just copied for the video to download.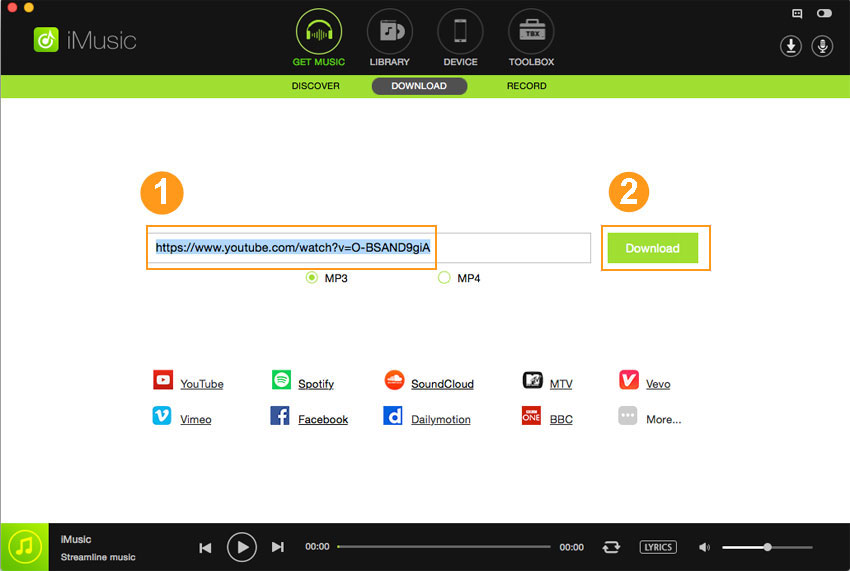 Step 2. Start to download the music or video
Select the desired music format and once satisfied click the "Download" button to commence the download process. Alternatively, you can click the access to the site, enter the song name and initiate the search via the search button. Then choose the quality and format of your video before finally clicking the "Download" button.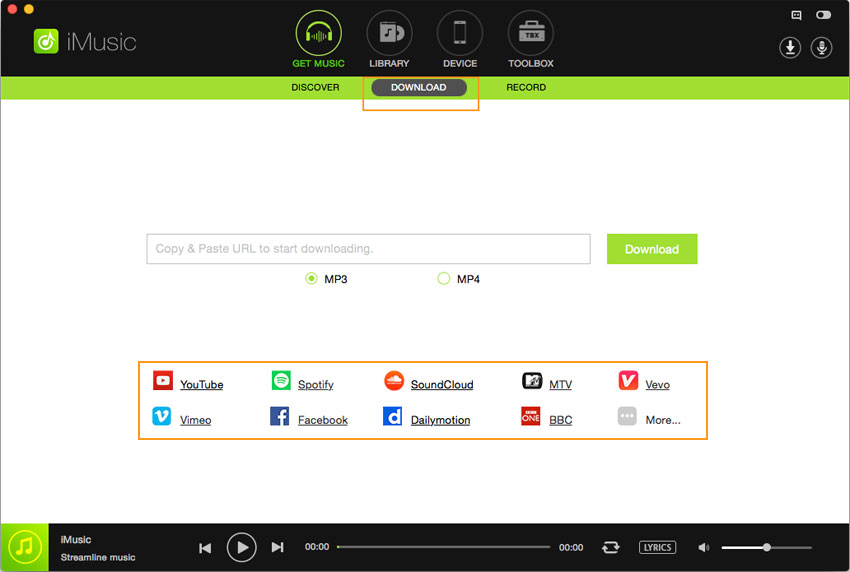 Part 2: Popular Radio App like Next Radio
Audials is an excellent well designed android radio application with very impressive functionality. One of the hottest hit for this application lies in the fact that it accommodates a large rane of radio stations and users can hardly miss n the target stations. To be precise, Audials provides more than 80, 000 radio stations as well as numerous podcasts and recordings of favorite programs in the radio.
Pros:
• This application supports a vast number of radio stations.
• The program has a good design.
• Allows users to record and transfer pieces of music without chills on copyright issues.
• Users can transfer their favorite music from this program through Chromecast to the TV.

Cons:
• To perform automatic music recording and create an equivalent large collection requires the Pro Version.
This open-source application which is available in Play Store is no doubt an amazing radio application for users across the globe. The simple and straightforward layout as well as great functionality renders it a user-friendly application. "www.radiobrowser.info" which is a wiki source for radio stations houses this app's database. If you have no reception, this tool allows you to record programs in the radio station for later use. While using the app, your data consumption would be on constant display and you are presented with the option of streaming in an external player.
Pros:
• The interface is simple and straightforward hence users can easily navigate.
• You can record programs for listening to them later.
• With tags, you can find high quality recordings.
• Users can monitor their data use on the screen.

Cons:
• The app does not have a good layout.
• Users cannot enlarge the buffer and the smallest fluctuations in the connection quality leads to a misfire.
Dash Radio is a popular functional radio application which is a good choice when you don't intent to focus on a specific genre or brand. Dash Radio is available for free and you can select more than 60 radio stations for personal radio station playlist. Generally, this app has a good overall selection with radio stations featuring new hits including real classics like Beatles, The Who, Rolling stones among others. You can also access pure rock stations, hip-hop stations and pure talkback stations depending on your choice. Special regular releases commonly done by popular DJS who design a special broadcast program.
Pros:
• This program allows users to access several music genres and new hits.
• The program has a clear interface that eases user navigation.
• The program provides a generally good music selection.
• The program has a wide range of radio station connection.

Cons:
• The program is not a good choice if you want to focus on specific genre or brand.