iHeartRadio Free Music & Radio is arguably the world's giant music app with amazing radio stations, selected streaming channels as well as super enticing matrix of music events. The iHeartRadio app and its desktop online counterpart offers absolutely free streaming services sourced from 200+ music channels include some of the hot and popular hit music stations like Virgin, CJAY, and CHUM FM among others. With this application, you have exclusive license for an excellent customization experience. You can choose music based on your mood, activity, station as well as anything that interests you as far as music is concerned. The app is suited for individuals who have the love for music, news, talk radio, comedy and sports.
Part 1. Download iHeartRadio in the Easiest Way
iHeartRadio App Free Download
To get the iHeartRadio app on your android or iPhone is definitely not as complex as you would imagine. You can download the app on iHeartRadio.ca or go to the Apple App Store or Google Play Store and select the latest updated iHeartRadio app.
Download iHeartRadio
iMusic is arguably the best radio downloader and an all-in-one comprehensive music management program. The program lets users record radio programs, download their favorite music and transfer them to their devices including iPhone, iPod, iPad, and Android phones among others. There are separate versions of iMusic for Mac and Windows PC and is entirely compatible with latest windows and Mac operating systems. iMusic is definitely the best solution to download and record your favorite media files. The speed and the many integrated features would give an awesome user experience. Users can download the free version of this program to check out how the program works.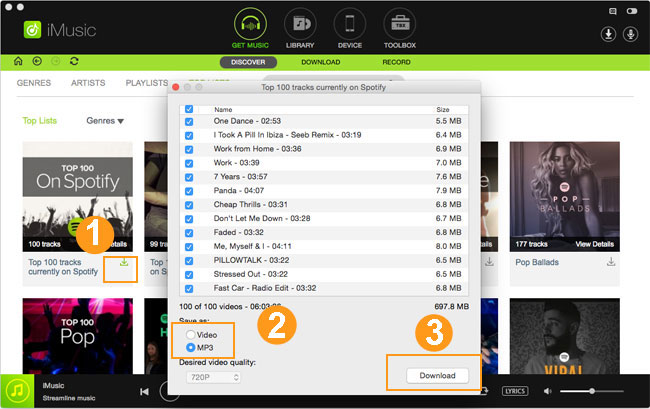 iMusic - Download iHeartRadio and Other Radio Programs in 1 Click
Download music from more than 3000 sites including the popular video sharing platforms like YouTube, Vimeo, and SoundCloud among others.
Record music, radio programs, and ringtones among other media files from various platforms like YouTube, Facebook, Vimeo, etc. using the "Record" feature.
Fix iTunes Library problems by cleaning up the dead or broken tracks, fix those songs that are mislabeled plus removing those tracks that are duplicated on iTunes library.
Transfer music files, podcasts, TV shows as well as playlists between Android devices, Apple devices, and iTunes free from device or computer legal limitations.
In-built music library which allows users to listen and download their favorite music of diverse genres and artists.
Powerful toolbox which provides additional solutions to problems related to music including recovery of iTunes Library, backup iTunes as well as removal of music DRM protection on your device among others.
How to record iHeartRadio music radio
Step 1. Run the music radio downloader program
Click the iMusic program icon to open the program your computer. Navigate to the "GET MUSIC" menu. Once the "GET MUSIC" window is selected, just click the "Record" button which is located at the top of the window. This should ready the program to record the radio program.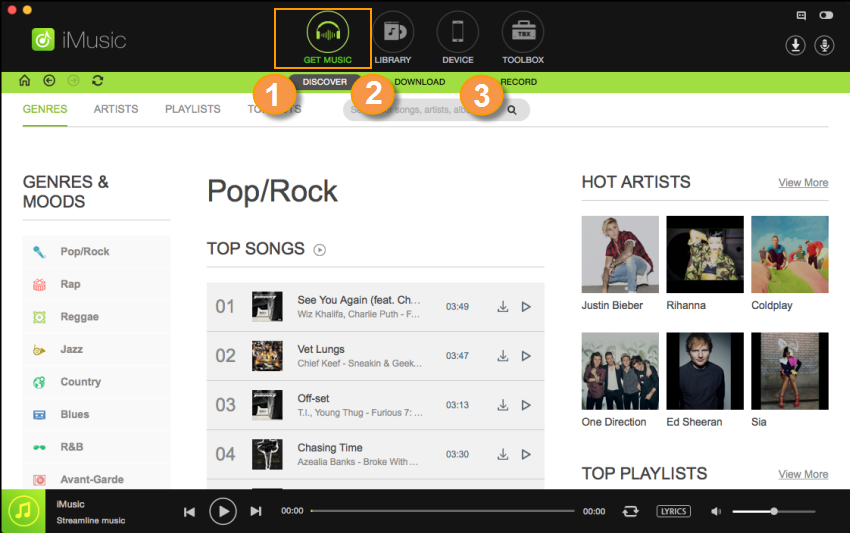 Step 2. Start to record iHeartRadio free music radio
Open the iHeartRadio app to start playing. While the programs are playing, the program will automatically record the program currently playing on your iHeartRadio station. In the event, both the cover and the artist would be added to the file to ease the process of identifying the recorded file on iTunes Library.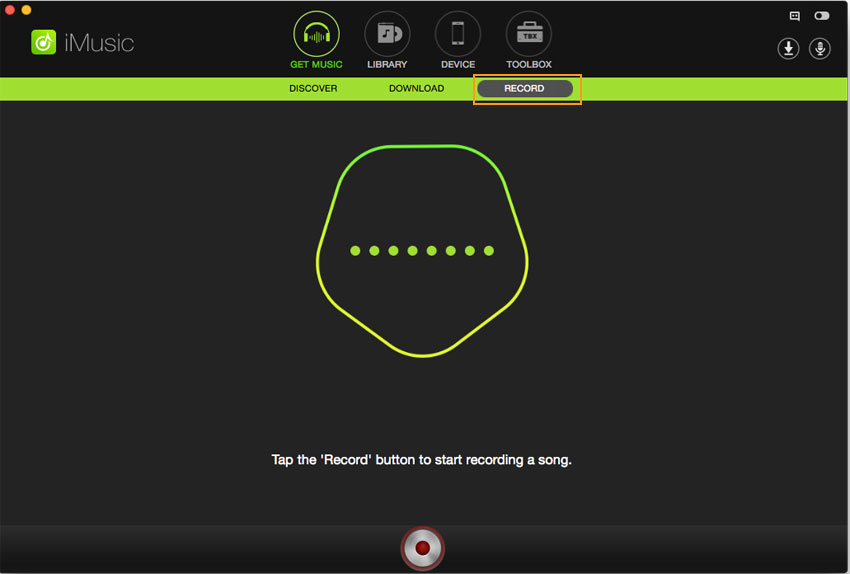 On the programs interface, go to the "LIBRARY" menu then the recording icon to locate the recently recorded iHeartRadio file. You can then choose to transfer this file to other devices using a suitable media like USB cable.
Optional: How to download online music from URL
Step 1. Launch the iMusic program and navigate to the "GET MUSIC" window.
Step 2. Using your browser, open the video site and copy the respective video URL code.
Step 3. Go back to the program's interface and paste the copied URL within the "Paste URL" box.
Step 4. Choose your desired file format and click "Download" button.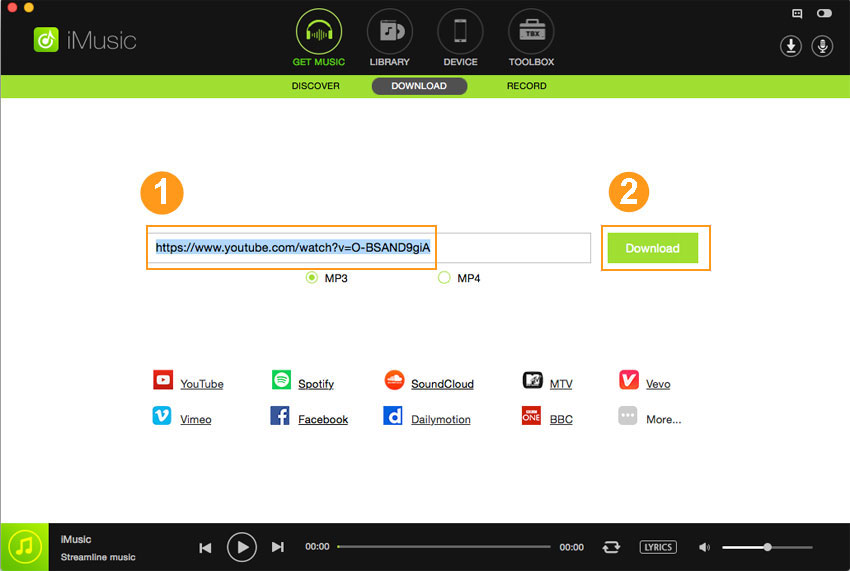 Part 2. iHeartRadio Not Working Problems and Solutions
1) iHeartRadio not working on android
iHeartRadio may at times fail to work on your Android device even if you have a fast internet connection. You may try to open the app but fails to open at all on your Android device. In such a case, the best solution is to uninstall and re-install the application. The app should then work on your Android device. You can also try updating the program.
2) iHeartRadio station not playing
Sometimes you may try to stream iHeartRadio on your device but does not play at all. It either loads without connecting to the radio or does not open the site to allow you log in at all. The problem could be your internet connection or that you are using the iHeartRadio app which is not up to date.
Solutions:
• Check your internet connection- in case you are using your mobile network, try opening via your browser. If it does not open, then your data coverage is weak.
• If you are using a Wi-Fi connection, try to reboot your modem or router.
• Try closing some data consuming apps that are currently running on your device to improve your streaming.
• Try to reboot your phone and check if the situation changes.
• Check for the latest update on Google Play Store.
3) iHeartRadio login problem
You may experience problems trying to sign in to your iHeartRadio. This majorly occur when you have forgotten your credentials.
Solutions:
Find the "Forgot password" link just on the user login page or on iHeartRadio.ca website. You can locate the user login page in the iHeartRadio app, website menu or even at the very top of your local radio station page. If the problem persist, then contact infoENG@iheartradio.ca via email.
4) iHeartRadio can't perform initialization
At times users receive the iHeartRadio error message "Cannot perform initialization. Application will exit". You can try to either update your browser version, and then open the iHeartRadio again, or clear the browser or app cache. Disabling ad-block may also be an alternative way to solve the problem.
5) iHeartRadio sign up problem
Sometimes you can try to sign up iHeartRadio but cannot go through. It persist giving an error message that the authorizing your account did not go through. This may be because you deleted your account and want to re-add. It does not provide an option to supply your credentials and when you choose to sign up as a new user, the same error message is displayed. When this happens, you need to submit a system diagnostics, and reply with your confirmation number. Check how to submit a diagnostics.
6) iHeartRadio activate problem
For successful activation of your iHeartRadio ProFusion iS Media Player, the "Activation Successful" message should display. However, a failure would display "Activation Failed" message. When such a message is displayed, just write down the message and contact Mood Media at 855.345.5223. They will help fix your activation problem.
Part 3. Top 10 Hot Radio Programs on iHeartRadio