Spotify
1. Spotify Tools

2. Spotify Account

3. Discount & Free

4. Spotify playlists

5. Spotify For Devices

6. Tips For Spotify

7. Others
There is no doubt Spotify is a gigantic music library which boast splendid songs, radio stations, and audiobooks among others. This elegant application provides a snap avenue for users to access their favorite collections. On the interface, the most streamed songs as well as radio stations are displayed starting from top to bottom as per the number of views. The most streamed songs in Spotify include This is America, Better Now, One Kiss, Nice for What, and No Tears Left to Cry among others. There are several radio stations with numerous music library available in Spotify and are categorized as genres, artists, and radio stations based on time like 50's, 70's and many others.
Part 1. How to Download Hot Song Tracks on Spotify
iMusic is a stunning top-notch spotify music ripper. iMusic provides an extremely easy and reliable platform to download, stream, transfer,record and even share their favorite music across various devices and websites. Indeeed if you have been out there looking for the most ideal all-in-one functional musivc management tool, then your worries should instantly come to a halt. With unmatchable list of capabilities to the well-designed total no-brainer interface, iMusic takes it all. Simply visit the download page to dosnlaod the best version and install it in your PC. I bet the rest would surely be a series of product testimonies.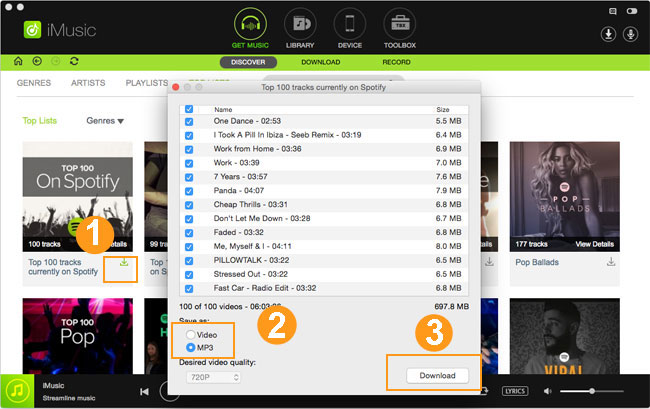 iMusic - Best Radio Recorder to Record Streaming Audio
Allow access to 3000+ popular platforms for download and sharing of music like Spotify, SoundCloud, Pandora, YouTube, etc.
Fix problems related to your music library such as missing and duplicate tracks among others.
Make it easy to transfer media files across mobile devices like iPhone, iPad, Android, Kindle Fire, Game Consoles, etc.
Record high quality music and is specifically suited for those who like radio programs.
Backup their iTunes library so that they can be restored upon the loss of the library or purchase of a new system.
Part 2: Top 10 Most Streamed Music Songs on Spotify in 2018
#1. This is America by Childish Gambino
Childish Gambino's "This is America" song has received tremendous following and consequently topping the Billboard top 100. The video song which alternates between spirited dancing and gun violence is full of fun collecting a whooping millions of viewers in Spotify. From the on-set, the video is meant to depict the killings of black African Americans in USA.
#2. Better Now by Post Malone
Better Now is a hip hop/rap song released in 2018 under the Beerbongs and Bentleys album by Post Malone. His hits have in recent times drove crazy followings in several media platforms and no wander this hit razed the entire music matrix. A keen examination of its lyrics depicts the artist hurling insults to his early critics and brags of his unexpected success.
#3. One Kiss (with Dua Lipa) by Calvin Harris
One Kiss is no doubt a pretty worked out pop song accompanying exceptional simple yet effective beats for deep house. The combination of Calvin Harris and Dua Lipas exquisite voice as a perfect captivating music mix. Upon its release, the song has genre all the way collecting millions of viewers and at No. 3 on Spotify.
#4. Nice For what by Drake
Drake is an ever-happy relentless music icon whose best moments comes when cheerful engineered perhaps a good timed outstanding song. This amazing hit features drake tossing shit and flirting although full of energy as he implores his listeners. Nice for What entered the music scenes and razed the hearts of music listeners like fire. The song features among the top 10 most watched songs in Spotify.
#5. No Tears Left to Cry by Ariana Grande
Just like before, Ariana Grande has found a way to sneak joy in a tragic event. The song revolves around the fatal incident at Manchester where a homemade bomb wiped out 22 people in a concert. The song has garnered amazing followers since its release and boost being among the top 10 hits most watched in Spotify.
#6. God's Plan by Drake
God's Plan by Drake came amidst short silence from Drake and rocked the music industry like never before. The video involves Drake surprising his fans with gifts and shopping's. The song became an instant hit and that is why perhaps it's one of the most viewed Spotify songs.
#7. Psycho by Post Malone
Psycho is a great hit recorded by Post Malone, featuring TY Dolla Sign. This popular song expounds on Post Malone's lifestyle specifically revolving on the theme of fame and trust.
#8. Friends by Marshmello
Friends by Marshemalo and Anne Marie is another high flying hit that talks about the friend zone thing, which is somehow hated by most people. When one friend tries to take things further, he is reminded that he is not the lover. This song has found it easy to feature among the top hits on Spotify.
#9. X by Nicky Jam
X by Nicky Jam and J Balvin and produced by Afro Bros and Jeon is an amazing song that quickly rose to fame and entered the top 10 most viewed 2018 released songs in Spotify.
#10. I like it by Cardi B
I like it by Cardi B is a top hit filled with great personality, style, and craft. The song became so popular that it easily featured among the top 10 most watched Spotify songs.
Part 3: Top 10 Most Streamed Radio Station on Spotify
#1. Kendrick Lamar
This an artist radio station that majorly plays hip-hop music hits by several iconic musicians like Kendrick Lamar, 21 savage, and Childish Gambino among others. You can control the playlist via the radio control buttons at the bottom.
#2. XXXTENTATION
This is an artist radio station available in Spotify and majorly plays hip-hop music. Some of the popular hits here include sad, Esskeetit, Otherside, She Ready, Red Roses, and Benz Truck among others. The various artist includes Lil Peep, Post Malone, XXXTENTATION, and Lip Pump just to mention but a few.
#3. Post Malone
Post Malone is an artist radio station available on Spotify which plays a host of hiphop songs from various celebrities like Post Malone, Migos, Lil Pump, Khalid, Travis Scott, Bryson Tiller, and Kodak black among others.
#4. Cardi B
This another hot artist radio station available on Spotify featuring the top music artists like Nicky Minaj, Cardi B, Ariana Grande, and French Montana among others. The various popular songs played include No Tears Left to Cry, Chun-Li, unforgettable, and Plain Jane just to mention but a few.
#5. Blues
This is a genre station that features blues music with artists like Jimmy Reed, Robert Jonhson, Howlin Wolf, and Muddy Waters, John Lee Hooker among others. The various hits available include Ten Years Long, Spoonful, Rude Mood, and Hell Hound on My Trial just to mention but a few.
#6. Classical Radio
This radio station as the name suggests is a popular genre radio station on Spotify. This amazing radio station stares the likes of Philip Glass, Gabriel Faure, and Johann Sebastian among others.
#7. Christian
Christian radio is an amazing genre radio station in Spotify that plays Christian music collections. Various artist includes Chris Tomlin, TobyMac, Hillsong group, Britt Nicole, and Casting Crowns among others.
#8. Country Radio
Country radio on Spotify is an excellent station that plays country music from various artists like Chris Young, John Mayer, Brett Young, Dylan Scott, and Parmalee just to mention but a few.
#9. Pop
Pop is a popular radio station in Spotify whose playlist is pop music. The various songs played include Perfect by Ed Sheeran, Crying in the Club by Camilo Cabello, Perfect Strangers by Jonas Blue, Gucci Gang by Lil Pump, and The Cure by Lady Gaga among others.
#10. Soul Radio
Soul Radio is an amazing soul music radio station on Spotify. The radio station endlessly plays a host of soul music by various artist including Sam and Dave, Kavinsky, Marvin Gaye, and Ray Charles among others. You can control the playlist just like all the other Spotify radio stations by simply choosing the song to lay on the background of course from the list.
Part 4: Top 10 Audiobooks on Spotify
#1. William Shakespeare Plays and Sonnet (provided by Gnarld.com)
This Shakespear's play is an outstanding story that revolves around the love and its tragedy. It clearly displays how love can groom hate specifically among the youthful group.
#2. A tale of two cities –by Charles dickens
Charles dickens play "A tale of two cities" is definitely an amazing audiobook available in Spotify and with multitude of viewers. The play is set on the French revolution plight emanating from the peasants underwhelmed by the French aristocracy.
#3. Billy Budd –by Herman Melville
This captivating play by Herman Melville tells about the misfortunes of a young sailor unfairly accused of try to mastermind a mutiny in the sea. The audiobook is available on Spotify and has garnered millions of viewers.
#4. 2000 Leagues Under the Sea –by Jules Verne
This is a classic science fiction adventure novel. The plot is centered on attempts to kill a monster giant said to have been spotted in the sea. The play has been registering many viewers since its release and no wonder it is among the top on Spotify.
#5. A Connecticut Yankee in Kings Yankees Court –by Mark Twain
This play tells a story of mechanic who gains judicious power after being befriended by a knight in Arthurian Britain. The mechanic falls in love with the niece's king and brings him trouble. This amazing play as expected has received many views and goes among the top audiobooks in Spotify.
#6. The call of the Wild –by Jack London
This short adventure play by Jack London that talks about a dog sold to another land when it is forced to fight in order to maintain survival and eventually dominating other dogs. The audiobook on Spotify is quite fascinating and stares among the top audiobooks.
#7. Frankenstein –by Mary Shelley
This is another amazing play by a renowned English author Mary Shelley. The play revolves around the ambitious young scientist who create a sapient creature in a scientific experiment. Owing to the excellent plot, the audiobook has garnered overwhelming number of viewers on Spotify.
#8. Crime and Punishment –by Fyodor Dostoyevsky
Crime and Punishment is a play the focuses on mental agony and moral dilemma of a student who develops a plan to kill a pawnbroker for her money. This audiobook is available in Spotify and is among the top viewed audiobooks.
#9. Dr. Jekyll and Mr. Hyde –by Robert Louis Stevenson
Dr. Jekyll and Mr. Hyde by Robert Louis Stevenson is about a lawyer in London who sets up an investigation to unravel the relationship of the rather strange occurrence between his friend and an evil man.
#10. Far From the Madding Crowd –by Thomas Hardy
Far from the Madding Crowd by Thomas Hardy is no doubt a popular play which has enjoyed literary success and widespread reputation. Its themes revolve around love, honor, and betrayal. You can listen to the audiobook on Spotify.