Play Music
1. Deezer Related

2. Spotify Related

3. Pandora Related

4. Rdio Related

5. Soundcloud Related

6. iTunes Music

7. Others
Spotify is one of the largest functional platforms that allows users to access a bunch of music, play their favorite music, playlists, new releases, and create a perfect music collection with ease. Users can create free accounts and upgrade to premium accounts as per there interests. The premium account is ad free and users have absolute freedom to cancel or delete and even upgrade again. In fact there are various discounts such as family and student discounts which helps makes the premium version affordable even in situations that could have proved expensive. In this article, you will get full tips on Spotify account.
Part 1. Spotify Account: How to Create, Cancel, Delete, Upgrade Spotify Account
How to Create a Spotify Account:
Have you successfully downloaded, installed and launch your Spotify software? You are almost to start experiencing the fun by having your favorite trending artists and music in comfort of your room. However, you're required to log in with your Spotify account. If you haven't created one yet, study this detailed guide in this article to get started.
You can either click spotify icon to open and then tap "Sign up" icon to sign up on sportify web page. You can choose to sign up with your email address or with Facebook account.
Option 1: Sign up Spotify with Your Email Address
When you click "Sign Up" button, a redirected window will be explored. Here, you are supposed to provide and confirm your email address together with choosing your preferred password. If you want to personalize your account, give a name on the "What we should call you?" box. This will be your profile name. Remember you will not be able to login using this profile name. Enter your date of birth by clicking and selecting from the respective box. For you to finalize check along your gender, privacy policy and along "I'm not a robot" box. After you have provided all the required credentials, complete the sign up process by clicking the "Sign up" button located on the bottom of the screen.
Option 2: Sign up Spotify With your Facebook Account
Click "Sing up with Facebook" button, a pop up window will automatically be opened. On this window it prompts you to enter your facebook log in details. Hit the "Log In" button to complete the sing in process.
Spotify Free Account, How to Get?
Using your browser, go Spotify website and select the "Play Free" button. here you will get the options of either creating your account via Facebook or email account.
To sign up with you facebook account, simply hit the "Sign up with Facebook". Enter the respective facebook log in credentials in the appropriate fields. Click the "Log in" button to sign up. However, if you want to sign up via your email adress, just fill in the relevant information in the required fileds including Username, email, password, date of birth as well as your gender. Read the terms and conditions of Spotify and hit "Sign Up" button to continue.
For the desktop Spotify app, just download, install, launch the program and sign up just like the web version.
How to Upgrade Spotify Account?
Are you bored with frequent adds while using your spotify free user account? Dying to travel everywhere with your carefully polished and organized playlist? With spotify premium user account all these are possible to have a pure service sans compromises or limits.
Step 1. Navigate to spotify website and hit "Login In" icon which is situated at the top right of the website.
Step 2. A pop-up window shall display prompting you to enter your log in credentials. You can either provide your Spotify username and the respective password or simply enter your facebook details. Alternatively, you can login by simply selecting your username at top right of the main window then "Account" from the drop-down list.
Step 3. Hit on "Get Spotify" to access various Spotify products displayed on the webpage.
Step 4. Thoroughly go through the Spotify products and select either of the "Get Spotify Premium" or "Get Spotfy Unlimited" options by simply ticking against their respective radio buttons. You can also directly click "Spotify Premium" and upgrade to the Premium or Unlimited account. Once selected, the respective aaccount is highlighted. Remember if you have a premium gift code, there is no need to enter the pyment details. Just choose the option labeled "I Have a Code option".
Step 5. Navigate to the payment option radio button and select a convinient payment method. The options include credit card and PayPal. Click to agree the Spotify terms by checking the "I Agree with the Spotify End User Agreement" box then hit "Continue" button.
Step 6. The next page displayed allows you to review your purchases by entering the credit card details within the respectve fields. Simply click the "Confirm Payment" button to complete the process.
How to Unsubscribe from Spotify?
Canceling your Spotify account would revert your Spotify account to the free version with ads. This is common especially if your Premium time runs out. You can then upgrade later as per your preference.
Step 1. Open Spotify and login to your account page.
Step 2. Navigate to the main menu on the left of the window and hit "Subscription" button.
Step 3. From the options displayed, click "Change" or "Cancel" option and subsequently "Cancel Premium" .
Step 4. Hit "YES" or "CANCEL" to confirm the cancellation of your account. When succesfully cancelled, you will be unsuscribed from the premuim version and in that line reverted to the free account.
Cancelling a student discount would disable any application until the verification period of 12 months is over. If you subscribed through another company such as your mobile provider, your broadband or even iTunes, then your account is managed by them. To cancel your account, just contact the respective company and ask them to alter any billing details or cancel your account.
To see who manages your account, simply log in to your account and click "Subscriptions". Here you will be able to view those managing your Spotify account.
How to delete Spotify Account?
Step 1. Login to Spotify. Choose "Account" and then "I want to close my spotify account permanently".
Step 2. Select the "I Still Need Help" and enter a deletion statement within the "Tell us More box". Click "Send Question" to send your query using your email.
Step 3. You will receive an auto-response which takes you back to the Spotify community. Reply to that email to connect with an agent who will pick from there. You will then receive an email after some few days that confirms that you have succesfully deleted your account.
Once deleted, yo wont access your stored information, offline tracks and playlist.
Part 2. How to Download Spotify Music
iMusic is a powerful must-have software which is surely unmatchable when it comes to general music management. It has several key features that are perfectly integrated to ensure an amazing user experience. There nothing you would actually that you require of an ideal music tool because it serves as a music downloader, recorder, converter, and lets you transfer music files between various popular devices.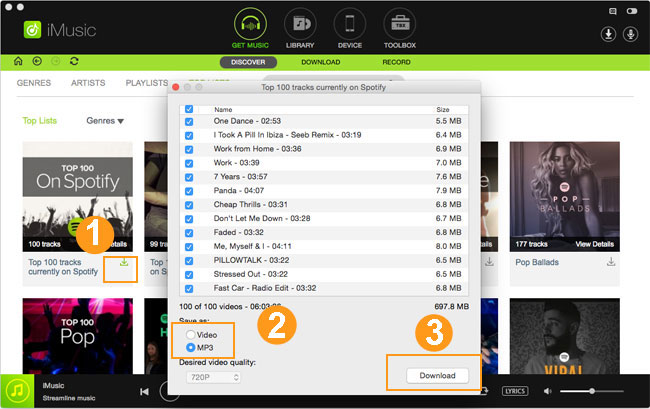 iMusic - Download MP3 to Android or iPhone from 3000+ Music Sites
Access music download from more than 3000 sites including Spotify and other popular sites.
Transfer their music, playlists free of computer and legal limitations between popular devices such as iPhone, Apple TV, and Samsung Galaxy among others.
Clean up your music library by deleting duplicate tracks, fixing unplayable tracks, and corrupted metadata among others.
Backup their iTunes Library and discover their music collections without difficulties.
How to Download Spotify Music to iPhone or Android Devices
Step 1. Download iMusic
If you don't have iMusic program, simply click the following button to download this music downloader and manager and install in your computer. Start iMusic program to display the main window.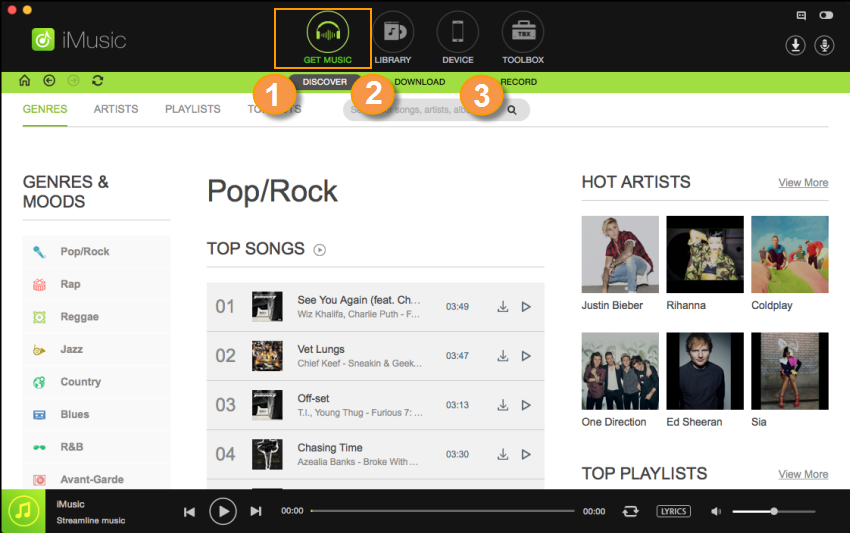 Step 2. Copy the URL of the Song and Start to Download Spotify
Locate and click the "Download" button within the "Get Music" window. Identify Spotify icon and click it to access the site. Search the song of interest within spotify, copy its url code and go back to the iMusic interface.
On the program's primary window, hit the "Paste URL" box and subsequently paste the song's url copied from spotify. Select your preferred target format like MP3 and MP4 then click "Download" button to begin downloading your Spotify song.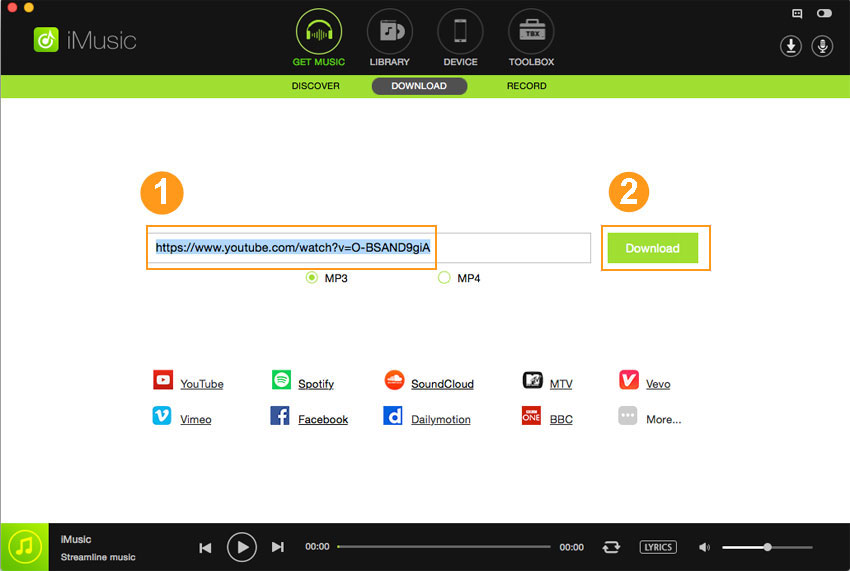 Step 3. Transfer Downloaded Spotify Songs to iPhone or Android
Once completed, click the DEVICE tab and you will see several options, from where you can transfer music to iTunes, mobile devices, PC, etc. Choose one and then select the music songs from the library, click the Add to icon to finish transferring.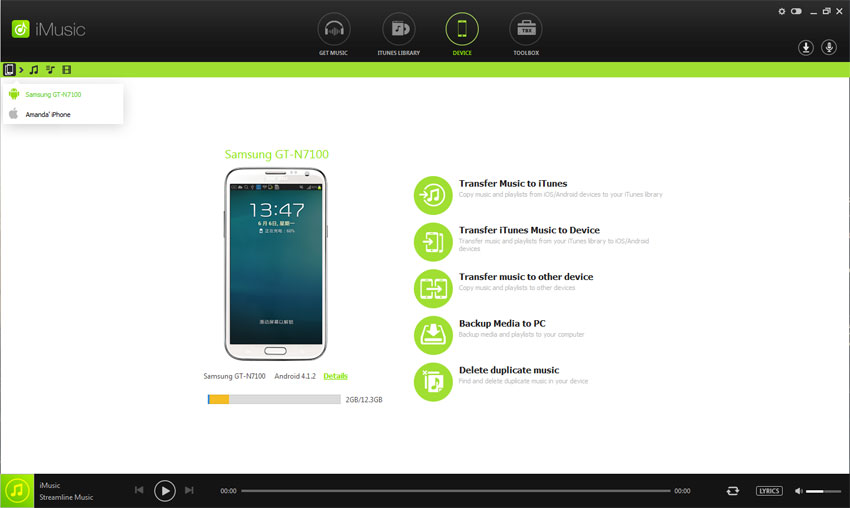 Having a spotify account is surely a great thing is you are a music untouchable as you would access millions of songs of diverse genres and artists. Fortunately, creating a spotify account is as easy as a pie and there is no reason to worry after all. Get an account today and enjoy music streaming and download.