Play Music
1. Deezer Related

2. Spotify Related

3. Pandora Related

4. Rdio Related

5. Soundcloud Related

6. iTunes Music

7. Others
Spotify is an amazing service that offers users a platform to access and stream endless list of hot music, videos as well as podcasts. Furthermore, Spotify offers an opportunity to add your music songs by simply uploading them from their save location. This process is quite easy provided you already set up your account and installed Spotify on your desktop. Once uploaded, you can easily share your music with linked Facebook friends on Spotify.
Part 1. How to Add Songs to Spotify
Add Songs to Spotify:
Step 1: Download Spotify software
Go to web and search "Spotify download". Simply scroll down the search results and select the appropriate download link. Follow the on-screen download instructions to get the download started. After successfully downloading, install then launch the program on your computer. Log in with your Spotify account credentials.
Step 2: Download Spotify software
Hit "drop-down menu" which is located in the top-right corner of the programs' primary window and then select "Settings'. From the sub menu displayed, sroll down to Local files. This will automatically display all folders such as My music, Downloads, containg your files.
In case there is a folder containing the songs which have not been automatically selected, just click "Add Source" to get the folder selected. When you do this, spotify can now access your personal music files. You need to know that once the folder is added, any non-DRM music songs present within will be immediated added into the Spotify library. These songs can now be found under the "Local Files" in the main menu.
How to Upload Music to Spotify, if I am an Artist?
Publishing your music on Spotify is never a daunting tiresome task. First, you have to meet the simple basic requirement. This requirement demands that you acquire a label or an aggregator tasked with the responsibility of getting your your songs on Spotify. Furthermore, they will handle licencing and distribution of your music and pay you royalties when your music get streamed. Remember there is a small percentage cut off or fee involved and each service is distinctive. Some of these labels or aggregators are Emu Bands, CD Baby, Distrokid, and Record Union among others. When you take CD Baby as your label, this is a guide to have your songs on Spotify.
Step 1: Sign up for CD Baby Account
Open CD Baby web page an on its interface click "Get Started" button. A new window will be displayed which will prompt you to enter your contact location Username and password, and then check to confirm that you have read, understood and agree to the Terms of Services, Privacy Policy and that you are atleast 13 years old. Finally, click "Save and continue" to proceed to the next step.
Step 2: Payment
Enter your pay point which is between 10 dollars and 10,000 dollars and select payment channel. Then click "Save and continue" button to proceed to the final stage.
Step 3: Choose what You Want to Sell
Hit on the tab of what you to be published on spotify either single song or album. Then give its basic information and check for the Bar Code. Finally, Click "Save and continue" button.
How to Share Spotify Music:
Spotify allows users to freely share their favorite music with their friends. To send spotify music to your friend's inbox , you first have to have the receipient in your "People's List". To add someone to your list, just hit the "People" link icon situated on the left side of the sidebar. The list of all your facebook friends shall appear on the main pane as well as any of the public profiles you might have manually added. To make it easy to locate and send tracks to your friends, add them to your favorite list. To do so, simply mouser over your friend's name and select "Add to Favorites".
If you now want to send a track or playlists to your friend, just click it and drag it to the respective person's name within the "People" sidebar. A dialog box would then pop-up which prompts you to enter a brief although optional text before finally hitting the "Send Track" , Artist, Playlist or Album depending on the media you want to share. Alternatively, you can just select "People" link to display all your facebook as well as manually added friends. Select a friend, view her profile and by default, your top tracks shall be displayed. Hit "Send Track" under the song of interest so as to track's link to the respective friend. For the recipient to play the song, he/she must have spotify.
Another option is to use the "Share" icon. Tab on the "Share" icon within Spotify and select Spotify tab from the pop-up window. Type the name of the recipient in the "To Field" search box and pick the right one from the list displayed. You can choose to add an optional brief text in the Mesaage text box before selecting "Send Track". It could be a track, Artist, Playlist, or Album as per what you want to share. If you want to send multiple items at the same time, just press the ctrl button on your keyboard and select the files of interest.
Part 2. How to Download Spotify Music
iMusic is a complete stand-alone music management software that makes it super-easy to discover, download, record, stream and share music and playlist from sites like Spotify, YouTube, Pandora amongs more others. There is surely a lot that can be done within this comprehensive tool which supports hot and popular devices like iphone, ipad, ipod, itunes and android phones. With several useful inbuilt features, excellent interface, and fast processing speed, iMusic is arguably an unmatchable must-have tinker tool. Millions of devoted users are never wrong making it an indespensable program. Try this software and be part of the community that testify on the iMusic magnificence.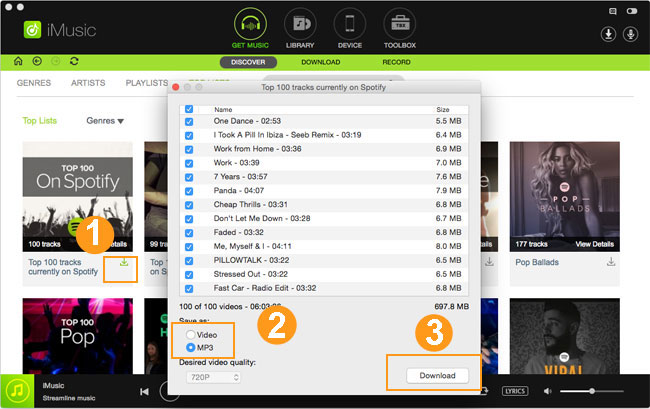 iMusic - Download MP3 to Android or iPhone from 3000+ Music Sites
Easily download music from over 3000 websites which include Spotify, YouTube, Facebook among others.
Built-in library which enables you to discover latest collection all-in trending playlists, famous artists, and genres.
The presence of the recording feature furthermore makes its possible to record streaming audio from internet. This is moreso helpful to active listeners of online streaming radio.
Compatible with numerous devices ranging from iOS to Android like iPhone, iPod, Samsung Galaxy, HTC as well as itunes library, thus making it easy to transfer songs between them freely.
Backup feature which make it possible to create a backup of existing iTunes library and use the later to restore on a new system.
The fix feature enables reconstruction of existing iTune library which include removing duplicate tracts, cleaning broken links, adding albums art.
Download Spotify Music to iPhone or Android Devices
Step 1. Download iMusic
Download iMusic from the download web page. Once succefully downloaded, install and launch it on your device.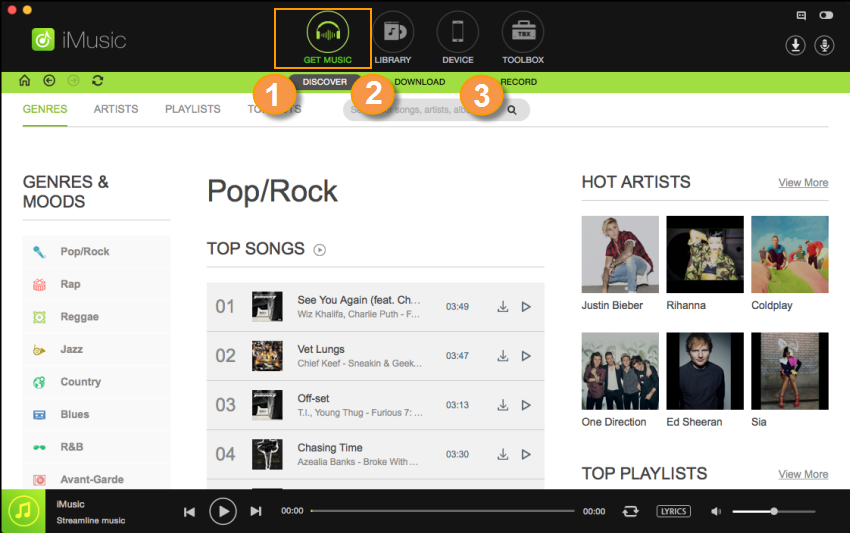 Step 2. Copy the URL of the Spotify Song then Download
Tab to open iMusic app, then hit "Download" in the "Get Music" window. subsequently, a URL paste box is displayed on this same window as well as accesses to some popular download sites like YouTube, Spotify, and Vevo among others. Proceed to click on spotify to open then copy the url of the song you want to download on this site.
Now, Paste the URL of the song you copied from Spotify to the URL paste box in iMusic. MP3 and MP4 are the output formats availlable, check the format you need then click "Download" button to initiate the download process. Altenatively, you can click on the search box then type in the songs name and tab the search icon. You are supposed to select also music format then hit "Download" button to commence download process.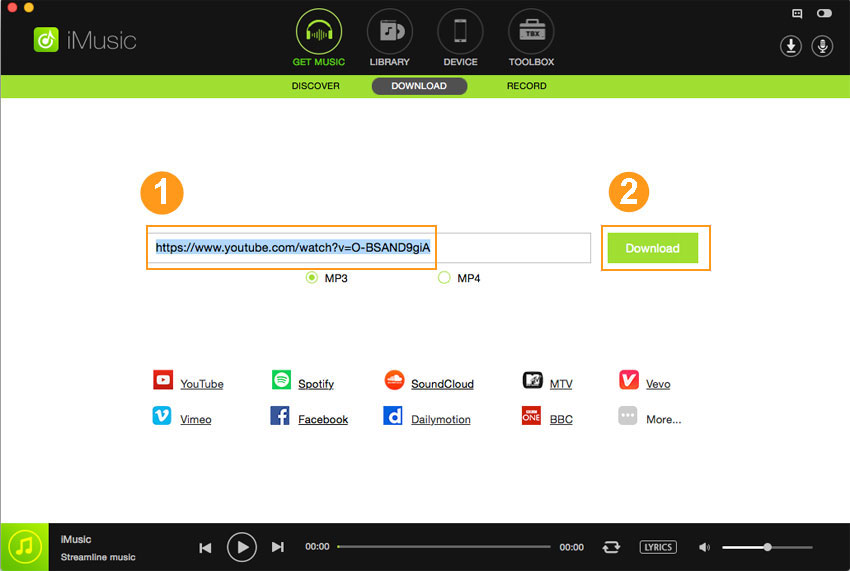 Step 3. Transfer Downloaded Songs to Phones
After completing the download, you will realise that downloaded songs are automatically added to your iTunes library. For you to check these songs simply tab "Library" button the download icon on top left side pop-up window. At any time you need this songs transferred to your iPhone or android device, simply check them and tab the export icon on the top right side of this pop-up window.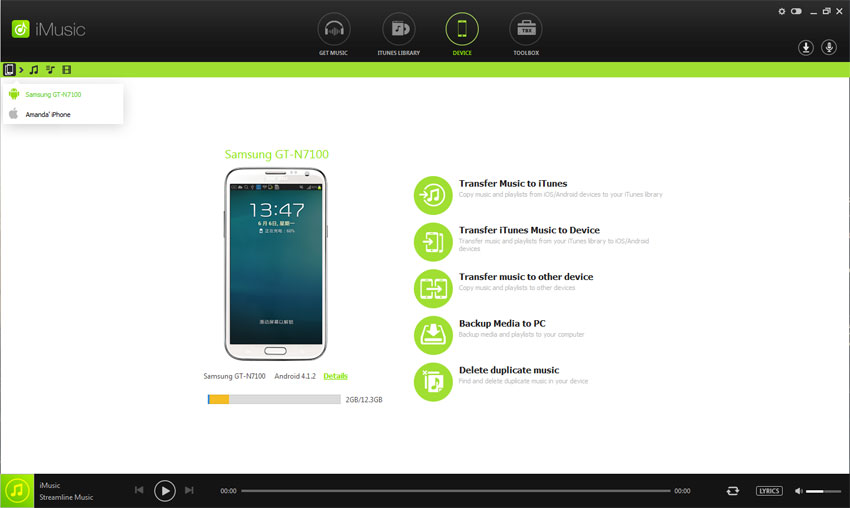 Spotify is a superb music library with diverse collection of music that can be accesed with ease and at anytime. The fact that spotify can be installed on other operating systems like Linux and Obuntu is so fascinating. Try iMusic on your computer and enjoy unlimited music access.