Music Downloader
1.Mobile Music Downloader

+

2. Online Music Downloader

+

3. Music Downloader

+

4. Offline Music Downloader

+
Vimeo is a great place for the music fans to find their favorite songs. Vimeo also allows users to register and create playlist so that they can save the songs in the playlist and come back for an enjoyment later. However, Vimeo only allows users to enjoy the songs online, and doesn't provide any download feature, therefor many people are seeking for a Vimeo music downloader so that they can have an enjoyment offline easily. This post will talk about how to find a good music downloader and how to take advantage of the best downloader to get Vimeo music. If you are looking for a Vimeo music downloader, this post will provide you a little help.
Part 1. How to Choose a Good Vimeo Music Downloader
In fact, choosing a right Vimeo music downloader is much more important than choosing a downloader with many functions. If the music downloader can help you to get the music files for offline enjoyment, it is a good downloader. This part will introduce the basic and important rules of a good music downloader, and it may help you to find the music downloader program you need.
1. High Speed: A good Vimeo music downloader should download music files with fast downloading speed, so that the users don't have to wait long during the downloading process.
2. Music Quality: The downloaded tracks should be in the same quality as their original files, and they shouldn't have any disturbance and blanks.
3. Free from Ads: The downloader should be free from pop-up ads, which are very annoying for the user and they also slow download the speed of loading
4. File Conversion: A good Vimeo music downloader should have the function of converting music files to compatible music files with the operating systems and mobile devices.
5. Transfer: The good music downloader should provide a feature of transferring downloaded files to mobile devices.
6. Overall Features: A good music downloader should be easy-to-use, and allows users to finish the task within short time. Also, a good Vimeo music downloader should be equipped with the related functions of music downloading, such as editing music tags, cleaning music library and so on.
Now you may have a good idea on how to select a good music downloader, and you can take a look at the music downloader programs on the Internet, then choose the one you need. But if you want to download Vimeo music right now and haven't found a music downloader yet, you can read on to the second part of this post, and you'll get a best solution for downloading music from Vimeo.
Part 2. Best Vimeo Music Downloader - iMusic
iMusic is regarded as the best Vimeo music downloader available in the market. This program enables users to download music from the music (video) sharing sites like Vimeo, YouTube and so on, and it also enables users to transfer the downloaded files to their mobile devices with simple clicks. The following section will introduce the key features of iMusicand how to use it to download Vimeo music. Check it out.
iMusic is All-in-One Music Downloader and Management Tool.
Download music from more than 300 music sites by copying and pasting the URL.
Record unlimited music from any website for playback in your computer with just one click.
Built-in music library let you browse and preview the lattest and hottest music.
Automatically save downloaded/recorded music to library for management and easy transfer.
Identify and tag music with artist, title, album, genre, and more with the latest technology.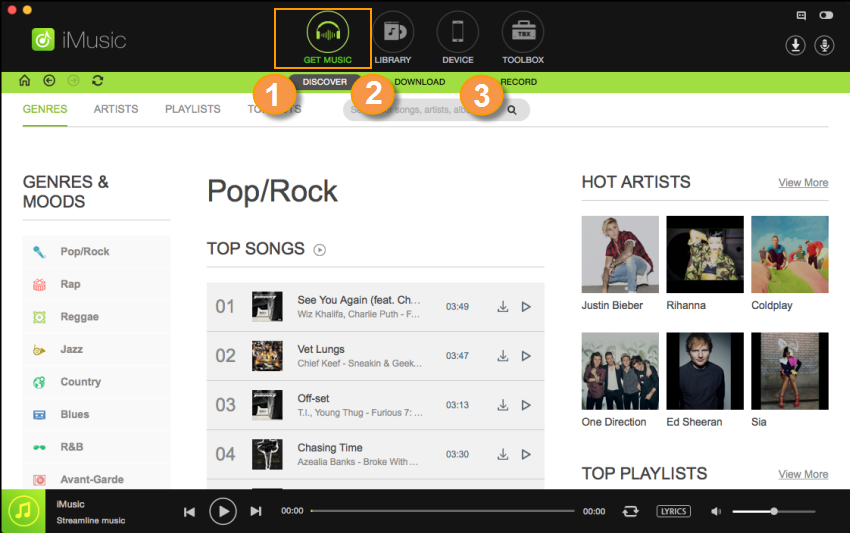 Key Features of iMusic:
iMusicenables users to discover and download music from the most popular music or video sharing sites, including YouTube, Soundcloud, Spotify, etc.
iMusicis a great music downloader and recorder, it provides both downloading and recording functions so that the users can record tracks when they can't download the files directly.
iMusicwill save the downloaded files into iTunes Music Library so that the users don't have to find a place in their computer to save the music files.
iMusicautomatically fixes the music tags during the downloading and recording process, and it also allows users to manually edit the music tags after it saves the music files in music library.
User Reviews :
• The WondershareiMusicinterface is extremely easy to use, and uncluttered. It does not require a lot of technical knowledge; rather you can dive straight into working with this software. Compatibility issues are close to none, making it wonderful software for your file transfer needs.
• My music library was at first a bit messy. One nice feature of iMusicis its ability to clean your library and put the proper labels and tags to your individual music file. It worked nicely on my files as they became more streamlined and properly labeled after I run the cleaning function.
Given below are the steps about how to use this Vimeo music downloader to help users to get music files from Vimeo. Check it out if you are interested.
Step 1. After the installation of iMusic, start this program on your computer.
Step 2. Choose the DOWNLOAD option at the top middle of iMusicinterface.
Step 3. Go to Vimeo and find the music files you need. Then copy the URL of the file in the address bar.
Step 4. Paste the URL into iMusic, and choose MP3 as an output. Then click the Download button to start downloading Vimeo music.
Besides downloading music from Vimeo, you are also allowed to record Vimeo music with this Vimeo music downloader. The following guide will show you how to do that.
Step 1. Choose the RECORD option at the top middle of iMusicinterface. Then click the Record button to start recording.
Step 2. Go to Vimeo and play the music you need, then iMusicwill start recording the song. You are allowed to click the Record button again to finish the downloading process.
Step 3. When the recording process is finished, you can choose ITUNES LIBRARY and click the microphone icon to view the recorded music files.
iMusic is a great Vimeo downloader, but it's more than a Vimeo music downloader. This program helps to download music from many other music or video sharing sites. It also helps to manage your music library and playlists, which brings much convenience to your daily music life. If you are interested in this music downloader, don't hesitate to check it out.