Music Downloader
1.Mobile Music Downloader

+

2. Online Music Downloader

+

3. Music Downloader

+

4. Offline Music Downloader

+
With mobile devices and computers, listening to music has become much easier than before. There are many wonderful apps and software that we can use on our PCs and phones to download MP3 tracks easily. These MP3 downloader apps are available for free or paid, and they give us access to millions of songs from which we can select our favorites. The following is a list of the top 10 MP3 downloader free apps and software for phone and PC.
Part1: Top 5 MP3 Downloader Free for Mobile
1. iMusic
This is a powerful MP3 downloader program which enables users to download music for their iPhone or iPad with ease. The key features of this program are listed below.
Music can be easily converted to the format supported by iOS device
Enables you to create playlist and also organize your tracks
Allows transfer of media from iOS device to iTunes and back
Allows transfer of your playlist to other PC
Allows to transfer iTunes content to Android device as well
Use YouTube as your personal source of music
Songs from YouTube, Spotify and other sites can be downloaded
iMusic - Most Excellent Spotify to MP3 Downloader
Download music from over 10,000 music and video sites.
Record music in original quality and automatically split the ads.
Discover and download music from more than 300,000 songs.
Transfer music between any two devices directly without iTunes.
Fix music library intelligently with correct ID3 tags.
2.Free MP3 Downloads
This MP3 downloader free app helps to search, download and listen to songs for absolutely no cost at all. It is one of the most feature-rich apps on the Google Play Store. The following are some of the main features supported by this app.
Millions of songs to select
Built-in music player for easy playback
Easy-to-use interface.
3. 4shared music
This is another MP3 downloader free app for those who can't live without music. This app can help you access wonderful music on your Android device, and it is rated 4.4 in the Google Play Store. The following are the key features of this app.
Dedicated music player with background music playing option
15 GB of space for storing music
Easy search and browsing option
4. Rhapsody
This is a top-ranking MP3 downloader app which helps you to download music from the Internet. It comes with many fantastic features including sleep timer, audio EQ, artist videos and many more.
Play and download millions of songs
Create your own soundtrack
Advanced artist and song radio
Download music to listen to it offline
Ad-free and high quality audio
Available on iTunes and Android
Link: https://play.google.com/store/apps/details?id=com.rhapsody&hl=en
5. Music Download Paradise
This is a beautiful music downloading app which is available for free of cost on the Google Play store and supports some of the most brilliant features and specifications. This app enables you to listen to and stream thousands of songs. The key features of this app are shown as follows.
Search and browse through thousands of songs
Easy and stylish user interface
Dedicated and inbuilt music player with background music playback option
Link: https://play.google.com/store/apps/developer?id=Music+Download+Paradise++%5BOFFICIAL%5D&hl=en
1. MP3 Skull
For PC users, there is probably no software better than this to download music. This is a free API which allows you to pick from the millions of songs present. With an easy-to-use interface and fast downloading speed, this is a must-have MP3 downloader free site. The following are some of its features.
Large collection of songs to choose from
Many formats available
Listen and download unlimited songs for free
Link: https://mp3skull.is/
2. iMusic
Best ID3 Tag Editor, Download, Transfer and Manage Your Music
YouTube as your Personal Music Source
Supports 10,000+ Sites to download
Transfer Music between Any Devices
Use iTunes with Android
Complete Entire Music Library
Fix ID3 Tags,Covers Backup
Delete duplicated Songs, Remove Missing Tracks
Discover music from iMusic directly
iMusic is All-in-One Music Downloader and Management Tool.
Download music from more than 300 music sites by copying and pasting the URL.
Record unlimited music from any website for playback in your computer with just one click.
Built-in music library let you browse and preview the lattest and hottest music.
Automatically save downloaded/recorded music to library for management and easy transfer.
Identify and tag music with artist, title, album, genre, and more with the latest technology.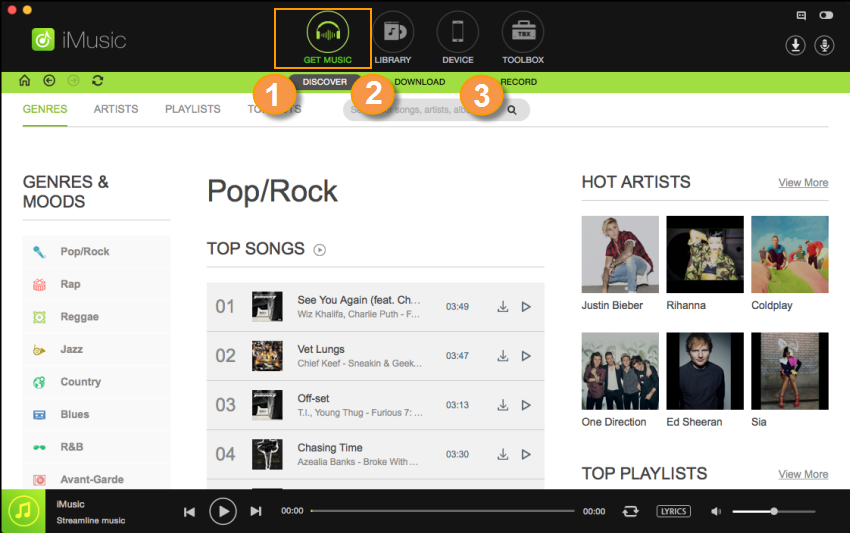 3. Speed MP3 Downloader
This is yet another MP3 downloader free app for PC users and is becoming more and more popular around the world. From this program, you can directly download songs to your SD card as well. Check out its features below.
Search music by genre and categories
Play and save tracks into your android device
Create playlists easily
Easy-to-use interface, but provides fast download speed.
4. Easy MP3 downloader
This is a brilliant MP3 downloader free program which allows you to download music just within seconds. With over 100 million mp3 tracks at your disposal, you can easily search and download the ones you like. The following are some of its features:
Easily available songs and safe platform for downloading on PC
Try music before downloading
5. MP3 Free Downloader
This MP3 downloader free program for PC allows you to search from among millions of songs and has a simple interface and quick downloading speed. It is clean, safe and meets all your music requirements. The following are some of its features.
Download and create playlists based on genre
Simple and intuitive interface for easy browsing
No risk of virus or malware