Music Downloader
1.Mobile Music Downloader

+

2. Online Music Downloader

+

3. Music Downloader

+

4. Offline Music Downloader

+
There are several advantages of using MP3 music downloader. Once users have downloaded music file to their computer, they are able to save these files permenantly. When it comes to the Grooveshark music downloader programs, we usually mean that these program can download or record music from Grooveshark and save them as MP3 files. This post is going to introduce the best Grooveshark music downloader program to all the music fans. Check it out.
Part 1. Our Concerns on Grooveshark
1. Introduction to Grooveshark
Grooveshark is a free music streaming service that can be used to stream music in an easy manner. It has been used by the users all over the world to listen to their favorite songs. With easy-to-use navigation techniques, this site provides a better user experience than other streaming music services. For all the users who want the online music enjoyment can try Grooveshark out. Both free and premium versions are available on this streaming music site.
2. Why Does Grooveshark Music Downloader Exist?
The main reason for these MP3 downloaders to exist is the fact that the users want to have the offline enjoyment of the Grooveshark tracks. The functions of a grooveshark music downloader will make it possible for the user to get the work done. Thanks to the development of science and technology, there are several music downloaders have been developed to finish the task. The next part explains one of such music downloader programs in full.
Part 2. The Best MP3 Music Downloader and Recorder
iMusic is a program that can be used to get the work done easily. The program has a built-in music downloader and a recorder, so it will help users to download music from Grooveshark easily. All these features make iMusic the best Grooveshark music downloader. Some of the features of the program are introduced below.
iMusic is All-in-One Music Downloader and Management Tool.
Download music from more than 300 music sites by copying and pasting the URL.
Record unlimited music from any website for playback in your computer with just one click.
Built-in music library let you browse and preview the lattest and hottest music.
Automatically save downloaded/recorded music to library for management and easy transfer.
Identify and tag music with artist, title, album, genre, and more with the latest technology.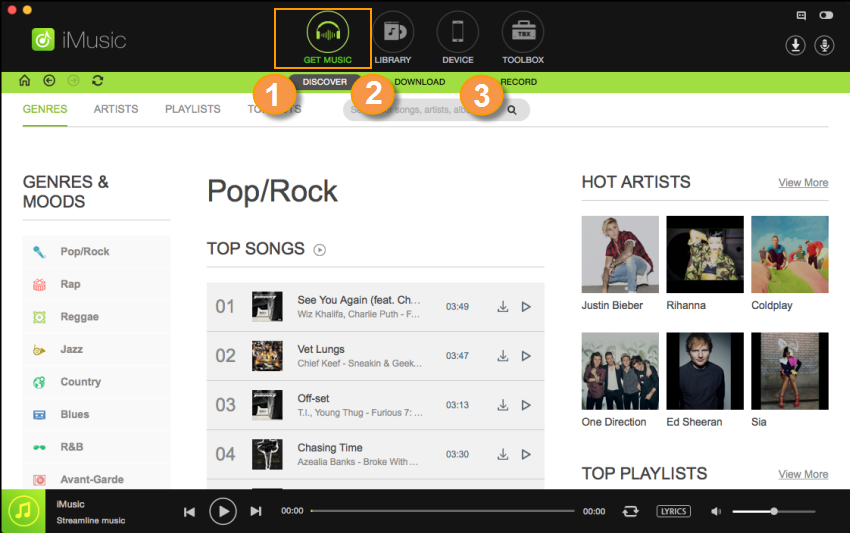 Key Features of iMusic:
Free Your Music - Transer, Download, Record, Manager, Burn Deezer Music Tool
Download music from Grooveshark and other 10,000+ sites.
Discover music from iMusic Platform directly.
Record any song or playlist you find on the web.
Convert to a format supported by your device & iTunes.
Fix music tags, covers and delete duplicates.
Transfer music between any devices.
Use iTunes with Android.
Manage music without iTunes restrictions.
Perfectly backup/restore iTunes library.
Create your personal custom mixtape CD easily!
Professional music player/music sharing tool.
Replace MP4 files to MP3 audio files.
How to Use This Grooveshark Music Downloader
As mentioned above, iMusic is a service that should be used to get the work done easily. It also means that the music downloader is easy to use and therefore require no specific knowledge. There are two ways that can be used to download Grooveshark music, which are introduced below.
Using Built-in Recorder to Record Grooveshark Music
Step 1. First of all from the URL https://tunesgo.wondershare.com/ download and install the program. Once it has been done completely launch it to begin the process.
Step 2. Open the recorder functionality by choosing the RECORD option at the top middle of iMusic. Then click the Record button at bottom.
Step 3. Now go to Grooveshark and play the music file you need, then iMusic will record it. You are allowed to click the Record button again to finish the recording process.
Step 4. When the recording process finishes, go back to iMusic and choose ITUNES LIBRARY at the top middle, then click the microphone icon at the upper left corner to view the recorded music files.
The direct download feature of iMusic is another feature for you to get music from Grooveshark. The process that is to be followed in relation to this feature is explained as under.
Using Built-in Grooveshark Music Downloader to Download Music
Step 1. Start iMusic and choose the DOWNLOAD option at the top middle of iMusic interface.
Step 2. Go to YouTube and find the Grooveshark track you want to download. Then copy the URL in the address bar.
Step 3. Paste the URL in iMusic, and choose MP3 as an output. Then click the Download button to start downloading the music file.
With the easy-to-use features, this Grooveshark music downloader is definitely the program that is worth considering and downloading. Unlike traditional MP3 downloaders and recorders this one has no complex processes involved. With few clicks the music files can be downloaded to your local hard drive with no hassle. It is undoubtedly the best and the most advanced choice that is to be made to get the work done easily and without any problem.