Music Downloader
1.Mobile Music Downloader

+

2. Online Music Downloader

+

3. Music Downloader

+

4. Offline Music Downloader

+
If you are music fan like me, you are bound to know about Bandcamp. Bandcamp is a revolution of today's online music scene. It has brought music lovers and musicians closer to each other by helping musicians break the barriers of self released music for every genre. In case you have used Bandcamp already, you would know how easy it is to discover new music from all around the world. But, what if you want to download your favorite Bandcamp music so that you can listen to it whenever you want and on any device you want?
Bandcamp doesn't offer a solution for this unless you buy the music from them. And, buying so many music tracks is not everyone's cup of tea. If you too are unable to shell out a whole lot of money to use Bandcamp but still would like to listen to your favorite Bandcamp tracks, this article is for you. We have found the top 5 Bandcamp downloaders available today and below you will find more information on each one of them.
Part 1. Top 5 Bandcamp Downloader Programs
Let's take a look at the top 5 Bandcamp downloaders one by one. These downloaders are mainly work on desktop, and will bring much convenience to the users who want to download music from Bandcamp and have an offline enjoyment. Check them out.
1. iMusic (Mac and PC)
URL: https://imusic.aimersoft.com/
iMusic is All-in-One Music Downloader and Management Tool.
Download music from more than 300 music sites by copying and pasting the URL.
Record unlimited music from any website for playback in your computer with just one click.
Built-in music library let you browse and preview the lattest and hottest music.
Automatically save downloaded/recorded music to library for management and easy transfer.
Identify and tag music with artist, title, album, genre, and more with the latest technology.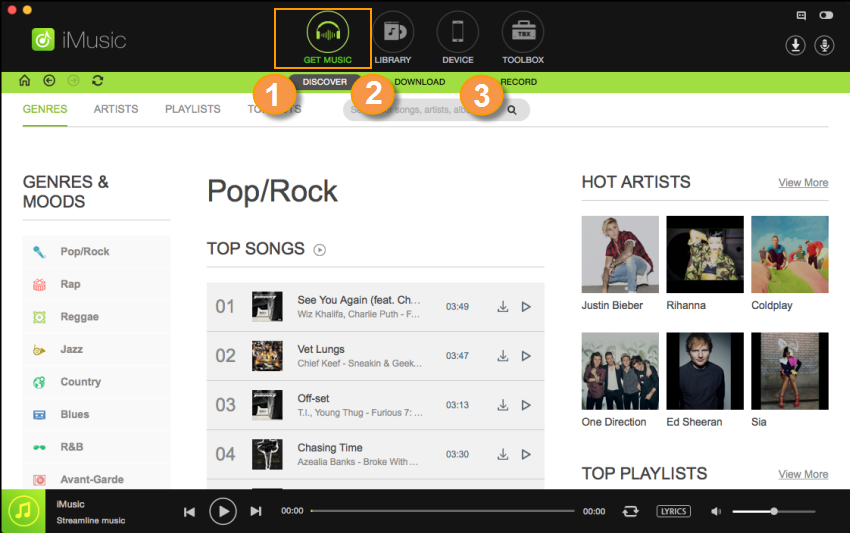 iMusic is an amazing music management program, and everyone uses it will like it at the first sight. It is regarded as a great Bandcamp downloader for the music fans. When it comes to downloading music, it can simply do it all. And, for all you Bandcamp lovers out there, iMusic is the best Bandcamp downloader we suggest you should use. Here are the key features of this program.
Excellent music downloader - Download music from Bandcamp or any of the other 10000+ online music sharing sites easily.
Record songs and playlists - Like a song on the internet? Play it and simply hit the 'Record' button, iMusic will intelligently record the music for you, minus any ads.
Discover music - iMusic comes with a large collection of latest music for you to download from; 300,000+ songs and 35,000+ albums.
Transfer music as you like - Want to transfer downloaded or recorded music from one device to the other, no problem. iMusic can transfer music between any devices of your choice, be it iOS or Android to iTunes OR iOS or Android to PC or Mac OR vice versa.
Manage your music library - iMusic can easily tag your music files, remove duplicates, broken and incomplete music tracks, and even update the album covers.
Backup your music on any device - iMusic allows you to backup your iTunes Library to any device and even burn CDs as you like.
User Reviews
2. Songr
Songr is an effective music downloader for discovering and listening to all kinds of music online. It allows you to download the music directly to your PC and also automatically converts the results to direct links that you can use later to listen to the particular track using your choice of media player. It tops as the second best Bandcamp downloader on this list because of it's simplicity.
User Reviews
3. MP3jam
MP3jam is a music downloader program that comes for free and does a great job at being a Bandcamp downloader. Like most of the software on our list, MP3jam can not only download music from Bandcamp but other music sharing sites as well. It also has a music discovery tool that helps you discover music from within the app. Also, it allows you to share your music preferences on social sites.
User Reviews
4. MP3 Free Downloader
URL: http://www.mp3freedownloader.com
MP3 Free Downloader is the next best Bandcamp downloader you can lay your hands on. It has a sleek layout and an easy to navigate design that makes it to our list as one of the best Bandcamp downloaders. While it is easy to find and download music from all over the internet using this software, it isn't all that smooth when it comes to playing music.
User Reviews
5. Easy MP3 Downloader
The last Bandcamp downloader on our list is the small yet nifty program called Easy MP3 Downloader. It lets you search for MP3 music on the web from a vast database and then download them on to your PC. One of the best things about this software is the fact that it not only works as a Bandcamp Downloader, but also with other music sharing sites.
User Reviews
Conclusion: If you want a set of Bandcamp downloaders that will work for sure, these 5 that we have mentioned are simply the best. In terms of the overall effectiveness, easiness of use, modern design and other functions, iMusic is miles ahead of all the other programs, and so we highly recommend you to try it. In our tests, while using all of the above listed top software, none of them came closer to the superior user experience that iMusic offers.
Want a Bandcamp downloader to fall in love with? iMusic is the way to go!
iMusic - Most Excellent Spotify to MP3 Downloader
Download music from over 10,000 music and video sites.
Record music in original quality and automatically split the ads.
Discover and download music from more than 300,000 songs.
Transfer music between any two devices directly without iTunes.
Fix music library intelligently with correct ID3 tags.