With iTunes app on your device, you can use to it manage and organise your music library. You can also use it to move your computer to your mobile device. However, iTunes also allows you to download music online to your phone. You can purchase music from iTunes store. You can also download the files from an external source such as streaming site and then transfer them your phone.
Part 1. How to Download/Transfer Music from iTunes to Your Phone
iMusic has made it super easy downloading music from online sites to iTunes. It's an audio and video downloader that boasts compatibility with over 3000 video streaming sites like YouTube, Vevo, Dailymotion, Spotify, and Vimeo. It comes with multiple options with which you can employ to download your preferred tracks you can browse for the music in its media library from its inbuilt media streaming sites.
Unfortunately, iTunes restricts users from transferring music from iTunes to Android phones directly, but this shouldn't bar you from listening to your favourite music on your Android because with iMusic this is all but done. Also, iTunes does not allow you to select files to transfer to your device. Thus you need to use iMusic software Here are simple steps that you can follow.
Step 1. Connecting your Android device to computer
Using your Android Phone's digital cable, connect it to your Computer then launch iMusic on your PC/ Mac. If your android device isn't visible, check your USB "Debugging Settings" on your phone's Settings menu and enable it. From there, your Android device will be automatically detected. After that, click on the "DEVICE" icon and you will see your phone appear on the screen.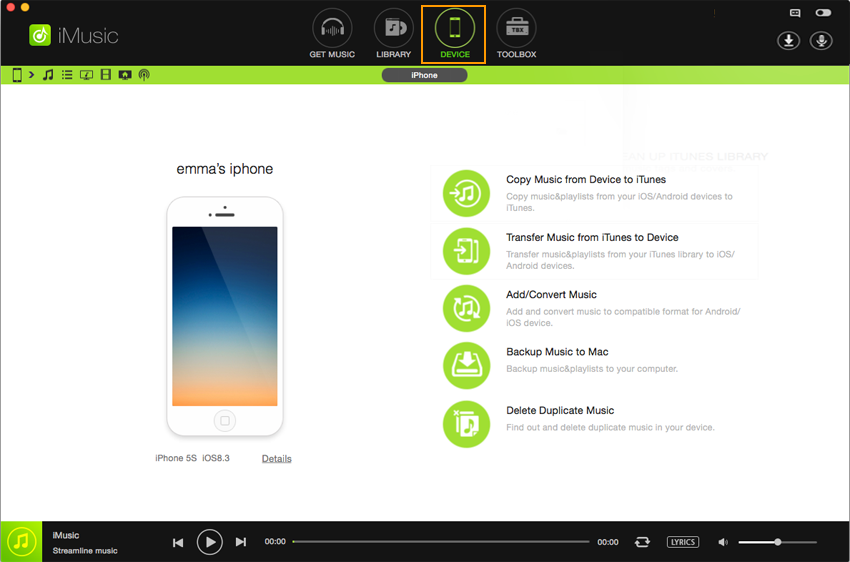 Step 2: Transfer music to your phone
To transfer music to your phone, you can opt to use any of these two options when selecting the music to transfer/download to your phone.
Option 1: Under the "Device" management window click on "Transfer music from iTunes to Device" option. You will then have to select your preferred file types that you want to transfer and click "Transfer" button. The program will then copy all the files in the iTunes library to your phone.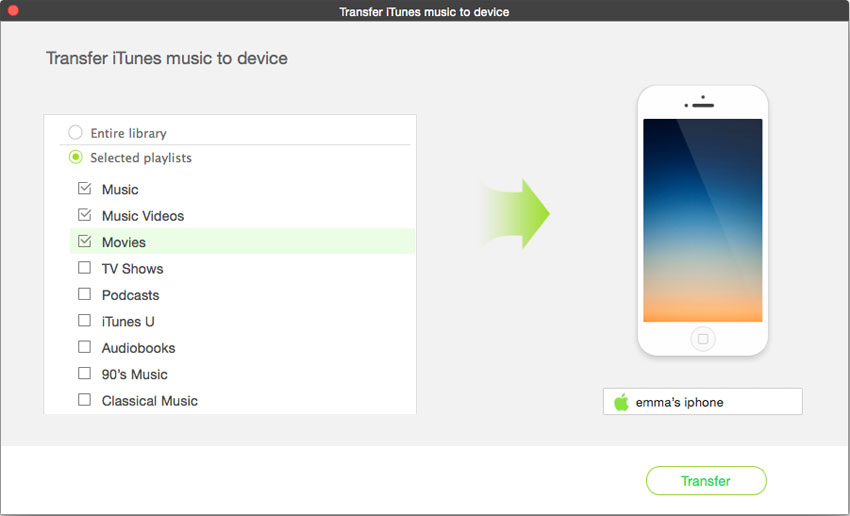 Option 2: The second way that you can transfer music to your phone using iMuisc is by clicking on "Library" icon. At the upper left of the library window, click on music icon, and you will see a list of files to your iTunes. Next, Mark on the music files that you want a transfer and then click on "Add to" and you will be able to transfer music files to your phone.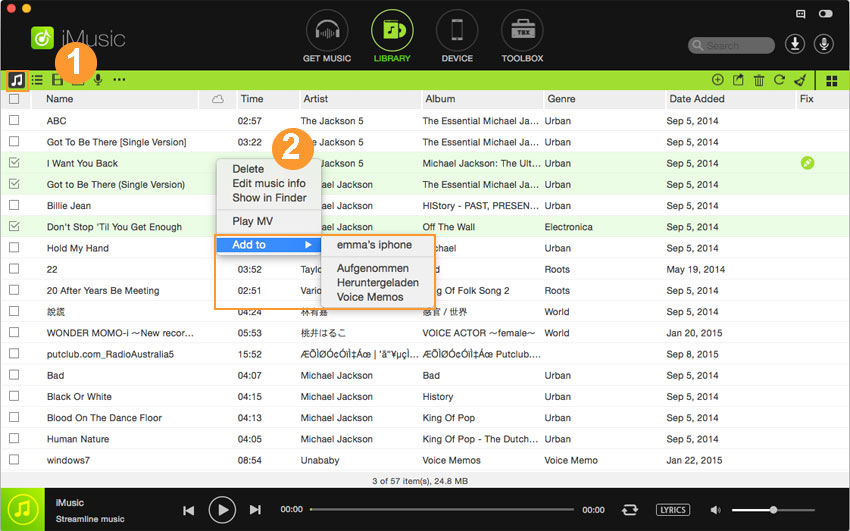 Why Choose iMusic: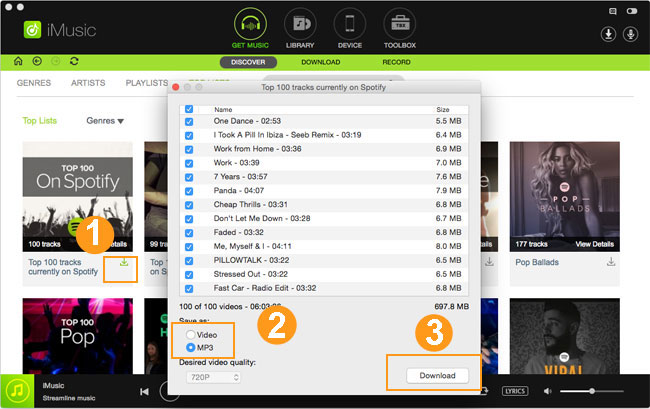 iMusic - Best Music Downloader and Manager
Download & record music from all the over 3,000 supported sites and also playlists.
It is a flexible media transfer tool that allows one to transfer music from iPhone, iPad, iPod and straight to your computer iTunes.
Freedom to transfer your media between Android devices and your computer. iMusic works well with almost all android brands like Samsung, HTC, LG, Techno and Sony just to name a few.
Fix your iTunes library by deleting duplicate songs, adding covers to songs, labeling files correctly and even removing the broken songs.
Part 2. How to Directly Download Music to Phone using iMusic
Before you start concentrating on the below steps on downloading music to iTunes using iMusic, ensure you have iMusic downloaded on your computer and install it first.
Step 1: Open iMusic software
Locate the installed software on your computer and launch it.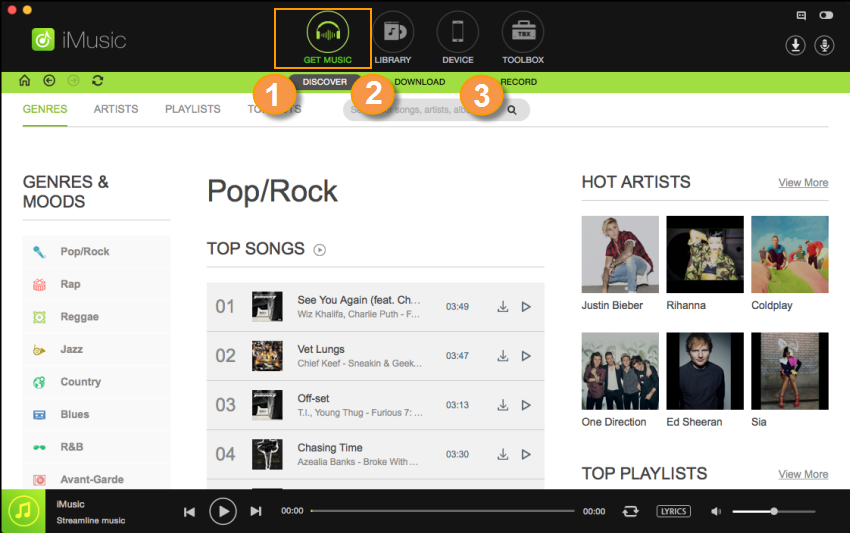 Step 2: Search for music
Next, click on "GET MUSIC" button from the main menu of iMusic. Here, there are two options you can choose from to download your preferred music.
Option 1: You can click on "Discover" button to enable you to browse music whereby you will see a list of songs. Then search for a specific genre or per artist name then choose your desired output format.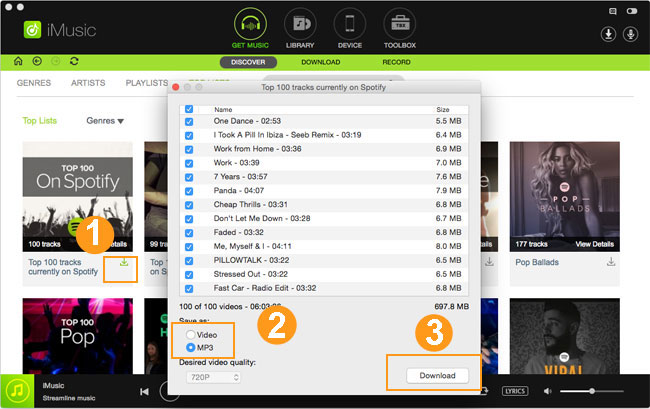 Option 2: Click on the "Download" button, and then paste the song's URL to your browser. Or you can also click on "Download" button then select a preferred music site that appears at the bottom of the page and then search for the music.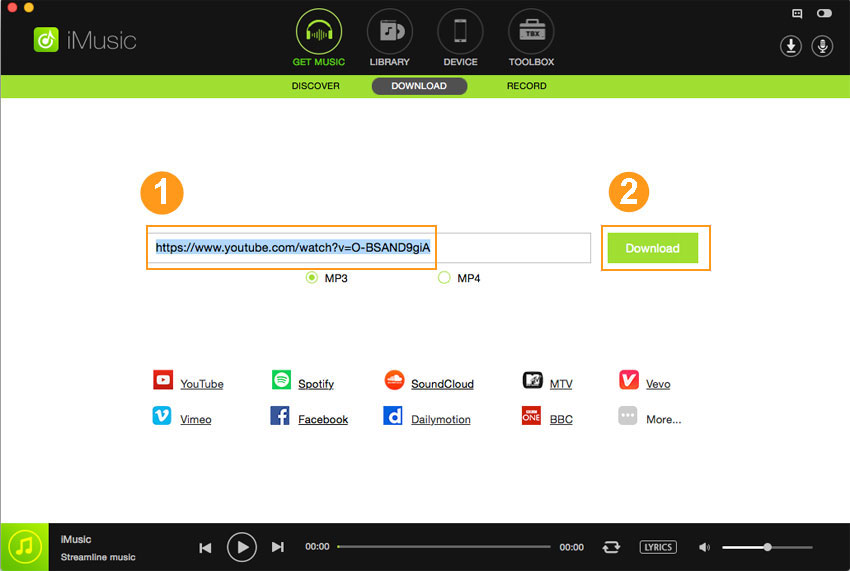 Step 3: Download music to your phone
After the search for the music file, you can then select the output format. You can select either MP3 or MP4 format. Next on, is clicking the "Download" button and your preferred file will be downloaded straight and saved on the "Library" icon on the iMusic software. Now please connect your phone to the program, and transfer downloaded music to your phone with ease.