Is it possible to download music to iPad without using iTunes?
As an iPhone user, you may be used to downloading music iTunes app. That is by going to iTunes app store and purchasing music on your iPad. There comes the point that you have no budget any purchasing music, or you tied up to DRM protection hence you want an alternative to downloading music. The good news is that there are various ways of downloading music iPad without iTunes and one way is by using a music downloader such as iMusic software.
How to Download Music to iPad Pro/mini/Air without iTunes
When it comes to downloading music to iPad without iTunes, you can't miss iMusic, which is designed for all your music downloads. iMusic has an inbuilt media library that you can search and download music either in MP3 or MP4 format. You can also create a playlist in the inbuilt media library and download it within a click. Furthermore, iMusic is versatile music downloader that allows you to download your favourite music from over 3000 sharing sites. Some of the sites supported include Spotify, SoundCloud, Last.Fm, YouTube and Vimeo just to mention a few. When using this software, you are sure of saving time as well as the cost since it is three times faster compared to other downloaders in the market.
Without further ado now let us see how iMusic can download music online to your iPad Pro, iPad mini or iPad Air.
Step 1. Open iMusic
Assuming that you have installed iMusic software on your Mac or PC, you can then launch it. On Mac platform, you will find it under "Applications" whereas on Windows platform it is located on "Downloads".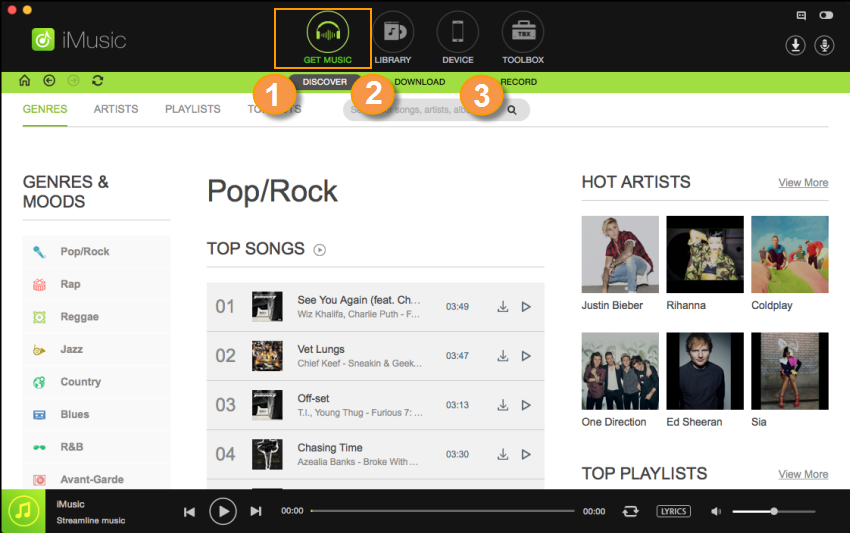 Step 2. Locate your Music
Home interface of iMusic will appear. Go ahead and click on "GET MUSIC" button to get "DOWNLOAD" button. Under download button, you can paste the URL of the music from your browser. Another way that you can get music is by clicking on the music site below such as Spotify or YouTube and search for the music.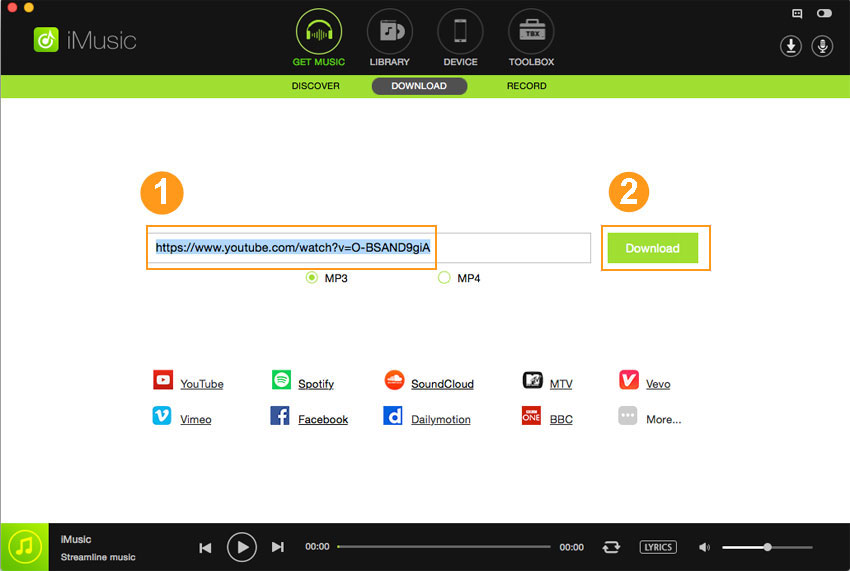 Alternatively, you can download music from its media library by clicking on "Discover" icon. Here the songs are classified according to the top list, genres and artist name. Select the music file and then select the output format.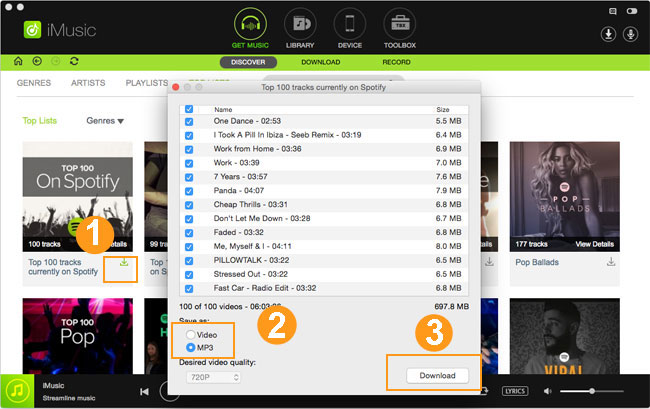 After you have found your music, select output format either MP3 or MP4 and then click on "Download" button. The songs will be downloaded immediately.
Step 4. Transfer Music to iPad
The downloaded music file can be located under "Library" icon. Next, you need to connect your iPad to the computer. On the home, interface click on "Device" and click on "Transfer iTunes to Device". From there, click on "Add button or Add Folder at the top right of the program. You will be able to select music that you want to transfer and finally add them to your iPad.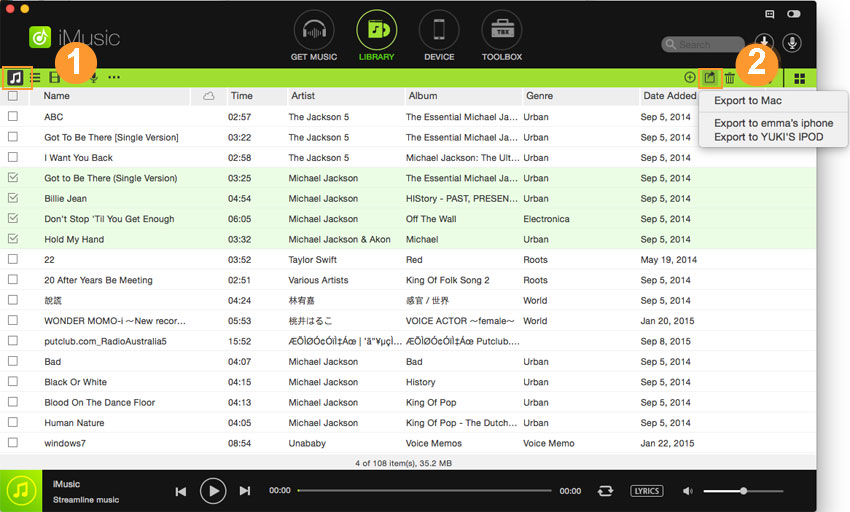 Awesome! You have now found a free way to download music without having to use iTunes. iMusic allows you to download music, transfer music to your mobile device and organise them. Get yourself this music downloader if you want to improve your efficiency.
Why Choose iMusic: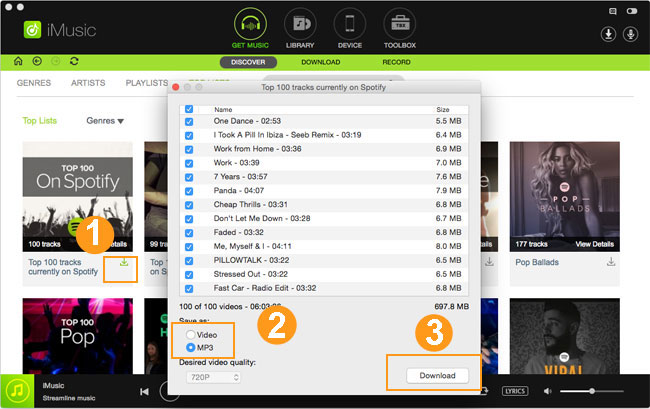 iMusic - Best iPad Music Downloader
iMusic offers different ways that you can get music. You can discover them on its inbuilt library or download them from the streaming sites.
Music recorder- iMusic understand your need to record music online as well as from radio stations.
Transfer Tool- with iMusic software you will be able to transfer music from iPod, iPad, iPhone and Android to your computer and vice versa.
Backup and Restore iTunes library- when you have iMusic on your computer you will be able to backup your music and restore them within a click.
Fix iTunes library- on your iTunes library you may have broken songs or mislabeled songs. Well, iMusic will not just fix them but also allow you to delete duplicate music.
Under its toolbox, you will find music toolkit that allows you to create your favourite car playlist and also copy your burn your CD music.