iTunes Library
1. iTunes Tips

2. iTunes Library

3. Backup & Recover

4. Manage iTunes Library

5. Restore iTunes

6. To iTunes

7. iTunes Transfer
Grooveshark is a web based music streaming service which allows users to listen to their favorite millions of tracks online by joining Grooveshark. Grooveshark was launched in 2006 before 10 years by Escape media group in the music category. There are more than 15 million songs available in Grooveshark. It allows users to listen to songs online without downloading. Free member can't download music from this website they can listen only just like the other websites. This website allows users to listen millions of songs of their choice over internet. But if you want to download these songs to listen later anywhere when you don't have internet connection, then you need to use other third party software to grab them. How to Transfer Grooveshark to iTunes? Here we will introduce best 2 ways to transfer Grooveshark to iTunes.
Part 1. Best Way to transfer Grooveshark to iTunes
iMusic is the software available to record music from the Grooveshark. This software is able to download music from more than 10000+ different music sharing sites. Users can record music from any music sharing site over internet. It also allows users to share their recorded music files to other devices without any problem. You can share your recorded music to any other device because it supports all devices both ios and android. It is able to transfer your music files directly to iTunes or you can use your android device directly with iTunes and transfer your android files to iTunes also.
iMusic is All-in-One Music Downloader and Management Tool.
Download music from more than 300 music sites by copying and pasting the URL.
Record unlimited music from any website for playback in your computer with just one click.
Built-in music library let you browse and preview the lattest and hottest music.
Automatically save downloaded/recorded music to library for management and easy transfer.
Identify and tag music with artist, title, album, genre, and more with the latest technology.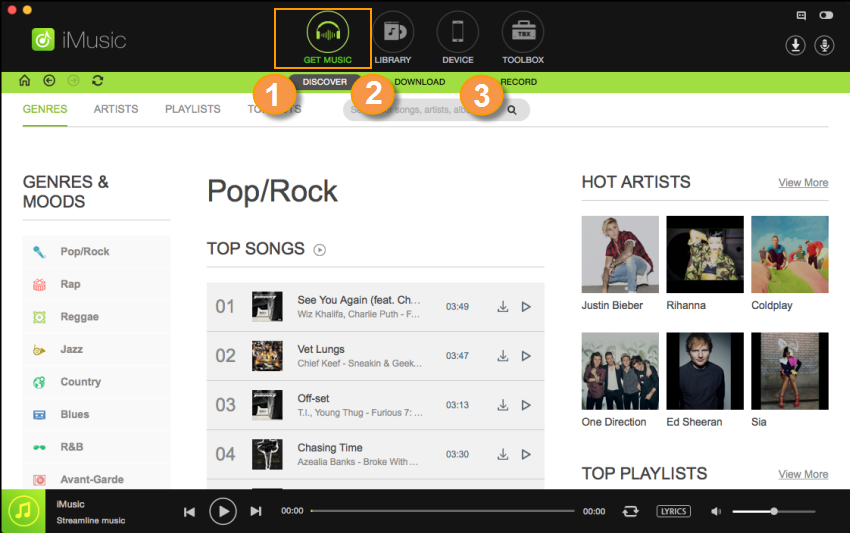 How to transfer Grooveshark to iTunes
If you are looking to transfer Grooveshark music to iTunes, then first of all you must have this music on your device. So we will discuss how to download music from Grooveshark.
Step 1. Download and install it for windows or mac device. After downloading run it, you will see a user interface like the below screenshot.
Step 2. Now go to Record tab and Click on round shape recording button in the middle bottom side of recording tab windows just like the below picture.
Step 3. Once you have clicked on this button, go to Grooveshark music streaming website and then login to your account. After logging in play the music which you want to transfer to your iTunes library. iMusic will automatically start recording now.
Step 4. Now go to iMusic interface again, you can see it has started recording of your songs automatically.
Step 5. When you songs will stop playing, iMusic will automatically stop and save your recorded file in iTunes library. If you want to see your song, you can find it in the iTunes library of iMusic interface.
1.2 Burn Grooveshark to CD
If you want to burn your recorded song to the CD for your personal collection, you can also do it with iMusic easily.
Step 1. After recording and transferring your song to iTunes. Click on the Toolbox in the main user interface of iMusic. In the Toolbox Select Burn CD option
Step 2. Now you will be redirected to the iTunes library page after clicking on Burn Cd. Select the song which you want to burn to CD now. You can choose any number of songs there is no limit. Depending on the size of your CD.
Step 3. Now after selecting your songs, click on Burn option in the right side panel.
Step 4. Once you have clicked on Burn option, it will start burning song to Disk. You can success progress like the below picture.
1.3 Grooveshark to iPod
After recording your music, connect you iPod with your computer and run iMusic.
In iMusic go to iTunes library and select the song which you want to transfer to your iPod.
Now click on Export to button in the right upper side and Select Export to iPod Classic.
Now your song will be transferred to your iPod in just one click.
Part 2. How to Transfer Grooveshark to iTunes with Streaming Audio Recorder
Streaming Audio Recorder is a great software to make your life easier. This software allows users to record music from 1000+ music sharing sites. You can record music files while online streaming. You just need to click on button and rest of all this software will do automatically by itself. When your song is stopped playing for 3 second then it will automatically split tracks so your recording will automatically save to your library. User can record music using this software from Grooveshark easily in few click and then you can transfer it to iTunes in just one click without any restrictions of iTunes.
How to Transfer grooveshark music to iTunes using Wondershare Streaming Audio Recorder:
Now we are going to tell you that how you can transfer your music easily using this software
Step 1. User need to download and install this software. After installing it run on your computer to see interface of this software.
Step 2. Then you need to click on the record button which is marked red in the below screenshot.
Step 3. Now go to Grooveshark music website and play the song which you want to record and listen offline on iTunes. Once you have clicked your song in browser and sound started coming then wondershare streaming audio recorder will recognize the song and start recording automatically.
Step 4. Now you can see your song is recording. It will automatically stop and save your recording when your song will stopped playing.
Step 5. After saving your song you can find it in the Library Tab of streaming audio recorder. Here Select your song
Then Click on "Add to iTunes" button. You can find it on the below side of the interface
Finally Click on Add button. Now your song will be added to your iTunes library and you can enjoy it with your any iDevice.