iTunes Library
1. iTunes Tips

2. iTunes Library

3. Backup & Recover

4. Manage iTunes Library

5. Restore iTunes

6. To iTunes

7. iTunes Transfer
Part 1. Some Factors Synchronizing Libraries
Synchronizing of a library is the creation of a duplicate of your playlist to another storage medium. IPhone devices can synchronize with other iTunes libraries, copying the file to the other device or vice versa. There are some factors that should be taken to account when synchronizing libraries.
Synchronize the library files and lose some data
It's a common issue that occurs to many people when they are synchronizing iTunes libraries. Every time that a user connects his device to a computer an immediate message appears that :Do you want to erase this iPhone and sync with this iTunes library"? If a person proceeds, all the data that was on his iPhone will be lost. So as to avoid losing of data one should use a third party application since apple only allows user to synchronize with one library at a go.
Do not want any data of the other iTunes library
Sometimes people will connect their devices to their PC without any intention of synchronizing library files. Although it is important to synchronize your device, but synchronizing all the data might be sometimes unnecessary one can want to select individual files inside a folder that they can synchronize. This will be done mainly by coping and pasting the files that you want to synchronize. The process that one will follow will be somehow technical, but might be simple for a person familiar with iPhone devices.
Do not want to sync some data of iPhone to another iTunes library
When a device is connected to the other media, one may decide not to send or receive any files during synchronizing of the device; one may want to update the operating system, so he will not chooseto synchronize. One may also use third party products that will enable them to perform the task without necessary synchronizing.
Part 2. Sync iPhone with another iTunes library
One can choose to SD card to act as the default sync path for files transferred to android devices or idevice. One will be required to follow these simple steps.
Step 1. Launch iTunes, and click on "setting" on iMusic. Make sure you have download and install iMusic on your computer first.
Step 2. Select "Set external SD card to be the default location", then save the changes.
Step 3. Select "Transfer Music" to transfer music. Here take iPhone as an example. You can sync music from iTunes by clicking "Import to iTunes."
Step 4. Here take iPhone as an example. You can sync music from iTunes by clicking "Import to iTunes."
Part 3. Transfer iTunes to Device
Apple allows its users to synchronize only one device with an iTunes library. Using iMusic does not involve a long procedure to enable other devices to sync unlike trying manually.
iMusic is one of the best media managing music for the iPhone, iPod and the iPad.
Download music from more than 300 music sites by copying and pasting the URL.
Record unlimited music from any website for playback in your computer with just one click.
Built-in music library let you browse and preview the lattest and hottest music.
Automatically save downloaded/recorded music to library for management and easy transfer.
Identify and tag music with artist, title, album, genre, and more with the latest technology.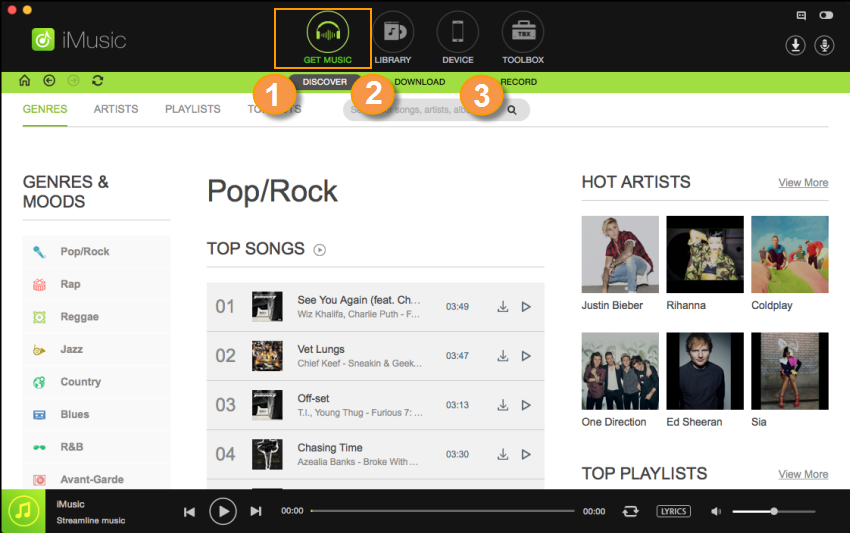 Step 1.You can also just open iMusic. Select "Toolbox" and click "Transfer iTunes to Device". Make sure you have conncet your device to computer first.
Step 2.After you click "Transfer iTunes to Device", select playlists you want to transfer to your device. Then click "Transfer" button.