iTunes Library
1. iTunes Tips

2. iTunes Library

3. Backup & Recover

4. Manage iTunes Library

5. Restore iTunes

6. To iTunes

7. iTunes Transfer
In order for a person to be able to restore iTunes libraries they should have a backup of the content. There are many areas that a user can backup iTunes library, but the choice should be what is most convenient to them. Users can back up their iTunes library from an external hard drive, another computer or their iOS device. Each choice will store their data until when they will need it again to copy to their iTunes library.
Part 1. Restore from iOS Devices
You will need to have a third party application that will enable to restore your libraries such as iMusic. It will enable you to easily restore your iTunes library without a hustle.
iMusic is All-in-One Music Downloader and Management Tool.
Download music from more than 300 music sites by copying and pasting the URL.
Record unlimited music from any website for playback in your computer with just one click.
Built-in music library let you browse and preview the lattest and hottest music.
Automatically save downloaded/recorded music to library for management and easy transfer.
Identify and tag music with artist, title, album, genre, and more with the latest technology.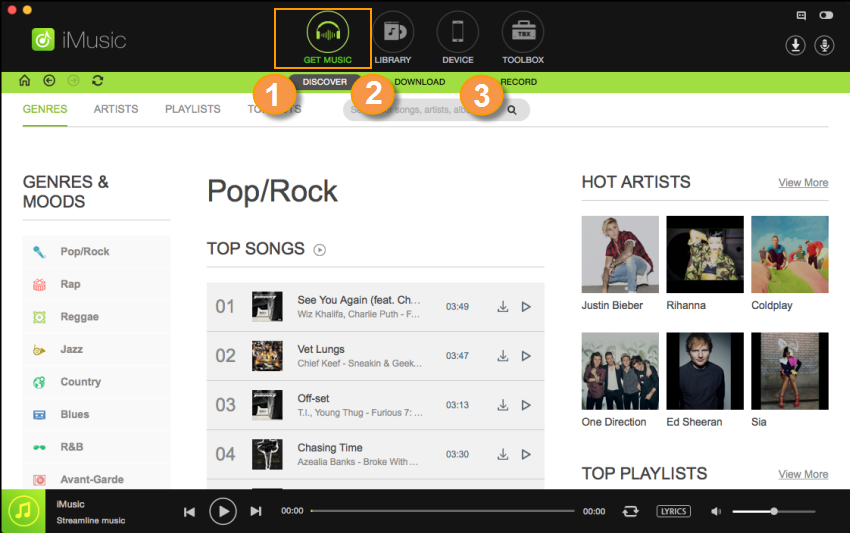 Step 1. Connect your device and launch the iMusic. After your device is detected, click "Device" and it will be displayed in the iMusic window.
Step 2. After you click "Transfer music to iTunes", the music will be transferring from iPhone to your iTunes.
Part 2. Restore iTunes Library from Anther Computer with iMusic
Step 1Download and install iMusic to the computer.
Step 2Click "iTunes Library" and click "Add to" icon. After you click add to button, you will select your iTunes and add it to your iTunes Library.
Part 3. Restore iTunes Library Restore from External Hard Drive
In order for a user to restore iTunes library from an external drive, he should have had a backup at the location. There are steps that are required when one needs to create a backup the following steps will be followed:
Step 1: Select the external drive to act as you backup.
Step 2 Find iTunes on your computer launch, if the iTunes folder is not on the default choice select iTunes then preference, followed by advanced settings a dialog box will appear.
Step 3 Drag and drop the playlist or the folder that you want to backup first.
Step 4 After the copying is successful, then the folder will have been backed up. With the presence of a backup on your external hard drive, a user can now restore iTunes libraries from the drive easily without losing any data.