iTunes Library
1. iTunes Tips

2. iTunes Library

3. Backup & Recover

4. Manage iTunes Library

5. Restore iTunes

6. To iTunes

7. iTunes Transfer
Your iTunes library is nothing but a database of music and playlists that you have created. Specific information is stored in the iTunes Media folders. When you reset or delete this folder, iTunes will create a fresh and an empty copy when the application is opened but there is all the chance that the playlists, ratings of songs, comments and album art may be lost in the process.
Part1: Problems that you may encounter when resetting an iTunes library
People are under the impression that they may gain valuable storage space when they update their current iDevice to iOS 9. The major problems that they may face when resetting are:
The music playlist and the collection may get disturbed. After the resetting, it is possible that information on entire albums and artists may go missing. Many items may get kicked off the device and some albums may only feature the very first tracks of an album and the rest may be missing.
iTunes may crash when you sync it to the iDevice.
There may be problems where you may find many items duplicated.
You may not be able to sync the album art to your iDevice correctly.
Another common problem faced is that the iTunes tends to get stuck on waiting for items to copy' and waiting for changes to be made' steps. Users may have to wait for hours here.
Some people have found it difficult when upgrading to iOS 9 as they were not able to sync files with iTunes under the Wi-Fi mode circumstances.
Part2: How to go about resetting iTunes without the danger of losing playlists and other valuable data?
How do I reset iTunes to look at a library of music?
Step 1. Quit iTunes. Delete the 2 files (iTunes library.itl and iTunes library.xml) in Music/iTunes/. Start iTunes.
File - Add to library and select the location of your music. Now you can create your own music library on iTunes.
When you reset or update playlists in the iTunes, there is a chance that you may end up deleting some playlists accidentally. You can reset and restore by replacing iTunes Library.itl with a file which is older. If you have not reset or upgraded the library for some time, then you may not find the deleted playlist in iTunes at all. The best tool here is to restore the playlists from iPod, iPhones or iPads with
Part3: The fast and easy way to reset iTunes library without losing metadata or playlists
iMusic-This powerful tool will enable you to reset and restore playlists on iTunes and you will be able to transfer these lists from all your iDevices if you have been able to sync the playlists on iTunes before you deleted them.
iMusic is one of the best media managing music for the iPhone, iPod and the iPad.
Download music from more than 300 music sites by copying and pasting the URL.
Record unlimited music from any website for playback in your computer with just one click.
Built-in music library let you browse and preview the lattest and hottest music.
Automatically save downloaded/recorded music to library for management and easy transfer.
Identify and tag music with artist, title, album, genre, and more with the latest technology.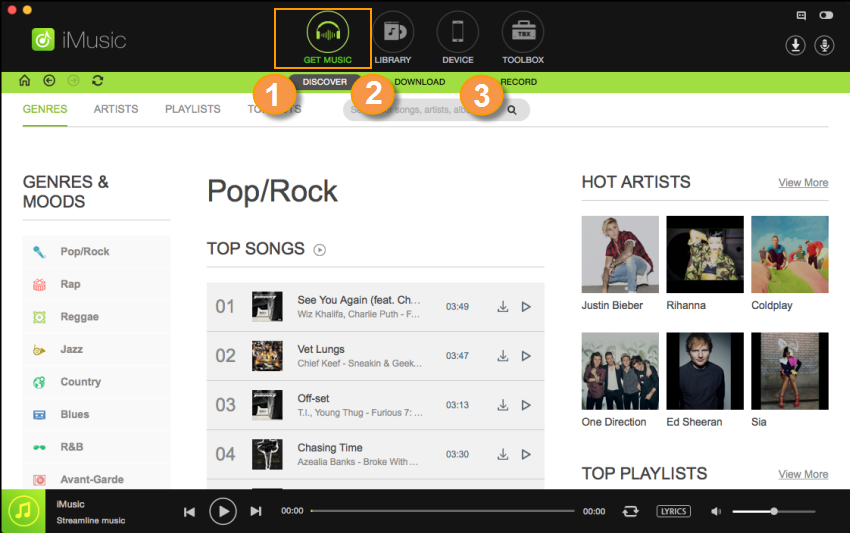 Step 1. Connect the iOS device on your PC and launch KeepVid Music. It will automatically detect a particular device. Click "Device". KeepVid Music supports all iPhone, iPad Mini and iPod Touch models.
Step 2. After selecting "transfer music to iTunes", click "Start" button to go ahead with the process. Then select the playlist options and copy to iTUnes.
The restoration of iTunes and its resetting will be complete in this way and you can check the playlist once it is done. The ratings of items and the play counts will all be transferred to iTunes by default from the iOS devices.