iTunes Library
1. iTunes Tips

2. iTunes Library

3. Backup & Recover

4. Manage iTunes Library

5. Restore iTunes

6. To iTunes

7. iTunes Transfer
"I have some songs lost from iTunes Library. Is there any way to recover lost itunes music? I searched the internet, it told me to replace the latest iTunes Library.itl with an old one. Actually, I just ripped some new songs and add them to iTunes Library. I can't do that. Any idea?"
To recover lost itunes music, replacing the latest iTunes file, iTunes Library.itl with an old file is a good idea. However, by doing this, you'll lose recently added playlists, songs, and videos. If these files mean a lot to you, you should apply another workaround. In this article, I'd like to share you how to recover lost music from iTunes easily. Follow the steps below to recover lost music in iTunes.
iMusic is one of the best media managing music for the iPhone, iPod and the iPad.
Download music from more than 300 music sites by copying and pasting the URL.
Record unlimited music from any website for playback in your computer with just one click.
Built-in music library let you browse and preview the lattest and hottest music.
Automatically save downloaded/recorded music to library for management and easy transfer.
Identify and tag music with artist, title, album, genre, and more with the latest technology.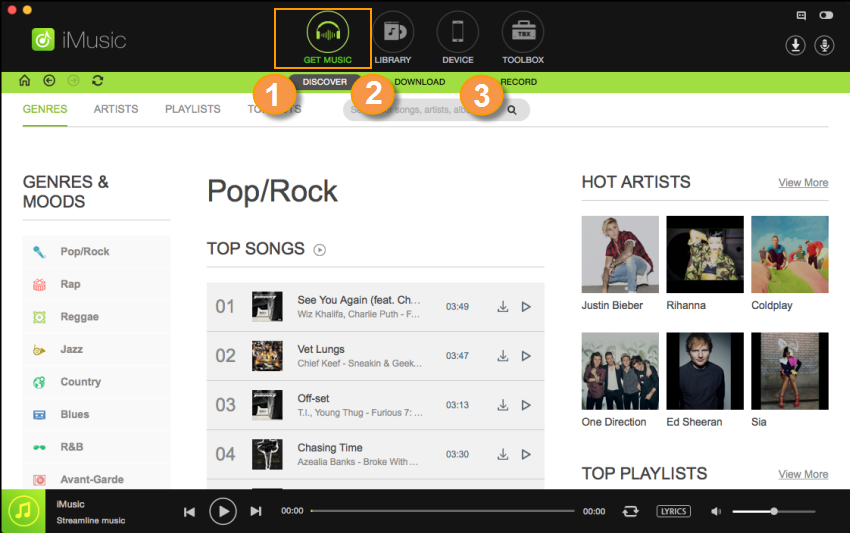 Step 1.

Install iMusic

iMusic is the software that we're going to use to recover lost itunes music. As you see both iMusic can be downloaded here. You should choose the right version for your computer. In the following, I'll take how to recover lost music from iTunes on Windows PC as an example.
Step 2.

Connect iOS device with PC

Please connect one of your iOS device, such as iPhone, iPad, or iPhone with your PC. Please ensure this iOS device you're using contains songs you've lost in iTunes. iMusic (Windows) supports iPhone, iPod, iPad. Launch iMusic. It will take iMusic a few seconds to recognize your iOS device and display it in the main window.
Step 3.

Recover lost music on iTunes

Since your itunes lost music are in your iOS device. Now you can use iMusic to transfer these lost songs back to iTunes. Click "ToolBox" on the top of the interface and select "Backup/Retore iTunes" > "Rocover". It only takes a few seconds to finish the process of recovery itunes lost music.
This is how to recover lost music on iTunes. Once you've synced music from iTunes to iOS device, you can use iMusic to get them back to iTunes and computer. This is an awesome way to recover itunes lost music.