iTunes Library
1. iTunes Tips

2. iTunes Library

3. Backup & Recover

4. Manage iTunes Library

5. Restore iTunes

6. To iTunes

7. iTunes Transfer
Want to put iTunes radios to your portable device just like putting iTunes bought songs? No, man, you can buy songs from iTunes Store, but not iTunes radio. Normally, iTunes radios are only available when you access to the Internet. What a pity, huh? However, with a method, you can. You can listen to the radio offline as you like. Here we will recommend 2 ways to get iTunes radio to MP3. It means getting iTunes to Mp3 or converting iTunes radio to MP3 and carrying it with you.
Part 1. Best Way to Get iTunes Radio to MP3
iMusic is a definitive music downloader that will meet all your music needs. It is a free music download platform which can record iTunes Radio to MP3 directly, and you don't need to convert it. It is totally free programming that can be compatible with Windows and Mac. It can download directly or record music rapidly from 10000+ sites. It can fix ID3 tags, covers, and delete duplicate Song & remove missing tracks.
iMusic is All-in-One Music Downloader and Management Tool.
Download music from more than 300 music sites by copying and pasting the URL.
Record unlimited music from any website for playback in your computer with just one click.
Built-in music library let you browse and preview the lattest and hottest music.
Automatically save downloaded/recorded music to library for management and easy transfer.
Identify and tag music with artist, title, album, genre, and more with the latest technology.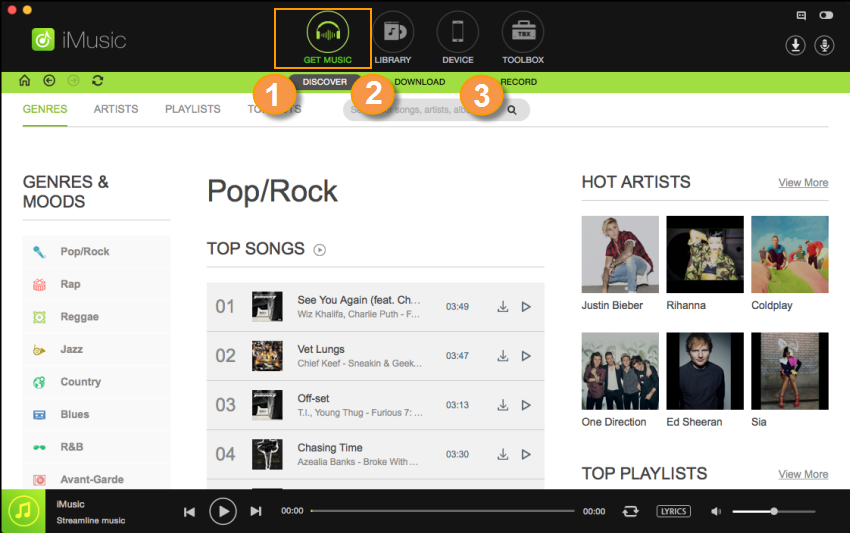 Step 1. Launch iMusic. You will find the icon of record on the bottom of the interface: Get Music > Record
Step 2. Click on the "Record" icon when you play iTunes radio. The track will automatically get recorded. Re-click the icon to finish the recording.
Step 3 Find the songs in the "iTunes Library". The default format is MP3. You can transfer to your device and listen offline.
Part 2. How to Record iTunes Radio to MP3
To achieve your goal, you need a recording tool. Here, we recommend the top one audio recorder, streaming audio recorder. It is the best audio recorder I've ever used. It enables users to record any iTunes radio with 1:1 quality with a simple "hit & record". Here is how to record radio from iTunes by using the streaming audio recorder.
Step1.

Install and Launch the Streaming Audio Recorder

After you download this app, click the .exe file to install it. The installing process will be very quick and easy. However, if the program reminds "No install virtual audio device", please follow these steps to fix the problem.
Step2.

Record iTunes radio

To ensure that you can get the radio completed recorded, please click the "Record" button first and then access to the radio you need to download in iTunes and play it. See the streaming audio recorder begins to work? That's it! When the iTunes Radio Recorder finish recording iTunes radio, a prompt will tell you it is done. To stop the recording, click the "Record" again.
If you are not able to be around to record iTunes radio, you can ask the streaming audio recorder to do it for you. All you need is go to the "Time Scheduler", set the start time and end time for the recording. Then the iTunes Radio Recorder could record audio from iTunes radio automatically for you. When you come back, just find the program you need on your PC.
Cool, right? Why not try to record program from iTunes radio right now? With streaming audio recorder, you can get what you hear.