iTunes Library
1. iTunes Tips

2. iTunes Library

3. Backup & Recover

4. Manage iTunes Library

5. Restore iTunes

6. To iTunes

7. iTunes Transfer
When comes to iTunes library location, what do you want to know? In this artilce, we will focus on discussing all things about iTunes library location, including how to find iTunes songs location on PC or Mac, how to create a new iTunes library location, how to move your iTunes library to a new location.
iMusic is one of the best media managing music for the iPhone, iPod and the iPad.
Download music from more than 300 music sites by copying and pasting the URL.
Record unlimited music from any website for playback in your computer with just one click.
Built-in music library let you browse and preview the lattest and hottest music.
Automatically save downloaded/recorded music to library for management and easy transfer.
Identify and tag music with artist, title, album, genre, and more with the latest technology.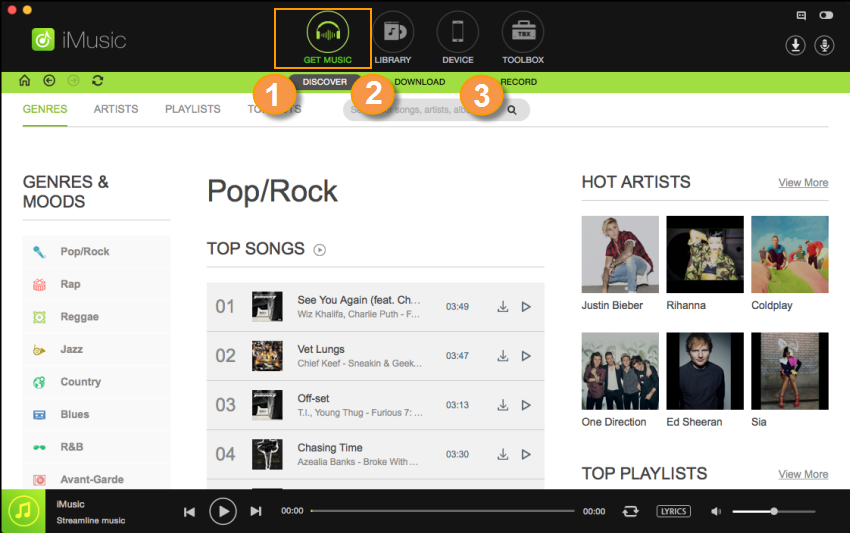 Part1. How to Find iTunes Songs Location on a PC or Mac
First, a quick lesson on how to find iTunes library that is located on your PC or Mac computer.
PC - The media library's location on a PC varies depending on the Windows version that you have on your computer. In any case, one of the following links should directly take you to the iTunes library.
For Windows XP use: C:Documents and SettingsusernameMy DocumentsMy MusiciTunes
For Windows Vista use: C:UsersusernameMusiciTunes
For Windows 7 use: C:UsersusernameMy MusiciTunes
For Windows 8 use: C:UsersusernameMy MusiciTunes
If you find the above directory links too cumbersome, there is another way, a shortcut with which you can access the iTunes library, as explained in the screenshot below.
Mac – Finding the iTunes songs library on a Mac is relatively easy since you can simply follow the direct path as given below or choose to access it via iTunes as given in the screenshot below.
The direct link - /Users/username/Music/iTunes/
Now that you know how to access the iTunes songs library, whether you use PC or Mac, you can copy, move, make changes, and create a ringtone or whatever else out of the songs you like.
Part2. Creating a New iTunes Library Location on PC or Mac
This is one of the things that you may want to do if you too, like me, want to store your iTunes items in a location of your own choice. The process is quite similar, both on PC and Mac. Let me explain the simple steps involved in it.
First thing to do is to quit iTunes, if it is still running.
If you use Windows/PC - you have to hold down the 'Shift' key and from the 'Start' menu, follow the path; All Programs > iTunes > iTunes.
If you use Mac - you should open iTunes to begin with and then quickly hold down the 'Option' key.
You will now be able to see the option to 'Choose' or 'Create' a new library, see the screenshots attached
PC -
Mac –
And, there you go, it is that easy to choose / create a new iTunes library.
Part3. How to Move your iTunes Library to a New Location
Now, you have already seen how easy it is to create a new iTunes library on your computer, both for Win and Mac. But, how about moving your iTunes library to a new computer altogether? Well, you will be happy to know that it is possible to move your iTunes library to a new computer and that you wouldn't be losing out on any of the data in the process. I will explain the two methods that you could follow, one is the traditional way of simply copying all iTunes library data from the default folder to the new computer, and the other is my favourite and the easiest of them all, moving the iTunes library data using the KeepVid Music from Wondershare, to your new computer.
Before you begin with the process, don't forget to create a backup of your iTunes library or update the existing backup as it would not only make the whole process much easy but also guarantee the safety of your iTunes library data. Now, with your backup ready, let us begin the process of moving your iTunes library to your new computer.
Traditional Method
Step 1: Download and install the latest version of iTunes on your old and new computer.
Step 2: Now, begin copying the iTunes backup from your old computer - in order to do this:
For Mac - Go > Home from the Finder menu bar and then double click on the Music folder
For Win XP - Go to Documents and SettingsusernameMy DocumentsMy Music
For Win Vista - Go to UsersusernameMusiciTunes
For Win 7 & Win 8 - Go to UsersusernameMy MusiciTunes
Mac – From the Music folder to the Desktop
PC - From the My Music folder to the Desktop
Step 3: Locate the external drive on your new computer.
For Mac-on the Desktop
For PC - in My Computer / Computer
Step 4: Double click the external drive to open it.
Step 5: Drag the iTunes folder from your external drive to the Music folder (Mac) or My Music folder (Windows) on your new computer. The transfer may take a while depending on the amount of content you have.
Mac – From the external drive to the Music folder
PC - From the external drive to the Music library
You have now moved all your iTunes content from your old computer to your new one.