iTunes Library
1. iTunes Tips

2. iTunes Library

3. Backup & Recover

4. Manage iTunes Library

5. Restore iTunes

6. To iTunes

7. iTunes Transfer
It has been long since we were introduced to iTunes by Apple for creating backups. Since then it has been our default solution for backup with little or no major updates done to it in so many years. Are you tired of using the same old and clunky iTunes as your backup manager? If 'yes' is your answer and you have been looking for an alternative for iTunes then we have a great news for you. Your search for that worthy alternative to iTunes backup ends today. We will be introducing you to the best available backup solutions here.
Part 1. iTunes Backup Alternative - iMusic
Now, let us take a look at the most credible and effective iPhone transfer solutions that you can get your hands on.
iTunes lets you transfer music from your PC or Mac to your iPhone or iPod however, if you wanted to transfer music from your iOS devices to your computer, better luck with that as iTunes doesn't support this feature. Disappointing right?
1 click to Backup iTunes
Part 2. iTunes Backup Alternative - iMusic
iMusic from Aimersoft is great software that lets you manage, share and restore your itunes music and Videos freely. It allows you to manage and transfer messages, photos, files and contact between your iPhone, iPad and PC.
iMusic is one of the best media managing music for the iPhone, iPod and the iPad.
Download music from more than 300 music sites by copying and pasting the URL.
Record unlimited music from any website for playback in your computer with just one click.
Built-in music library let you browse and preview the lattest and hottest music.
Automatically save downloaded/recorded music to library for management and easy transfer.
Identify and tag music with artist, title, album, genre, and more with the latest technology.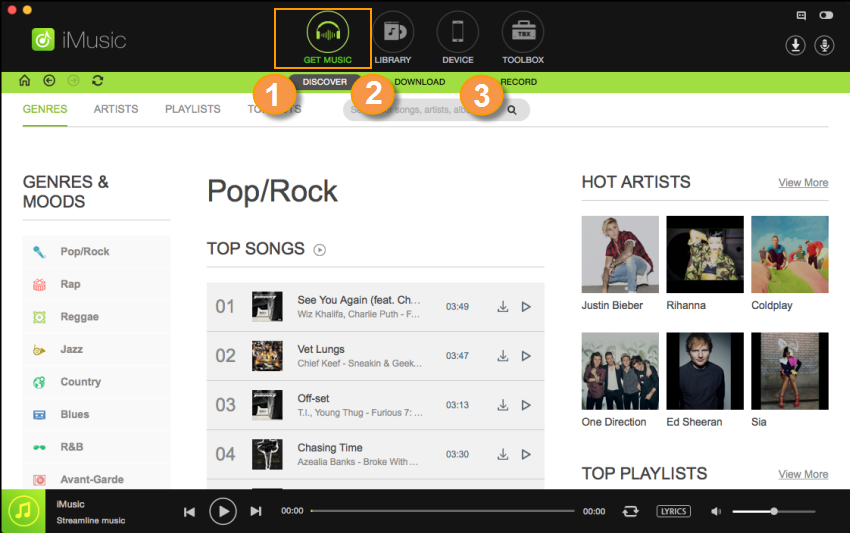 Developer: Aimersoft
Key Features:
• Share, manage and restore itunes music and video freely
• Rebuild iTunes library
• Share iCloud music
• Fix and optimize song information automatically
• Manage iTunes Library
Step 1: Download and install iMusic. After you install it, connect your phone to computer.
Step 2:Click "ToolBox" and then press "Backup/Restore iTunes". A new window will pop up, and click "Back up".
Select the files which you want to backup to your itunes.
Part 3. iTunes Backup Alternative - MobileTrans
If there was a genie among backup solutions or software, it would be MobileTrans. You see, there is hardly anything that this amazing application cannot do. It allows you to transfer data from your phone with just 1 click, backup your phone to the PC and even restores the backed up data to any of the supported devices for you. All done in a 100% risk free and safe manner.
Here's how easy it is to use MobileTrans.
Backup and restore your phone data
Step 1: With your iOS or any other device connected to your computer. From the main interface or Home menu, choose the option of Backup to open the Backup Panel. Ensure that the data you want to backup is all selected and then simply click on the button 'Start Copy'.
Step 2: Choose the Restore option from the Home menu and connect your device to your computer. The application should now display a list of all available backups. Select the one that you want to to restore and hit 'Start Copy' to begin restoring the data from the backup file.
Restore the iTunes backup content to your phone
You can also transfer your iTunes playlists to your Android as well as iOS devices using MobileTrans.
Transfer data from iCloud to Android
Step 1: Look out for the iCloud option / logo within the restore block and press on it to enter the Restore from iCloud backup mode. You might have to login to your iCloud account if not done already.
Step 2: Now, choose the iCloud backup from the available list to download it.
Step 3: Once the backup has been downloaded from iCloud, connect your Android device and hit the 'Start Copy' button to begin the final process.
With that easy a process to backup your iOS devices, why would anyone want to use iTunes anymore, right?
Part 4. iTunes Backup Alternative - Senuti
Well, this was one of the primary reasons why Fading Red invented Senuti, which is a great application that lets you recover videos, music and playlists from your iPhone or iPad very easily.
Developer: Fading Red
Key Features:
• One step recovery
• iTunes comparison
• Video Transfer
• Song Preview
• Playlist transfer
Download Link: https://www.fadingred.com/senuti/download/