iTunes Library
1. iTunes Tips

2. iTunes Library

3. Backup & Recover

4. Manage iTunes Library

5. Restore iTunes

6. To iTunes

7. iTunes Transfer
How to get free iTunes Songs? Many people who love iTunes music but don't want to spend the fee. Luckily, this article will share best 3 ways to get iTunes songs without a charge.
iMusic is one of the best media managing music for the iPhone, iPod and the iPad.
Download music from more than 300 music sites by copying and pasting the URL.
Record unlimited music from any website for playback in your computer with just one click.
Built-in music library let you browse and preview the lattest and hottest music.
Automatically save downloaded/recorded music to library for management and easy transfer.
Identify and tag music with artist, title, album, genre, and more with the latest technology.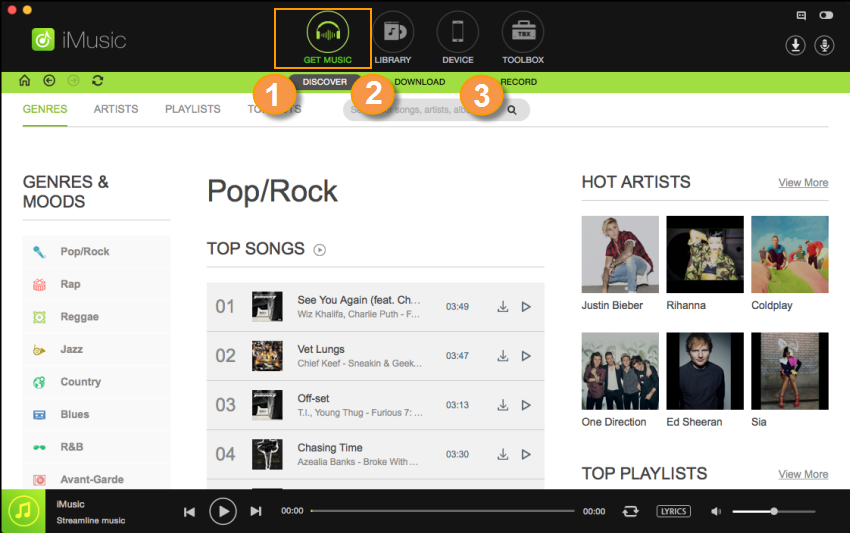 Part 1. Free Download iTunes Songs Legally
Apple knows people love free stuff. You can get free iTunes songs (as well as TV Show, Apps, Books, etc.) easily. Just follow these steps. What you need is only an iTunes account.
1. Open iTunes, and go to Store > Sign in your iTunes account. Or create a new one if you don't have one yet.
2. Click iTunes Store on the left.
3. Mouse over Free on iTunes. Don't hesitate to click on it.
4. You will see free stuff. Click Free to get free iTunes downloaded, or learn more about those free music on iTunes Store.
5. Finally find the download free songs in the Music in iTunes or other categories.
Part 2. Google Free iTunes Songs
Google is your friend. Just type in "free itunes songs" in the search bar, you get millions of result. But only some of them are really works. You have to spend lots of time to start download the "free iTunes songs". I add the quote mark because your time is priceless. Maybe it's a good idea to buy your music instead, and spend more time on your work or with your family, instead.
Note: Don't click this Google result - "iTunes - Music - Free" - it's not the free iTunes songs, but a band from England called "Free". They are famed for their perennial "All Right Now."
Part 3. Best and Easiest Way to Get Free iTunes Songs
Download and install iMusic on your computer. After play the song, click the record button as screenshot. iMusic will automatically record the music in just one click by using record button. After playing the song, re-click the record icon to finish recording.
Part 4. Record iTunes Song for Free
As far as you know, we can record TV shows with a DVR or computer TV and it is not considered illegal. Likewise, recording of online music should NOT be considered illegal as long as you only use it for personal purpose, and do NOT conduct any illegal distribution of the recorded materials. So why not record music now to save money? Only a stream audio recorder is needed.
At the same time, we respect the right of music copyright holder. If you like the music you record, try this software.
After you play the song and click the record button. Any audio playing on your computer will be recorded by this Streaming Audio Recorder automatically.