iTunes Library
1. iTunes Tips

2. iTunes Library

3. Backup & Recover

4. Manage iTunes Library

5. Restore iTunes

6. To iTunes

7. iTunes Transfer
As music services go, iTunes is one of the most famous. Backed by the Apple brand, and containing millions of songs, it is the number one downloads service available online today. On top of this, the customer service around iTunes is legendary. Prices are not high, and you get a wide choice of music every time. With a large itunes music library, you may want some changes for the songs, such as shortening them, adding album arts and much more. Now, we will show you how to edit itunes music below.
iMusic is one of the best media managing music for the iPhone, iPod and the iPad.
Download music from more than 300 music sites by copying and pasting the URL.
Record unlimited music from any website for playback in your computer with just one click.
Built-in music library let you browse and preview the lattest and hottest music.
Automatically save downloaded/recorded music to library for management and easy transfer.
Identify and tag music with artist, title, album, genre, and more with the latest technology.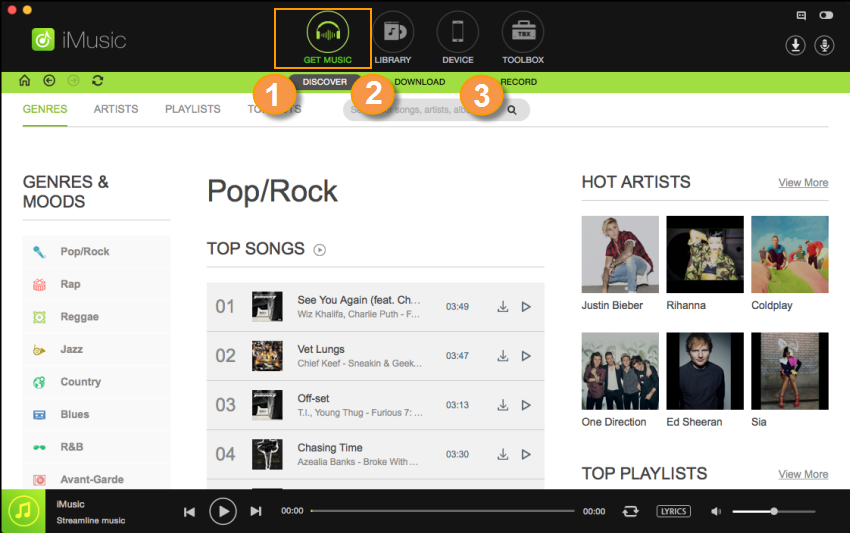 Part 1: Cut Music
Sometimes, we have music that we just want to shorten a little, because it flows better with the next song in the playlist. To cut music, use the following steps:
Open up iTunes and right click on the song that you want to cut. Then select "get info".
Click the options tab and select a new start point entering the time in minutes and seconds. Once you have done this check the "start time" box.
Select a new endpoint by entering the time in minutes and seconds and checking the box that says "stop time".
Right click your song and select "create MP3 version" to create a copy of the track with the new length.
Part 2: Add Album Art to Music
This is most often needed when a friend provides you with a CD of their favourite music and you want to have some album artwork for it. We will show you how to handle it.
Your first job is to get onto iTunes and find the album that is without artwork.
Then click on the first song and hold shift and click on the last song so that all the songs on the list are highlighted.
When you right click a new list of options is going to show up and your option is the one that says 'get album artwork'. This is where you click get album artwork on the dialogue box on the screen.
You may get the album artwork brought to you by iTunes. You may also may have a situation where you need to enter the artwork manually.
Find an image you like from Google images or something similar and drag it onto your desktop, and then go back to the initial stages of this list, which means finding the album and selecting the tracks. This time, rather than selecting get album artwork you select 'get info'.
A dialog box will come up on screen and will ask you if you want to edit information for multiple items. Click on 'yes'.
Another dialogue box will come up which allows you to enter the names of the artist, the album and other information. There is also a box here that says 'artwork'. This is where you drag your picture from the desktop into the box.
Then all you have to do is press 'okay' to complete.
Part 3: Add Lyrics
Another problem you may have when you are creating your music library on iTunes is finding lyrics. This is something that people generally worry about.
The main worry here is that many lyrics sites are inaccurate. On top of this, copyright dictates that you cannot always find and use the lyrics you want. The best she knew have used to go to the website of the band or artist you are listening to, because many bands and artists list their lyrics on their websites in full.
You can also find lyrics on special lyric websites. It is best to try and find a site that is substantial as established for number of years. Some sites are upon the Internet and gone again in a few weeks, either duty copyright problems for lack of interest. Search around and find a site that best suits your needs. This way you'll find lyrics quickly.
You can also find lyrics in the notes of CDs. These like you don't contain all the lyrics of songs and often included by bands and artists.
This really couldn't be easier. Choose a track and click on get info.
Then click on the lyrics tab. Here you will find a large blank box into which you can paste or write the lyrics for the song you have chosen.
If you then click on OK after you have entered the lyrics, then iTunes will then send the lyrics to your device the next time you synch your phone and your computer. It is as simple as that and as quick as that.
You can see now why so many people prefer to just paste lyrics in from websites though. It is worthwhile trying to find good sites, because some sites have inaccurate lyrics.
Part 4: Mix Music
Using iTunes playlists is easy, and allows you to shuffle songs on a playlist so that you can create a custom list of songs that you enjoy. However, you can also mix songs in a playlist so that you have less downtime between tracks. Here's how:
Once you have a playlist created, click 'edit' at the top of the screen.
Select preferences, playback and then cross-fade songs.
Here, you can increase or decrease the fadeout times between songs.
And then you have officially mixed your music.
Part 5: Edit Song Info
See how you can do this below:
Highlight the song you want to edit by clicking it once.
Using the 'get info' tab, edit the info about the song you have selected. This takes a few seconds, and offers a wide variety of info about the music that you can personally edit.
The options tab allows you to control the preset volume of a song, while the lyrics tab allows you to copy and paste lyrics.
When you are finished with the editing, just click OK at the bottom of the window.
Part 6: Edit a Playlist
Those pesky songs that you don't want in playlists anymore can be taken care of easily. Just choose the playlist from the command pane and press delete or backspace. This will get rid of the song while also keeping the song in your library.
To delete a whole playlist, just select it and then press delete. It's as simple as that.
Part 7: Edit Genre
To edit genre, click on your music so it brings up the info on the song. Right click here and a menu should come up, and genre should appear on the screen. Check genre and a list of genres should come up for the piece of music that you have chosen. Click the one that is most relevant for your particular piece of music.
Be aware that your piece of music may not fit into a particular genre (it does happen) so be ready to find a close match rather than an exact fit.
Part 8: Edit iTunes Account
If you want to change some of the details on your iTunes account this couldn't be easier. All you have to do is:
Go to Home screen and hit settings. Then click on iTunes and App Store.
Click on Apple ID and then view Apple ID.
If you want to change your payment info, click on the relevant section.